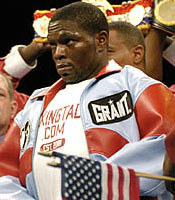 Original Chat Session on August 26, 2004
Cory_Spinks: What's popping y'all? We ready?
TonyMontana: The Man The Myth ......The Jinx has arrived
thehype: OnFire...kick this thing off
OnFire: With wins over Mayorga & Judah and potential fights with Mayweather & Tszyu as they have mentioned your name. Do you invision a move to 54 and if so who would you want to fight?
Cory_Spinks: It doesn't matter man. Whatever makes the most money makes the most sense to me. I'll fight any ot them. It don't matter to me.
Cory_Spinks: I'm a boxer, and you can't be scared of no one in this game and if you is, you shouldn't be boxing
OnFire: I respect that being from New York and all, Thanks Champ
madvibes: Cory, are you going to fight a rematch with Judah? I feel you won the first fight clearly and to me he really doesn't deserve the rematch with you right now. What do you think?
Cory_Spinks: Not really, there's some people who were looking at his last minute heroics. But I got up and it was cool, when he tried to jump back on me you see I weaved it
TonyMontana: Champ.........no question here.......I read all your interviews so i'm up to date.........but congrats on your big win and how could i get my hands on a autograph
TonyMontana: maybe a pair of signed gloves?
Cory_Spinks: e-mail my boy G and I'll get that to you
eze: Cory. In the last round of the Judah fight, How hurt were you? And in my eyes if the knockdown that Zab hit you with had happened a minute or 2 earlier, Zab would of had his way with you. How do you feel about it?
Cory_Spinks: I don't feel that way because I don't have a weak chin. I got focused again quick. To me it was a flash, I was ready to go back and do my thing
Cory_Spinks: I just got caught sleeping, but that won't happen again
john: sup champ, congrats on all of your succcess and best of luck with your future, who d you see as you biggest challenge out there tright now
Cory_Spinks: Thanks for that man, I'm looking forward to this Trinidad-Mayorga fight. I'm wishing I could get the fight with Tszyu. There's a lot of big fights out there and I want them all.
fausto577: how far are you willing to go in order to get mayweather to step up? is it just a money thing or does history ever cross your mind? what do you think of fighters twho talk and talk and talk and when it's time to step up find an excuse or a reason not to?
Cory_Spinks: Well, that is something you always have to deal with in this game. He's all about the money and I want to get paid too but I want to beat the best and fight the best
Cory_Spinks: He's just talked and tried to steal my shine, but he has his only problems at 140 and I need to handle my business where I'm at so that's irrelevant
boxxx-fan(916): Corey are content using your boxing skills or do you feel you need an impressive ko against gonzales.
Cory_Spinks: I do what boxing means. It's an art. I hit and not get hit. If the KO comes it comes, but I'm content with winning every fight
Brian_from_Alaska: Damn you John LOL you asked the question I was gonna ask. Champ, all money issues aside, which fighter(s) at or near 147 would you consider to be the most challenging skillwise to take on
Cory_Spinks: It has to be Zab. That's the only person at 147. But around 147 I would have to say, shit, I don't know. I couldn't even answer that because you never know what happens when you get in the ring
tyler: Hey Jinx, it's a privelidge, who is your favorite fighter of all time & who would be your favorite person to fight, past or present?
Cory_Spinks: Muhammad Ali is my favorite of all time
Cory_Spinks: And you know I can't forget about my dad and my uncle
Sud: I just want you to PLEASE PLEASE shut up Mayweather!!! How far past 147 do you think you'll go?
Cory_Spinks: I'm willing to go to 160. I hope the winner of Trinidad and Mayorga wants to fight, but that's a fight I love.
Kyle: Hey Cory I would like to introduce myself. I am the kid you gave a shoutout too on the other site. I am a huge fan collect anything of yours and admire you as a boxer. How do you feel bout the welterweights?
Cory_Spinks: Looking at the division, there's some nice contenders coming up but I don't see anybody I should worry about.
emhoffk: What's up champ - it's your attorney Kurt - just wanted to wish you luck
Cory_Spinks: What's up man? It's nice to hear from you.
madvibes: Cory, who is the fighter you most want to fight right now? I really enjoy seeing your skills in the ring and I think you can beat just about everybody from 140 to 154. Is 147 the weight you plan on staying at and defending your unified titles?
Cory_Spinks: Take your pick, I want Kostya Tszyu the most.
madvibes: I hope that fight happens!
Cory_Spinks: Me too.
Nebor: Cory man You doing yo thing, My moms love you cause she loved your uncle and father so she is always showing mad support, What I dont get is how all these boxing sites (not this one) are putting you down for fighting a c+ after you beat zab and mayorga,
Nebor: ITs just crazy how they forget about your last 3 fights
Cory_Spinks: Thanks for the compliment and I thank your mom for being a fan.
Cory_Spinks: Some people just don't understand. We're coming back with something big after this
nycvicnice: Who have you sparred with in preparation for you next fight and what does your training exercises consist of (running in morning, weight training, calisthenics' or a combination of all)? Thanks Cory
Cory_Spinks: It consists of hard work. I let my coaches work on the game plan and then I come in and execute it. I've been sparring with two real tough customers. Not too many people have heard of them, but they're really tough
Cory_Spinks: active, energetic fighters
Bandito: hey cory, what are the possibilites on fights between kostya tszyu, winky wright, and felix trinidad? and do u think u can handle trinidad's power? he is a monster!!
Cory_Spinks: Of course I could handle his power. I'm a grown man, and Mayorga was supposed to be a monster, but I handled him. I don't worry about that.
Cory_Spinks: Winky is my boy, so I'm not looking to fight Winky. You know I want that Tszyu fight more than anything
mightyjay: Hey Cory, dont have anything specific to ask you, just wanted to wish you luck
Cory_Spinks: Thank you.
Dragonprincempm: Cory, what fighters did you most look up to growing up, are you a huge fan and do you watch as much boxing as you can? We'd all love to see you take on Tszyu.
Cory_Spinks: Muhammad Ali, Evander Holyfield, My dad and unlce, Hagler, Leonard, Hearns and all the great champs are the fighter's I looked up to
Cory_Spinks: I would love to fight Tszyu, I hope he takes care of business because that's the fight right there.
Method: Corey, I got here late so didn't prep a question. Just want to say congratulations on your cussesses. I would love to see you whip Mayweather. My question is about your Uncle Michael. What did have to say about getting KTFO by Tyson in 90 seconds? Do
Method: You gus ever talk about it at Thanksgiving???
Method: Remember that Sports Illustrated Article, Corey, about Michael fighting Tyson titled, "Baby, I'm Scared"?
Cory_Spinks: (laughing) He didn't say anything. We didn't come to him like that. In this game shit happens, but he's still living large
Cory_Spinks: We call him uncle slim
dakidd420: What are the chances of you and Vernon Forrest hooking up?? I think Vernons jab is great, how would you get around it??
Cory_Spinks: Me and Vernon ain't going to fight. But there's always a way around things. Vernon isn't even on my list of fighters to fight. He has to wait his turn and he's on the back of the bus.
Gerald_Nobles: Hey Cory, I liked how you stayed composed among the trash talking that Mayorga was doing. How would you rate Mayorga's power and if you can't get a big fight next, do ya think you would unify against Cintron?
Cory_Spinks: Mayorga is a strong guy. He's a beast. His power is among the best and it's awkward.
Cory_Spinks: Trinidad will find out on October 2
Bandito: hey cory if u can answer this, go for it. i know im butting in "the hype", but vernon forrest said he would whoop ur ass!! what would do u think and say about that!!
Cory_Spinks: I'm not going to get into it with Vernon. He could talk his trash but we saw what I did to the man who whooped his ass twice
thehype: Boxingtalk would like to thank Cory Spinks for taking his time to drop by and chat with us today
Cory_Spinks: Thanks for having me