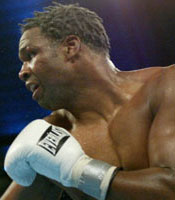 Original Chat Session on September 30, 2004
thehype: Boxingtalk would like to welcome Chris Byrd to the T.N.T. chat session
spinksjinx: Hey chris got a question for you...You are a natural middleweight do you lift heavyweights to maintain your weight and how much can you bench press??...I have some boxing experience and when I lift heavy I become stiff, just wondering...
Chris_Byrd: Right now I'm lifting heavy weight because I'm fighting a bigger guy so I'm putting on more muscle. I could bench press about 350.
Westside: Yo Chris, been a fan of yours for a while, siwhat do you plan to do against Jameel?
Chris_Byrd: My thing is, going back to boxing. No more slugging. I'm going back to being quickand using my fast hands. Forget about them slugging days they're over.
byrdman: chris, why dont you ditch king and make better fights
Chris_Byrd: I wish it was that easy. Don has most of the heavyweights. At the time I signed with Don I was the #1 contender and Holyfield was #2, To make it fair for me I had to sign with him.
TheChampIsHere: You have said that Vitali Klitschko need to beat you to be considered the legitmate champion. Does that mean you feel you need to beat Wladimir Klitschko to be the legitimate champion? Would you give him a rematch? Good Luck  your fight with Mccline
Chris_Byrd: To answer the first part, of course he needs to beat me to be legitimate. I don't need to beat Wladimir, he's not champion. If he becomes champ again that's one thing, but right now I want to fight Vitali to be recognized as the champ.
Chris_Byrd: The people deserve to know who the best out there is.
AKay: Chris would you be willing to enter a DK HW tourney or would you like to fight klitchko next??
Chris_Byrd: It doesn't matter. Whatever came first is what I would do.
nardfan: Champ who is your dream fight with no titles involved?Who is your favorite to watch now?
Chris_Byrd: The dream fight now is Vitali Klitschko. I don't have a favorite to watch because there's too many to choose from , I love watching all of them from Arturo Gatti-FLoyd Mayweather
jabmalassie: Chris you are a terrific fighter. You Represent the sport well.  All good things come to an end.
jabmalassie: what will you do after boxing
Chris_Byrd: Good question. I 'm a Christian so I know I'll be involved in the ministry. I might train boxers also.
Nebor: Chris sup man, Who would rather fight tarver or toney and which one his the tougher fight
Chris_Byrd: I'd rather fight James Toney because he's got a big mouth. Style wise Tarver would be tougher but James Toney is someone I want to shut up. To me it doesn't matter though bring em all on,
fausto_in_dallas: champ, i didn't see the golata fight but i lost to watch your boxing skills on display. what would you do to confuse vitali should you fight him again? do you realize that the fight with vitali will never happen as long as don king wants options on him?
fausto_in_dallas: good luck with jameel, should be easy fight for you. he got ko'ed by wlad aka no chin
Chris_Byrd: What I would do different is, I think I would start to frustrate him early on instead of later. Everyone says being with Don King, it won't happen but I think differently, I think Don will work it all out.
Jon_Mark: Byrd...I am a Christian like you...How difficult is it to maintain your testimony to the boxing world and the public everytime you get in the ring? P.S. P'cola in the house!
Chris_Byrd: Not difficult at all. This is competition to me. I'm not made at nobody, I'm a pure boxer and I get to represent for the Lord on a world stage.
Big_Dick_Nick: Ayo Chris, dis is big d nicky, jes wanted te say dat you iz da man, but for realz, I think Oquendo and Golota beat joo, now on a serious note, ya need to get a aircut brotha cuz when you get iz hit it look worse den it is??!!
Chris_Byrd: Thanks for that support
KYLE_THEEE_SPINKS_FAN: Hey Chris really like that style.  Do you think your age is starting to play a factor in you slugging more and not being on your toes?  Also, what did Jirov do that night when Toney was going nuts.  What did he say or do?
Chris_Byrd: Not at all. It's all by choice. In my next fight you will see the old Chris Byrd. Jirov actually did nothing, it was the crowd yelling Jirov and then James went nuts because the people in the crowd were making James nuts, not Jirov.
bandito: hey chris, i think u will get by jameel, who do u want next seriously? i know vitali is not ducking you, do u think don king will make it happen with him and you? and is james toney showing he is not a heavy by getting hurt so often now?
Chris_Byrd: Vitali is who I want and he's going to make it happen because he's going to want to make some of his money back so he needs to get me a big fight and I think that's the fight.
Chris_Byrd: Yes, it's a different world up here. He's not used to it and he's short.
spinksjinx: Hey chris, no disrespect we need someone to call champ how would  tournament pan out knowing dons antics and their was speculation you ducked golota and avoided a rematch whats the full story?..On a side note loved the brawl I had it for Byrd by 3 rounds...
Chris_Byrd: hahhahaha, I ducked Golota. That's BS. Everyone has an excuse that Don King is the problem, but they're saying that because they don't want to fight.
spinksjinx: Good to hear, You beat him solidly the first time around in my book, I would like to see you move on to bigger and better things though....
Chris_Byrd: I wanted to fight Golota in a rematch this fight, but it didn't work out. If we both win on November 13 that rematch could be on
Chris_Byrd: I never duck anyone, never have never will.
TheChampIsHere: Did you take the Mccline fight to one up James Toney, to better prepare you for someone Klitschkos size or just because that was the fight that was offered to you??
Chris_Byrd: I took it because it's the mandatory. We have to fight each other. I already fought both Klitschko's so I'm used to their size, fighting Jameel now is a plus though because I'm going to work on some things I expect to work on Klitschko also
wafe: i respect your boxing skills but do you really think someone without a big puch can ever be a big draw with the fans?and also like to say thanx to thehype for the call on the judah chat
Chris_Byrd: Thank you.
Chris_Byrd: I don't know. We're in a big puncher era so you never know. If I talked a lot of trash like James Toney, maybe so. But it remains to be seen.
Westside: Yo Chris, I saw you at the Judah Spinks, Brewster Klitchko fight, And You where exited as I ever saw you when Brewster was nailing Wlad, what's your relation to Brewster, cousin, brother? And also RJJR is a friend of yours, what's your reaction to his loss?
Chris_Byrd: Lamon is my cousin. I was happy that he knocked out Wladimir. I was shocked that Jones lost. To boxers he is considered the ultimate package.
Chris_Byrd: As many fighters hate him, more respect him because of his skills. It hurt me to see him get knocked out like that.
Byrdlover: are you going to come to the boxing hall of fame this year?
Chris_Byrd: I might come out there this year.
thehype: Boxingtalk would like to thank Chris Byrd for taking time out of his busy schedule to chat with us tonight
Chris_Byrd: Be Good Boxingtalk.com!