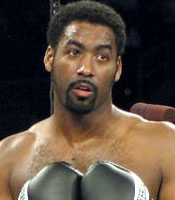 " I'm looking to KO all my opponents and I want to fight 4 times this year."
thehype: Boxingtalk would like to welcome Calvin Brock to tonight's T.N.T. chat session
Antonio00: Calvin, When are you gonna step up your competition ? The McCline fight was a step in the right direction for a title shot, but what is this Kenny Craven, David Bostice, Zuri Lawrence garbage ?
CALVIN_BROCK: Boxing is a business and we fight according to how we get paid.
Dionysus: What happened to the David Tua fight?  When are we going to see you and Sam Peter.  Good luck in your next match in February.
CALVIN_BROCK: Showtime didn't want to pay enough for the Tua fight. It would be one of the biggest heavyweight matches of 2006, but they didn't want it. Maybe later though
CALVIN_BROCK: I don't wish to box Sam Peter because he's my friend
boxersfame: ARE YOU AT ALL INTIMIDATED TO FIGHT ZURI LAWRENCE AFTER HE BEAT JAMEEL?WHAT IS YOUR HONEST OPINION ON ZURI AND HOW DO YOU THINK YOU WILL WIN?
CALVIN_BROCK: Not at all. I think Zuri is good and he's better than his record shows. I'll find out how to beat him when the bell rings
Helmdog: Calvin, Toney/Rahman prediction?
CALVIN_BROCK: I really don't know about Rahman-Toney. I don't have a pick.
RepoMan: Are there any talks of you fighting that big hairy ugly guy from the east..that beat Jawnyy Bruiz
CALVIN_BROCK: I really don't know. Valuev would draw a lot of attention.
king_of_the_ring_2006: out of all of the heavyweight champions who do u think would give u the best fight?when are we gonna see u in a big fight calvin?
CALVIN_BROCK: 2006 you will see me in a big fight
Jonny_Blaze: calvin who do you think is gonna become the undisputed champ. once all the fights get set up or if the tournament happens??besides you.
CALVIN_BROCK: Me, no doubt
CALVIN_BROCK: Why would I choose someone besides myself?
gms3ll: Who is/are your favorite currently active fighter(s) to watch?
CALVIN_BROCK: Floyd Mayweather is my favorite fighter to watch
Titlebelt: Calvin, Of the 4 Heavyweight titleists who would you like a shot at first?(considering the moneys right)
CALVIN_BROCK: I don't care. Whoever brings me the most exposure and pays me the most
SugarDusMosley: Calvin, does the fact that Zuri Lawrence defeated Jameel Mcline right after you defeated him diminish your victory over Jameel at all? some think that it suggests you caught Mcline on the slide.
SugarDusMosley: And you say boxing is a business but in the next sentence claim that you wouldn't fight Sam Peter because he's your friend? come on man... look at Rahman vs. Barret or Mcline vs Byrd. All were friends that threw down.
CALVIN_BROCK: I told HBO that I'd fight Peter for $50 million
Celtic1888: Hi Calvin, i think you can clean up the division, when do you think you will get a title shot, and what all time heavyweight great would you most like to fight and why? James from Dublin
CALVIN_BROCK: Some time in 2006. I'm not quite sure. Anything can happen after that. I'd fight Mike Tyson because it would be the most amusing
tiger_jirov: Calvin, Is it all about the dollars or do you have a preference for fighting one of the four champs? Style-wise i think that Byrd would give you some trouble...
CALVIN_BROCK: I don't care too much about people's style. I know when I step into the ring, I'm going to win. So when I step into the ring, I want to get paid the most
thesayheykid: what happen to Briggs fight,Money?looking to ko Lawrence?how many fights this year?
CALVIN_BROCK: I'm looking to KO all my opponents and I want to fight 4 times this year.
RepoMan: I know boxing is a business, but doesnt it make sense to fight someone with a belt for less money, just to get the exposure, and to win the belt if you are that confident
RepoMan: the money will come
CALVIN_BROCK: If you don't demand anything, they will always pay you cheap
Oscar_De_La_Hoya: CALVIN do you think you will be able to compete with all of todays heavy weights, and do you see yourself holding any of the major sactioning belts in the division.
CALVIN_BROCK: For sure, and I definitely will hold the belts this year
tarverisamilkdud: your best fight was against mccline who basically shits himself before every fight....you KOd the rhino who can  KOed by snow falling on his headconvince your fans that you wont get embarassed by toney or byrd... also dya think tarver looks like a milkdud?
CALVIN_BROCK: I promise you that I won't get embarrased by Toney or Byrd. I'm the future heavyweight champion of the world!
spreadking3rd: Calvin, thanks for chatting with us.  How close were you to not beating the count vs McCline, as you struggled to get up at 9 ?  way to come back and still get the win!
CALVIN_BROCK: Not very close...I could have gotten up sooner, but I took my time.
pushup: Calvin what do you think of Valuev
CALVIN_BROCK: I haven't paid that much attention  to him
madvibes: Calvin, I joined late so I'm sorry if this question has already been asked but if you get by Lawrence who's next? How about a Shannon Briggs fight? He's been making some noise lately and that fight would definitely propel you forward into a title bout.
CALVIN_BROCK: We have to wait and see. I have to take one boxing match at a time
SugarDusMosley: If you want an easy fight then tell your people to look at Brian Minto or Fres Oquendo, Minto is a little cruiserweight with a good record and solid credentials, Oquendo is a top fighter with vulnerable chin.(just a suggestion).
CALVIN_BROCK: I won't fight Minto because he's a stablemate of mine. As far as Oquendo, I'll decide that after my next fight. I'll fight anybody as long as it makes sense.
thehype: Boxingtalk would like to thank Calvin Brock for taking time out to chat with us tonight
CALVIN_BROCK: Thanks Boxingtalk