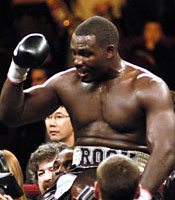 "THE NEXT Champ is here"
thehype: Boxingtalk would like to welcome Hasim Rahman to tonight's T.N.T. chat session
HASIM_RAHMAN: THE NEXT Champ is here
ft_myers_pal: do you watch the wire seeing its made about baltimore. and you remind of sonny liston is he someone you watch videos of. i know you gonna whoop vitali good luck champ.
HASIM_RAHMAN: Thank you. I actually never really saw Liston fight besides the Ali fights. I watch the wire, I grew up around them same neigborhood's they portray
HASIM_RAHMAN: But what they show on the wire is far from the truth
awesomeald: whats teh deal hasim, why werent you here for the toney chat to shut him up and what abotu an auto can you hook me... you can inscribe it  To jimmy  the best heavyweight in the world K.oed lewis"
HASIM_RAHMAN: Email greg and he can get that done for you. I was here and I actually wanted to do it with Toney at the same time but he didn't want to do it. I was ready to have the party line but he didn't want to do it. I was all for that, but James Phoney wanted no parts of me, even on the phone
slnboxing: Hows training going
HASIM_RAHMAN: Training is excellent, we just got more time to go over the gameplan and we're getting ready for the new date for this fight.
HASIM_RAHMAN: I don't even know what the date is yet, but I know they talkintg about June 18
cb1554@aol.com: do you think you & mike tyson will get it on? DO you think it would be a good fight.
HASIM_RAHMAN: Yes and Yes. I think after I show everybody what I can do with Vitali, I think that's the only real big fight out there for me. I will show the will and skills to beat Vitali and Mike is probably the most logical opponent for me. He always poses a threat with his power and it would be a fight that the fans love.
Mino: My question got asked, but please shut that fool toney up....PLEASE
HASIM_RAHMAN: I agree with you. I don't know why Boxingtalk is giving him the green light so strongly
HASIM_RAHMAN: But all it shows is that he does more talking than training.
HASIM_RAHMAN: When I KO Vitali I'm coming on Boxingtalk's chats everyday for a month
Pr_PaPa_427: Hello Hasim, do you have a replace opponent for the 30th of April? And is this empty slot at the garden going to go to waste? Why not Ruiz-Toney, Bryd-Wlad, and Hasim- Oleg II 04/30 @ MSG
HASIM_RAHMAN: I would love to fight on the 30. But all they got to do is propose that to my people and we'll see what happens. Oleg would catch a thorough quick whooping. But I don't mind fighting anyone first. I put my top spot on the line before and I'd gladly do it again
slnboxing: Rock, I wish that you could've fought on April 30, its time for a real heavyweight champion
HASIM_RAHMAN: I agree with you. My sentiments exactly.
AKay: hasim how was the pilgrimage and did it put you in a good mindstate to reclaim your HW championship? good luck dawg!
HASIM_RAHMAN: Yeah. It was excellent. I think it was the best thing that ever happened to me in my life so far. And it's really got me on a mission to get those belts.
mbase: WhatÕs up Hssim, which fighters do you admire who are out there now (any weight)?
HASIM_RAHMAN: Well, I like Zab, Floyd, Tszyu, I just like that 140-147 pound divsiion. There's so much talent there and I think those divisions are going to be hot for a while because there's some big time matches that should be made.
nardfan: Rock,will the postponing of this fight help you or hurt you?I really want to see you come in shape and knock this robot out.What was your toughest fight?Pressure and come out swinging and you will win.Good Luck!
HASIM_RAHMAN: I would say it helps me because it gives me more time to work on my plan. My toughest fight was probably Corrie Sanders. He knocked me down I knocked him down, in one round we almost knocked each other down, but it was a tough fight the whole way through
HASIM_RAHMAN: it was back and forth
numberonelike1: Hey Rock! Honestly, is Vitali the fight you really wanted or did you prefer one of the other champions?
HASIM_RAHMAN: Of course Vitali is the guy I wanted. I was #1 in the WBA and I could have went after Ruiz, but I felt I owed it to the public to fight the best out there. I'm not trying to become a two time champion on paper. I want the real deal.
HASIM_RAHMAN: I want the linear title and the undisputed title...again.
tsadler0425@mail.nccu.edu: Hey Rock.  What's up?  Dodge City boy here.  Can you tell me why Ruiz is so difficult to fight?  I must tell you I was extremely disappointed in you in your fight with him.  I told everybody you were on a mission now.  What happened??
HASIM_RAHMAN: The bottom line is, he's not difficult to fight. I didn't really show up that night. If you know how I fight I never performed and I feel Ruiz should've knocked me out early. If we were to ever fight again he wouldn't last five rounds with me.
slnboxing: Who do you want to fight after Klitschko? Are you going back on the Leno show?
HASIM_RAHMAN: If Leno got a spot for me, I'll be there. I want to unify so after Klitschko any of the champs would be cool.
marz: Whats up Rock, how are us fans assured that you'll remain in shape with the cancellation
HASIM_RAHMAN: Just check out Boxingtalk, because they're going to be giving you the inside look into my training. I'm working full time.
HASIM_RAHMAN: And you're going to see me on my job.
litzauNEXTlegend: Who have you been sparring with?
HASIM_RAHMAN: We're going to have sparring when Boxingtalk shows up just so you could see what I'm doing.
HASIM_RAHMAN: You'll see when Boxingtalk shows up!
cb1554@aol.com: do you think toney will beat ruiz? he's only had 2 fights @ heavyweight.
HASIM_RAHMAN: I'm not sure. I was impressed with James when he fought Evander, but then I was disappointed with the Booker fight. I always looked at Toney as a heavyweight. He was always killing himself to make weight. He's a heavyweight that won the middleweight title
HASIM_RAHMAN: RJ is a middleweight that won the heavyweight title.
edwin.malave@gcrm.com: hey champ have you ever met roberto duran?
HASIM_RAHMAN: Yeah. I met him a couple of times. He's a cool guy he still likes to throw punches though
HASIM_RAHMAN: lol
MICHAEL_MOORER: IM COMING ROCK!!!
HASIM_RAHMAN: Come on then. I'm your huckleberry
_iodine: wut up rock? Whoop vitali for us
HASIM_RAHMAN: I will. Count on it. Your request will be granted.
tsadler0425@mail.nccu.edu: How do you plan to dicipher Vitali?  What's you plan?
HASIM_RAHMAN: When the bell rings we're going to have a fight of the year candidate. My plan is to fight from round one until it's over. I'm not going to divulge my game plan but its going to be exciting from bell one.
thehype: Boxingtalk would like to thank Hasim Rahman for taking time to chat with us tonight
HASIM_RAHMAN: peace Boxingtalk!