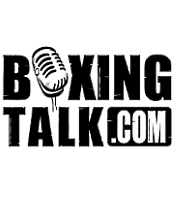 PRESS RELEASE: Former IBF lightweight titlist Julio Diaz (currently rated #7 by Boxingtalk), fights for the first time since losing to Jose Luis Castillo when he meets Marco Angel Perez on Tuesday's ESPN2 televised card. The 25-year-old Diaz, who's promoted by Sycuan Ringside Promotions, has a record of 30-3 with 22 KOs. Perez has a record of 21-6 with 14 KOs and has won four of his past five bouts.  Diaz isn't the first former world champion Perez has met.  The semi-main event matches Delvin Rodriguez (14-1-1, 7 KOs) against Christopher Henry (19-10 and 14 KOs) in a ten-round welterweight bout.  A special attraction features Mauricio Martinez (Boxingtalk's #12 bantamweight), against Reynaldo Hurtado in eight-round super bantamweight bout. [Editor's note: Hurtado is also listed as the opponent for Gerry Penalosa in Massachusetts later in the week].
The rest of the undercard features Larry Gonzales of Denver, with a record of 7-0 and two knockouts, against Carlos Cisneros of Los Angeles, with a mark of 6-10-1 and four knockouts, in a six-round lightweight fight; Ruben Torres of Coachella, Calif., with a record of 3-1 and two knockouts, against Sal Farnetti of Riverside, Calif., with a mark of 3-11-3 and no knockouts in a four-round heavyweight bout; and Curtis Jones of New York City, with a record of 1-0 and no knockouts, against Moses Motovu of Las Vegas, with a mark of 2-5-2 and no knockouts, in a four-round super middleweight fight. 
The card will be held in the Sycuan Showcase Theatre in El Cajon, California with doors opening at 5 p.m. (Pacific) and the first fight at 5:30. Tickets are priced at $100 and are on sale at the Sycuan Resort & Casino gift shop 24 hours a day or by calling 619-659-3380 during those hours.