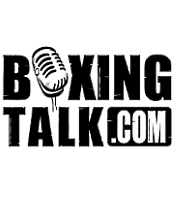 Were you watching a different fight than the one we were watching? I don't see how anyone could have had it scored 115-113 Hopkins, whoever was scoring that fight needs to be replaced, is this the quality of writing that we see on boxingtalk.net? If so, I think I'll cancel my subscription. Waco
Sweetchuck's Response: Canceling your membership now before all the changes that are coming on Boxingtalk would be like refusing a free trip to a tropical island.  It just doesn't make sense.  We appreciate all of our members and work hard to keep them.  For instance, Jeff Young penned a really good article contradicting mine so Boxingtalk readers can be informed of the arguments from both sides.  I am not the only person who thought Bhops won the fight.  Max Kellerman and a lot of the ringside media had the same score I did.
Why are you so hard on Taylor, I had him winning the fight as did Larry Merchant who I feel is one of the most unbiased judges out there. Hopking came on strong at the end but he gave away the first 8 rounds of the fight by slacking, I think Taylor showed enormous confidence the way he fought Hopkins, Hopkins is no doubt one of the best who has ever fought PFP but he was out hustled by Taylor, he should have brought the heat much earlier. I have to go with Hopkins in the rematch.  Adam G boxing talk member
Sweetchuck's Response: Unbiased and Larry Merchant should never go in the same sentence.  I will assume you meant Harold Lederman.  I don't think I was too hard on Taylor.  I am just not giving him more than he deserves.  He won the undisputed middleweight championship in a close fight where he looked terrible in the second half of the fight.  Your arguments seem to be the feelings among the pro-Taylor people, that Hopkins started too slowly.  The rematch will be interesting and probably a better fight.
Very good article! I saw the fight the same way you did!  When will they go back to 15 rounds and a challenger HAVE to BEAT the champ?
Sweetchuck's Response: Don't expect fights to ever go back to being 15 rounds.  From what we know of the effects of the prolonged punishment to fighters from the era of 15 round fights, we should not be asking more from the fighters so they can have lives after boxing.  Sometimes the people in charge of the sport needs to take control over what the righter desires, like the Dr. Goodman, Freddy Roach and Richard Steele did for Wayne McCullough.
I just read your excellent review of the fight... I did not see it on PPV, but I did follow it on the internet round - by - round and it just about said what you did...  I think maybe Hopkins lost it by falling too far behind in the early rounds. But according to the round-by-round reporting, the fight was a little dull, with both fighters doing a lot of feeling out.  However, as a lifelong fight fan, dating back to the early Ali days, I believe Taylor will win big in the rematch... He is a little nice guy from Arkansas, and this is by far the biggest thing that has ever happened to him... I think stage fright had something to do with it...  I remember how Terry Norris destroyed Ray Leonard (your hungry lion vs aging warrior), but in that fight Terry was much more comfortable because he was already a champion.  They put Taylor in against one of the best ever middle weights, and a walking legend and he did ok... I think in the rematch, we may see a Taylor knockout...  He will need either a one-sided decision,  a TKO or a KO in order for HBO to really promote him well and bring him in the "house hold" name status.  Hmmmmm - I wonder if Roy Jones is thinking of putting on the gloves again and going after Taylor?  Thanks for the great article.  Al
Sweetchuck's Response: I don't know how much more HBO could promote Taylor more.  He's a good fighter, and in time he could do many great things in the ring.  If he knocks out Hopkins in a rematch, he would prove he's pound for pound.  Don't hold your breath on Jones fighting Taylor, he'll probably only come back for Tarver, Johnson or Hopkins.  I think the comparison of Vargas-Wright is a little closer of an analogy than Norris-Leonard for this fight.  Young Olympian taking on the tough veteran and taking a close decision that will be debated for years.
After reading your article i couldn't disagree with you more.  I am a huge Bernard Hopkins fan and I will be the first to say he lost outright tonight.  As bad as I would like to say he won he didn't.  Nobody can deny that Hopkins did more damage but he did all his damage and scoring in 4 or 5 rounds.  First Jermain Taylor has to be congratulated cause a lot of people especially on boxingtalk.com didn't give him a chance and he showed a lot.  Taylor hardly fought the perfect fight, which most thought he needed to do to even keep it close, and he still won.  Yes it kills me to say it but Hopkins lost this fight more than Taylor won it.  If it was a 15 round fight Hopkins would have walked away with the win easily but it wasn't, it was only 12 and bhop gave too many rounds away early.  I hate to say it but the p4p best fighter in the world lost this fight by not fighting.  Jermain deserved to win at least 7 rounds by simply throwing punches. I know a challenger has to take the belts away from a champion but even as a Hopkins fan you can't win an undisputed championship fight throwing 10 punches a round.  Hopkins may have done more damage but unfortunately for us bhop fans the fight is scored by rounds and he did all his damage in 4 rounds and that doesn't win a fight.  I take my hat off to the new champion, he won the fight fair and square and he did it without his jab, maybe he didn't hurt Hopkins but I have to admit he won.  I think its obvious that Hopkins is still the better fighter but he gave this one away by not throwing any punches.  You can make the point that he hurt Taylor a lot more than Jermain hurt him but lets face it, throwing 15 punches a round is hardly a champions effort.  I think Bernard needs this rematch for his legacy, I think it was a shameful performance for a man that showed he could control this fight.  He did nothing and the right decision was awarded.  I know that watching a fight on TV and ringside is too different things, you don't always see the punches that score on TV but and I know that a challenger has to take the title away from a champion but a champion can't do as little as Hopkins did.  I will say it again Hopkins did more damage but did it in too few rounds.  I would love to hear what you have to say because I just can't see, even as a Hopkins fan, that he did enough to win by taking off so many rounds.
Sweetchuck's Response:  Looks like you sold yourself on a Hopkins loss by repeating the HBO announcer's arguments in your mind and this email.  I did not attend this fight as obligations did not allow me to make the trip.  As a true Hopkins fan you should already know that he does not need Taylor as much as Taylor needs him.  Hopkins' legacy is set in stone!
Your article was horrible Mr. Presnell.  Taylor did something that no
Other fighter has come close to doing since 1993.  I'm not sure there is another middleweight on the planet that could have given Hopkins the
competitive fight that Taylor did.  WHO CARES WHAT HIS CORNER LOOKED LIKE AFTER THE FIGHT?!  Or what he said after the fight, or how Hopkins looked while waiting for the decision?  Last time I checked, it matters what is done inside the ring, not how you look after the fight.  Your article was bias and you had very poor arguments for your "ambiguous" criticism of Taylor.  You should be ashamed of what you wrote, and next time think twice about criticising a man that beat Hopkins fair and square.  Give Jermain his due, please.
~a member
Sweetchuck's Response: Ok, let's forget about what his corner looked like after the fight.  How about the worry on the face of Lou Dibella, or the urgency in the voice of Pat Burns, Taylor's trainer, or the fact that Taylor would turn his back to Hopkins when Hopkins had him in trouble in the last few rounds.  Some fights are stopped when a fighter turns their back the way Taylor did.  As I stated above, I can see how people saw Taylor winning the fight.  Just not on my scorecard.  You don't think Winky Wright could have beaten Hopkins and looked better doing it?
What fight were you watching.  Its obvious that Hopkins won 2 of the first 9 roundand then went on to win the last 3.  That's 7 rounds to 5.  I think you guys need to take off the BHop glasses and look at the fight with giving hop the fight before it starts.  If you look the fight from just a fan of boxing then you will see that hopkins made a damn good come back in the fight but TOO LATE.  Also, taylor said he would not jump around and run around the ring when he won simply out of respect for hop and that's what he did. Not because he didn't think he won the fight.  At the end of the fight he seem really exuasted, he said at the end of the fight hopkins didn't hurt him he was out of gas.  I guess its different when vivan ran out gas from taylor.  I don't know about you but if in the rematch hopkins don't pick up from the 12th round, the same thing will happen again. Cmajor
Sweetchuck's response: Bhops glasses are now available in the Boxingtalk Online Store.
First off I do agree that taylor lost the last three rounds big. But I totally disagree that Hopkins won that fight. You cannot win rounds by throwing ten punches a round even if you land some hard ones. When the other guy is throwing 40 he is going to win. Of course Taylor could not do what he normally does, that is because he was fighting an all time great. Also, I think the look of nervousness on Taylors face during the decision was due to horrible judging in vegas, not becuase he thought he lost. If I fought and won all 12 rounds I would still be nervous due to some of the horrible decisions lately in boxing.(Augustus-Burton, Bell-Brown). All of the writers on your website seem to have a personal vendetta against HBO and their fighters.  While I agree that they have spoonfed Wlad Klitschko lately and Showtime has shown some great fights HBO is still at the top of the boxing business.
Sweetchuck's Response: Willie Pep would win rounds without throwing a punch.  Neither of the fights you mentioned took place in Nevada.  Last time I checked, Hopkins is an HBO fighter as well.  Floyd Mayweather is an HBO fighter and he comes on the site all the time.  Tarver, Mosley, Glen Johnson, Roy Jones, De La Hoya, Trinidad and Marco Antonio Barrera all come on the site as well.  We have put Showtime down in the past as well for not putting up the money for the Corrales-Castillo fight at first.  Even with a fraction of the budget that HBO has, Showtime has put on the better fights this year.
Man o Man!...Listen, Bernie Pumkins never lost a fight that he really won, Okay??.that one is for starters...Plus the guy has bitched so much about the sufferings of his deprived life and he has shared so many tears from his inferiorities and persecussions complexes that the judges had obviosly and clearly sympathized with him when in many of his fights he won by stopping short of using his opponents nuts as speed bags and getting away with plain old felonies and other third degree agravated batteries...Bernie was lucky and he can count his blessings that he had a diet of crappy journey men and or complete unknowns to build his career on....He had to wait for blown up little fighters of the ethnic groups he obviouly hates the most, latinos from Puerto Rico and Mexico, to finally drive the poor Bernie out of his miserable existence, from being paid 150 G's per title fight and from being booed in his own town....
Sweetchuck's Response: No one has ever championed Hopkins as the cleanest fighter ever.  When you consider in Hopkins title defenses there were 8 former, current or future world champions, you can't really use the argument that he had it easy.  Hopkins fought the best of his era in his weight class.  Everyone who wanted what he had couldn't take it until now.  He has been very paranoid of having his title taken from him because his career was anti-establishment up until now. 
im sorry I just read your analysis of the Taylor Hopkins fight ..
and im not a Taylor fan but are you serious..
I was so happy when I saw a chance to reply at the bottom of this article.
yes I agree Hopkins didn't have a scratch. and I agree taylors face looked beat up.
but that's not what wins a fight.. Taylor clearly won about 6 of the first seven rounds.
Hopkins only way of even slowing down Taylors output was to run in head first,
holding and hitting, hitting in the back of the head. all crafty veteran ways to ruff
an opponent up.. there's no way in hell you can give that fight to Bernard.
he won the last 3 rounds distinctively after that for the most part it was all Taylor.
I will say this if Taylor comes with the same fight in the rematch, he will lose. he needs to step up the fight even harder and come with even better conditioning, and just one more thing who has Hopkins fought worthy of saying he is great. he lost to Roy Jones. he beat my favorite fighter Felix Trinidad (blown up welterweight). he beat Oscar delahoya(blown up junior welterweight) out of his prime and was losing at the time of a k.o.  Hopkins is one of the most boring fighters out there who wins by draining the energy and action from a fight.  in my eyes he will never be a show case fighter. im not saying he isn't good, he does what he has to do to win.  but he will never sell tickets like a Roy Jones, Felix Trinidad, or a Delahoya and I now after a rematch he is going to run tonight heavy when for years he avoided Jones there and now he is calling out Roy a obviously damaged fighter. he earns nothing if he beats Roy now. stay in your weight class. try to beat Taylor because he lost that fight, and then try to beat a guy who I think is a real classy fighter in wink Wright..
Sweetchuck's Response: Am I serious?  The last time I checked, one of the mottos for the site is "For the serious boxing fan."  I am serious with my analysis.  That's how I saw it happening.  Maybe you need a pair of BHops glasses on sale in the Boxingtalk Store.  I agree that Taylor can't win the rematch with the same fight plan and I would love to see the winner fight Winky.  Hopkins beating Jones now would be for Hopkins, not for legacy.  Really though, they couldn't figure out how to split $18 million, what makes anyone expect they can split less money now?
Im a fighter Rico Hoye Jr. lthvy and smell a fix but all in all not bad for boxing i respect and admire Bernard not only for his boxing skills but his business acumen.  This was nothing more than a mimic fight ala ALI-SPINKS I Bernard did not intentionally throw this fight but relaxed a lil too much early.  Do we really believe the Black Sheep of Boxing to think he'd win a close decision to Boxing Baby.  In a rematch Bernard by KO.
Rico
Sweetchuck's Response: According to Montel Griffin, you would be able to tell when the fix is in.  LOL, I can see Bernard winning the rematch by KO and ruining Taylor.  However, I agree with Jeff Young in saying that Taylor will probably be better in the rematch because he will have more confidence.  Go and fight again Rico, you need to get back after the loss to Clinton Woods.
Send questions and comments to: presnellcharles@yahoo.com