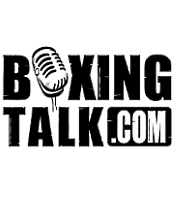 By Jose "OnFire" Aguirre @ Ringside
Sultan Ibragimov (14-0, 12 KOs), the 2000 Russian Olympic silver medalist, worked his way to a TKO in the sixth round over James Walton (19-5, 10 KOs) on Friday at the Atlantic Oceana in Brighton Beach, Brooklyn. In round two, Sultan landed what was ruled a low blow that sent Walton through the ropes and over the judges table. When Walton was able to get back into the ring he was given the five minutes to recover. The action continued where it left off as Sultan battered Walton prompting the referee to stop the bout.
In the co-main event, Timur Ibragimov (16-0-1, 9 KOs), cousin of Sultan, defended his WBC Fecarbox International heavyweight title besting Billy Douglas Jr.(10-4, 8 KOs), brother of former undisputed heavyweight champion James "Buster" Douglas. The judges all agreed by unanimous decision as the scorecards read 117-111, 117-111 and 119-108.
Also on the card, "Irish Sensation" John Duddy (7-0, 7 KOs) was taken into the fifth round for the first time in his career by Glenn Dunnings (3-1, 2 KOs) who had an awkward and elusive style. A point was taken away from Duddy in round four in what was ruled a rabbit punch. Duddy continued to move forward until he caught up with his opponent with a nasty left hook that dropped Dennings and forced the referee to stop the fight.
Other results from the Atlantic OceanaHeavyweights:
Derrick Rossi  W4 Ruben Bracero.
Light-Heavyweights:
Jason Quick unanimious draw 4 William Santiago.
Welterweights:
Terry Johnson w TKO 2 Nimrod Koren.
Welterweights:
Merhav Mohar w TKO 1 Mike Dobbs.