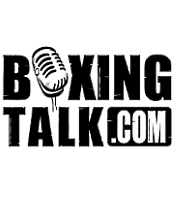 Russell Peltz Boxing, Joe Hand Promotions and Don Chargin Productions teamed for a 5 hour fight card in front of a capacity crowd at the New Alhambra in south Philadelphia Friday night.  The customers got their money's worth in quantity and quality with Michael Stewart and Juan Carlos Rubio on the top billing, and the main support featherweight battle between Rogers Mtagwa and Fernando Trejo.
Stewart endured a tough 2004 with one win sandwiched by two losses in England, one to Sharmba Mitchell and the other a stoppage loss to Ricky Hatton.  Stewart defeated Corey Alarcon on America turf in February and stepped in tough on Friday against Rubio, whose only loss since upsetting Francisco Bojado was a rematch defeat in 2003.
From the opening heat Rubio got off first and with better, sharper punches. Heads clashed in the second round and Rubio suffered at big cut over the right eye. With blood streaming down his face, Rubio challenged Stewart (143 lbs), while Stewart was stating it was Rubio's own fault.  Early in the 3rd round Stewart was wiping blood from his left eye while Rubio pumped his punches well.  Michael wasn't showing his usual body punching style and seemed to be running into Juan's jabs.  Stewart took to throwing harder punches by the 5th and Rubio kept nullifying "No Joke" Stewart's aggressiveness with sharp jabs.  Rubio was able to get Michael along the ropes and took advantage with plenty of punches.  Stewart was still not going to the body effectively as the final third of the fight unfolded. Stewart's jab wasn't too effective either, but he fought fresh in the 9th and 10th rounds but it was all a bit too late.  A split decision was announced with scores of 96-94 and 96-92 for Rubio countered with 97-93 for Stewart.  The BoxingTalk scorecard reads 96-94 for Juan Carlos Rubio (143½ lbs) who improves to 31-7-3.  Stewart's #8 IBF ranking may be at risk as he drops his third fight in five outings and is now 37-4-2.
That main event followed at Philadelphia Fight of the Year candidate.  A 10-round featherweight bout between Rogers Mtagwa (18-9-2) and Fernando Trejo (23-9-4) was topsy-turvy all the way through.   The opener wasn't a typical feel out round, it was more like a 'feel this' round.  Both fighters let 'em go early, Mtagwa to the body and Trejo with volume punches to everywhere.  Mtagwa, with 15 KOs in his 18 wins, got on the ropes in the 2nd stanza. He took Trejo's attack than fought his way off to make it exciting. Rogers looked to be in trouble several times in the 2nd and 3rd rounds, but always managed to throw punches back to give himself some breathing room.  He was losing rounds however.  Trejo, stoic with his approach as well as facial expression, had a plan and it was to punch Mtagwa frequently.  Of course, you say, that is the object of the sport, but Mtagwa (127½ lbs) started off each round strong.  Trejo used his quickness to keep it close then turn it up near the end of each round.
After a decisive round for Trejo in the 7th,  Mtagwa, the Philly fighter from Tanzania, took advantage of the rest that Trejo took in the 8th. Mtagawa carried his momentum into the 9th with punching and his defense. The 10th round was back and forth until Trejo was on the ropes and tried to slide out, but he slid into a hellacious right hand and down he goes!  Trejo was on his back and looking for the ropes to assist him back to his feet. The full arena cheering for the knockout ending was treated to an intense Mtagwa flurry that put Trejo on one knee for a second knockdown in the final round.  Trejo, a Mexican muchacho, would not hold and finished the bout on his feet punching along with Mtagwa in a Philadelphian's kind of fight.  The official decision was 95-93 for Mtagwa, 96-92 for Trejo and 96-92….for the winner by split decision……. Rogers Mtagwa.  The BoxingTalk scorecard found the total to be 94-94 as the knockdowns proved to be the difference on our card and on the first judge's tally.
Undercard Bouts:
Heavyweights: Richard Stewart U Dec. 4 Robert Willis
Jr. Middleweights: Avtandil Khurtsidze TKO 3 Calvin Shakir (corner stops it),
Jr. Middleweights: Clarence "Sonny Bono" Taylor TKO 6 Juan Escobar Lt. Heavyweights: Jack Burris U Dec 4 Jim Scully
Featherweights: Ramaz Gazashvili U Dec 4 Jose Zepeda.
Lightweights: Dave Evans U Dec 4 Joey Ortega.
The crowd went home excited and happy and await a possible May date with Peltz Boxing's next card.  Meanwhile, Philadelphia fans can look forward to an April 15th show at the National Guard Armory in NE Philadelphia as Power Productions presents Lujuan Simon vs. Jameel Wilson and the Legendary Blue Horizon opens its doors again on April 22nd for their next bout.  Joey Eye Boxing and NIT Management have set a May 6th date for a fight card at the World Gym in Northeast Philadelphia featuring fighters from Trenton, NJ (Mark Ford and Chucky Cavallo) and some of Philly's favorites such as Jose Medina and Luis Santiago schedule for the main event.
Send questions and comments to: planetlarry@hotmail.com