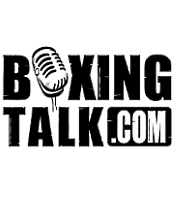 PRESS RELEASE:
When the holidays roll around, unbeaten featherweight contender Steven Luevano knows where he will be - in the ring, fighting. Since he began boxing, Luevano has fought on three Thanksgiving holiday cards, three times on his birthday and once on Halloween. "No Thanksgiving dinner for me this year," said Luevano who will be the star attraction at Top Rank's big holiday fight card at the Santa Ana Star Casino in New Mexico on Friday, November 25.
Luevano, 29-0 with 14 KOs, of LaPuente, Calif. will take on Martin Honorio, 19-3-1, 12 KOs of  Mexico City in the main event. The seven-bout fight card will include Vincente Garcia, a 7-3 welterweight prospect from Albuquerque.
Luevano has been training for weeks in Las Vegas. He has been working with trainer Don House - it's the third fight together for them.
Luevano vs. Honorio is promoted by Top Rank in association with McKinn Boxing and the Santa Ana Star Casino. Solo Boxeo de Miller will televise nationally on Telefutura.
CAL FLYWEIGHT CHAMPION SEGURA ON SANTA ANA STAR CASINO CARD!!
California State flyweight champion Giovanni Segura will also be on the Top Rank fight card at the Santa Ana Star Casino in New Mexico. This will be Segura's fourth fight for Top Rank and his first scheduled on Telefutura. 
Segura, 10-0-1, of Bell, Calif. will take on Benjie Garcia to open the Friday night Solo Boxeo de Miller telecast. The bout is scheduled for eight rounds.
"This is their third fight against each other," said Brad Goodman, Top Rank matchmaker. "The first fight was a draw; the second fight Segura caught Garcia cold with a punch in the first round. Garcia has been hounding me for a rematch and here we go again."
Segura, 23, said he is ready for his first big TV fight.
"I train at the Azteca gym in California," he said. "I've sparred with Martin Castillo (the WBA super flyweight champion) for several years. When he is having a fight or I am having a fight we help each other out. I like to go in there and get good sparring before a big fight.
"I'm a big puncher," said Segura. "I consider myself aggressive. I can fight lefty or righty. I don't like to wait too much."
FIGHT NOTEBOOK --  Steven Luevano lists his favorite TV show as the Friday night fights on Telefutura. "Never, ever miss the fights on Telefutura," said Luevano.....Segura began boxing at the age of 15 - he had about 40 amateur bouts. "Most of my amateur fights were knockout wins," he said.