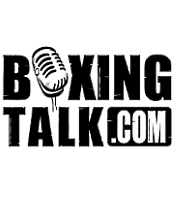 "Everybody knows why you get fired from sparring"
RC: Word is you had quite a bit to do with why former undisputed heavyweight champion Riddick Bowe won't be fighting Kenny Craven in Louisville, KY, Is there any truth to that?
SC: Awe man, (Starts to laugh). Nah man we sparred man I am not going to say I did that. But the truth is there were some problems for a couple of weeks, and they worked on it and it got a little better but I guess he probably threw it out while we were sparring
RC: Probably or he did, or your not sure?
SC: Well he did, he had to. Me personally I don't know but, he really wasn't using his arm like he was suppose to, so I figured there was something wrong.
RC: Would you say that you bested him in the sparring session?
SC: Nah, (Starts to chuckle) it was good work that is all.
RC: Sounds as if you are holding back a bit…
SC: (Cutting in) Yeah man it is just good work, good peoples here.
RC: Well I see you'd rather not elaborate, but from what I understand, the sparring that took place between the two of you had a lot to do with him not being able to fight on Saturday (November 27th), because you was straight putting it on him.
SC: (Starts to laugh)
RC: I guess you are laughing for a reason
SC: I am laughing man because man…… work is work. When I spar I spar to work, I tell everybody that. A lot of people know me from Philly and when I work in the gym, I give work to work; I am not there to knock nobody out. I am just there to work on my stuff. I am there to help me get better; I am not anybody's sparring partner.
RC: Would you put some good work in during this particular sparring session?
SC: Ooh yeah, yeah, yeah. Lets just say I got tired putting them together, that's all.
RC: You got tired putting them together? What do you mean by that?
SC: (starts to laugh) whatever you can imagine.
RC: Well here on Boxingtalk.com we don't really like to make up stuff and imagine so we go straight to the source, and that is why I am…
SC: (Cutting in) Aight man, your right I am not going to play.
RC: So tell us how it went down, so there is no misunderstanding, it just...
SC: (cutting in) The truth is, his arm was sore before we sparred and everything. But you know I was getting in some good shots, and it was like… I thought he was holding back because he wasn't using his arm. But later on he started throwing some more punches showing that it was still strong. You can tell it was hurting him, but you know it was good work.
RC: You mentioned a lot of people in the Philly area know who you are, but a lot of people out there don't know much about Steve Cunningham, why don't you introduce yourself to the Boxingtalk.com readers out there and tell us a little bit about your amateur career and background?
SC: From a back ground standpoint, I was basically street fighting, that is how I started boxing. I had a little sister I had to take after, we were like two grades behind each other, so we basically went to the same school most of the time, and you know I had to fight for her, fight through the neighborhood, and basically got my street cred(ibility). Then I joined the Navy when I got out of high school and got on the Navy boxing team and beat the light heavyweight champ for the Navy in my first amateur bout. So I was like yo this is it right here, I am meant to do this. I use to lie and tell people I was a boxer when I wasn't. That was just to keep the noise down, because you know when I went to the Navy, you know they had a lot of dudes from all over the nation coming together , and you know everybody is a tough guy. So I had to stretch a couple of people, and they would say "Hey you are pretty good" and I would be like (In a tough guy voice) Yeah I use to box! (Then starts to laugh) but I had never stepped foot in the gym. So when I got the opportunity to work out in the Navy boxing gym, I got over there and started training hard everyday. Then I got a chance to fight the Light Heavyweight champ of the Navy and I beat him my first fight, and that is when it took off.
I became national champ, 1998 National golden gloves champ, state and regional champ three times, and all down south D.C. Mayor's cup. The guy who went to Olympics for 2000, I beat him in the 98 golden gloves nationals, but you know they robbed me in the 2000 nationals when I was trying to make the Olympics. I have showed people the tape and they were like "Whoa, you beat that guy" so they wanted to sign me up.
RC: So who are you working with right now as far as with a promoter?
SC: I am promoted by Don King right now; he has been promoting me since 2002. Every fight that I had with him were key fights, I fought Demetrius Jenkins, beat him, he barely touched me. I fought Terry McGroom, he fought (Vasilly) Jirov before, that was a beautiful fight, I was just going off. My next was in South Africa against Sebastian Rothmann that was a very good fight for me, that shot me up in the top ten across the board. Basically I am just waiting for my shot; I see I am number three in the WBC now. I am just waiting for Wayne Braithwaite and Mormeck to get the guns blazing and when the some clear I am going to be the champ.
I am just waiting for O'Neal Bell Kelvin Davis, and Jean Marc and them, they are fighting in January so we will wait until the smoke clears after that and see what's next.
RC: It's probably no mistake that you signed with Don King who happens to have all three of the major champions as a part of his ever growing stable. How do you see it playing out, you got Braithwaite and Mormeck, and you got Bell and Davis. Where do you fit in there, do you take on the winner of either of those two matches?
SC: They actually called me to fight Braithwaite on October the 2nd; they were supposed to unify the titles on that Mayorga-Trinidad card, but the called me up and was like come on here is your opportunity. It is a good thing I was already in camp for three weeks and we believe we can beat him, so we took the fight, and a week later they called us back and told us that he didn't want the fight. Which is a smart move, because he stands to make more money trying to unify the titles.
RC: So are you telling me WBC cruiserweight champion Wayne Braithwaite turned down a fight with you?
SC: Yeah, they turned it down because they wanted to try and unify the titles. Basically they didn't want to take a chance. So it is understandable, it is cool, as long as they know I am coming.
RC: How many amateur bouts that you have had?
SC: Under 60, and I am 16-0 as a pro.
RC: Now with under 60 amateur bouts and only 16 professional bouts, do you feel you are ready for a guy like Wayne Braithwaite already?
SC: Yeah man, I feel ready because since I was an amateur I was sparring with top names. I sparred with Chris Byrd as an amateur, I still spar with him, I was sparring with him for the Awinongya fight. Larry Donald, Oliver McCall, Keith Holmes, Williams Joppy, Chris Johnson, Cedrick Boswell, you name it, I sparred with nothing but big name pros that got skills and not to be bragging or nothing, but I have held my own with all of them, meaning I haven't been taken advantage of. So I am like man, if I can go up against these guys sparring, and I know those other guys don't have nothing like what these got so I feel I am ready.
RC: Why do you feel we haven't heard of Steve Cunningham, and why haven't wee seen you on Television yet?
SC: That is what we are trying for now, we are really going back into negotiations with Don (King) because we have to renew my contract in January, and basically he doesn't get T.V. dates for the under card fights, and I was just coming up. Now this is my time to come up and for the World to see me. After that fight in South Africa, which was what you called an unscheduled eliminator bout for the WBA title....actually sparring with the WBA cruiserweight champ (Jean Marc Mormeck) in South Africa, and they fired me, so you know what that mean when they fired me after the second week. So I feel I am ready, I don't really care about any names, if you got the title I want to fight you, I don't care! It aint nothing personal.
RC: Did you get fired from the Mormeck camp because of the same thing you were doing to Riddick Bowe in sparring?
SC: We were working, but the guy didn't have a good work ethic. You know in South Africa, they have one of the highest altitudes in the world there, so you got to be in shape working out there, and basically he couldn't hang. It got to the point, where my trainer told me, "Don't beat him because we don't want to get fired, you want that extra sparring money. Plus my purse money." So I made myself hittable for the guy, but in a few days I was like screw that, I am just going to out box the dude and I barely got touched. He is huffing and puffing, he doesn't run, he didn't run, he didn't do nothing, he had some crazy setup.
So they finally decided to fire me one day, so I am like that is cool, and everybody knows why you get fired from sparring, you know what that's all about.
RC: What was his excuse for letting you go?
SC: Actually they didn't give me any explanation. My trainer and I had gotten into an argument, and I took it out in the ring with Mormeck, we started throwing big blows, they said they didn't want to work with me no more, and they didn't want me going to the gym the same time he went, so I knew what the deal was. Then Don put on the program of the fight, that I will eventually try and challenge Mormeck for his title down the line, and I guess that rattled him too. But it's whatever they will have to see me, I am going to make myself the mandatory, they are all going to have to see me.
RC: For those who haven't had a chance to check you out in action, describe your style so they can get kind of an idea when they finally do get a chance to see.
SC: My style is a boxer I am 6'3" and I have an 81in reach, and my thing is I like to use my reach and speed but don't get me wrong, I like to fight on the inside also, they see that I am tall, and you don't see too many tall guys that can slip, move and use them angles. So that is my whole thing, movement and speed. Movement and speed kills dudes, any style, movement and speed kills, look at Chris Byrd, people hate him because he is such a small heavyweight but he is kicking everybody's butt, and that is because he has movement and he has speed. Basically that is it, and my thing is boxing is my job so everyday I am running, or I am working out at the gym or I am doing both. Even in between fights. You can call me and say "Yo Steve you want to spar" I am like yeah I'm sparring, if they say hey "You got a fight in two weeks" I am like hey I am ready. After my fight in Africa, I was back in the ring that next week working out because that is the way you got to do it, you don't want to slip.
RC: Have you faced any notable names in the amateurs?
SC: Michael Simms, I beat him in the 1998 golden gloves, he got kicked off of the team for behavioral problems so we heard. I fought Orlando Anderson, he hasn't turned pro. I fought a lot of guys, I can't even remember.
RC: What was your record as an amateur?
SC: I had like eight losses, a couple of them were robberies. But that is part of the amateurs, that is why I believe it is good for a professional fighter to go the amateurs, because you get to go through all this and that and get use to what is going to happen in the pros. So when you come in the pro's and you have that amateur experience, even with the losses, not saying that I am trying to loose anything, but if you do loose, you know how to take it on the chin and say I just have to come back
RC: In January, two very important upcoming bouts between Wayne Braithwaite (WBC Champ) verses Jean Marc Mormeck (WBA champ) and Kelvin Davis (IBF champ) versus O'Neil Bell would you like to possible face the winners right away or gain some more experience before you do so?
SC: My trainer and I have a plan which is to get a couple more fights before we do make it to that title bout.
NOTE: This interview was conducted Wednesday, November 24,2004
CLICK HERE FOR MORE OF THIS EXCLUSIVE
Send questions and comments to: rayocampbelljr@hotmail.com