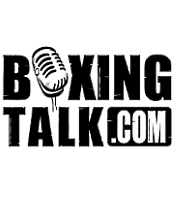 He's sparred with the best, now he's ready to take on the best!
He has recently sparred with some of the best fighters in the lightweight and junior welterweight divisions, but for Steve "2 Pounds" Forbes, fighting as a lightweight is no longer an option for him.  He feels in past fights that he spent more time trying to shed the pounds than train for facing his opponents.  On December 16th, Forbes will take on Omar Bernal at 140-pound limit and stay there for good.  Now fully committed to fight in one of boxing's deepest divisions, Forbes looks to begin his New Year's party early by impressively dismantling his upcoming opponent so that he will be positioned to face some of the bigger names of the class down the road, for he has sparred with them already, now it should count for something.  BoxingTalk recently spoke with Forbes to get his thoughts on his bout next week and what 2005 looks like for him.
BoxingTalk: Steve, you are fighting on December 16th against Omar Bernal.  However, you just found out today that he was going to be your opponent.  How much will this late information effect you?
Steve Forbes: It doesn't really hurt me because I've been sparring with so many different guys.  I'm looking at this fight as a tune up bout to stay busy.
BT: Who have you sparred with to prepare for this fight?
SF: Tonight I'll be sparring with Carlos Navarro, and I do a lot of boxing with Kevin Kelly.  I have sparred with Erik Morales to get him ready for Barrera.  I've sparred with Sharmba Mitchell when he was getting ready for Kostya Tszyu, so I've been pretty active in the ring lately.
BT: Being the fact that you sparred with Mitchell, were you as surprised as everyone else to see how quick Tszyu disposed of him?
SF: Actually I was.  I was very surprised.
BT: What did you think of Morales last fight with Barrera?
SF: I thought Barrera fought a very good fight.  Morales didn't box like I thought he would.  He tried to brawl a lot more and that's not his game.
BT: Do you feel Morales' and Mitchell's performances in the gym were on par with their performances in the ring?
SF: Kind of, because both guys tried to brawl a lot, but they are better as a boxer.  Morales tried to brawl, and Mitchell didn't move very much, and I was thinking that wasn't their game.  They were better off when they moved and boxed with angles.
BT: This will be your fourth fight this year… 
SF: Yep, that's pretty good.  I'm trying to stay active.  Dan Goosen told me I was going to be active and he is living up to his word.  That's the best thing for any fighter, to stay busy.
BT: Your last fight was against 3-K Battery in which you lost a unanimous decision.  What is your take on your performance in that fight?
SF: In that fight I fought great in spots, but making the 130-pound limit was too much.  It really took a lot out of me.  There would be times in that fight where I'd hurt him in one round, but I'd come out kind of flat in the next round.  That told me I definitely needed to move up to the junior welterweight division.
BT: Will your fight against Bernal be at 140?
SF: Yes, I could fight at 135 if I wanted to, but this fight will be a junior welterweight fight.
BT: Do you feel you are most powerful at 140?
SF: Yeah, I would say so.
BT: After taking on 3-K Battery you went on to win a split decision against Steve Quinonez…
SF: In his home town…I was much more active in that fight because I didn't have to struggle to make the weight.  I felt a lot better.  I didn't have a whole lot of sparring for that fight, but once I got in there I felt good and I dictated what I wanted to do.  He did have some spots of success being that he was an experienced fighter, and a former title holder.  He fought one of his best fights since I was coming into his hometown and he wanted to fight for the fans, but I was able to pick up the speed and dictate the momentum of the fight.
BT: How are you preparing for this fight against Bernal?
SF: I'm preparing like I normally do.  I'm staying busy in the gym and I'm focused about fighting instead of worrying about making weight and feeling weak.
BT: Has Goosen mentioned any future opponents for 2005?
SF: They are positioning me to fight [Floyd] Mayweather and Vivian Harris.  That sounds good to me.  My goal is to stay ready and be ready for any opportunity out there in a smoke-packed division of the junior welterweights.  There are a lot of good fighters out there.
BT: What else could 2005 look like for you?
SF: I'm looking to get in some good fights with some of the bigger names.  I know I can get somebody in there to show everybody that Steve Forbes is a really good fighter.
BT: Does a rematch with Carlos Hernandez interest you?
SF: I'd love it, but not at 130.  It would have to be no less than 135.
BT: With only 7 of your wins coming by way of knockout, do you feel you now have the power to mix it up with the big boys in the division?
SF: I think my strength now will shock a lot of people.  Trying to make 130 took a lot out of my power.  I had to rely on my speed since I didn't have the strength after losing the weight.  Now, I have both, but I'm still not claiming to be a knockout puncher.  I'm a guy that punches hard enough to get respect, and then I use my speed and I fight smart.
BT: What should we expect from you in this fight against Bernal and in the new year?
SF: Expect me to look good in this fight, and to be in some good fights in 2005.  I always come to fight, so you will see some good things and some different things too.  If you are a fan of old school boxing…that's what you are going to see.
BoxingTalk thanks Mr. Forbes for taking the time to speak with us.  We wish him continued success both in and out of the ring.
CLICK HERE FOR MORE OF THIS EXCLUSIVE
Send questions and comments to: Fool4Rush@aol.com