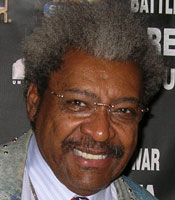 With the announcement that Owen Beck will be going to Germany to challenge Nicolay Valuev for the WBA heavyweight title on April 1, 2006, it shows just how important it is to have a powerful promoter such as Don King behind you. Even if you are going to get a title fight with expectations of being the mere opponent for the champion, you are going to get an opportunity thats come to very few boxers, and you are going to get a decent payday out of it as well. And if the fight is close, you will get more fights out of  the experience. The problems, on the other hand, is that you may be getting less of a payday than a title challenger normally gets and that there are more deserving boxers who the fans would like to see in a title shot that are stuck on the sidelines.   Owen Beck is a great example of this. Beck has lost two of his last three fights. One of those was to Monte Barrett and the other was to Ray Austin. Both are decent fighters, especially Barrett, but to get a title shot you have to be able to beat some one like Ray Austin. Now after winning one fight against a former light heavyweight, Beck looks to be heading to Germany for the chance of a lifetime to face the current WBA champion. Why? Because Beck is handled by Don and Carl King.
Overall, Beck has not done anything in the division to warrant a shot at a championship,  but being handled by King, who has an interest in Valuev, almost guarantees that this fight is going to take place. Now I know a record of 25-2 shows a fighter that is on the verge of getting a title shot, but why is he more deserving to get that shot than, for example, Terry Smith who currently has a record of 26-1-1?
Smith's lone loss was to Calvin Brock on NBC. It was a fight that Smith took on short notice, and even Smith admits that he was nervous going into his first major televised main event. Smith gave it his all and even had Brock hurt in the fight. His draw came against Kendrick Releford, a fight Smith had shortly after coming out of his first training camp experience with James Toney when Smith was still sore from the sparring sessions, where Toney tried to make an example out of Smith by kicking everyone out of camp the final week. Smith said he should have taken some time to recover before taking the bout with Releford, but he took the bout anyway.
For the last year or more, Smith has tried to no avail to get the type of fights that would cast him into the national spotlight. After a solid performance on ESPN against Fernely Feliz, Smith was certain that something would come his way. There were offers against names like Sam Peter and Valuev, but they were all on one to two weeks notice. Smith's team declined those fights because of the amount of time available to prepare. Smith wanted to face Peter with time to prepare for the fight but according to Smith, Team Peter declined. Smith has also wanted a rematch with Brock, but Smith says Brock's people declined as well. It seems no one wants to fight Smith if he has the proper time to prepare for the fight.
Last year, Smith thought he was going to get the opportunity that he was looking for when his name came up as a possible opponent for then undefeated Audley Harrison. Instead of selecting Smith as the opponent, Harrison chose Robert Wiggins. After the Wiggins fight, Harrison complained that there was no other opponent willing to take the fight and he had no choice but to face Wiggins. But Smith is willing to accept the terms and the fight, and he never got another response for Harrison.
Instead Smith faced Julius Long on ESPN in an exciting fight. Even though he was victorious, Smith had little time to prepare for Long as he was not the original opponent and Smith had only about a week to prepare for the big man. Since then Smith has fought anyone that he could find. He has even made deals for fights by agreeing to come to camp for other fighters to get on their cards.
Most of Smith's opportunities came on short notice situations or by Jermain Taylor coming to Little Rock. Smith has fought on every Taylor card held in Arkansas to date, but even being Taylor's friend could not get him on the televised portion of an ESPN card in Little Rock. (Note: Smith later headlined two ESPN cards).
During this time, Smith has worked the camps of several other high profile fighters including several times with James Toney, who speaks highly of the contender from Little Rock. Smith is also a constant at cruiserweight B.J. Flores' camps as well, but even though it is Smith who has more professional experience, Flores is starting to get quite a bit of press. Why is that, well just like Beck who has the backing of King, Flores has the backing of Main Events. By the way it was Main Events that took another Arkansas contender, Dominick Guinn, and placed him in the spotlight as well while Smith took fight after fight just to try to get noticed.
Now Smith does have a promoter, but the question is what is the promoter doing for him? Tony Holden Promotions has done nothing to get Smith the meaningful fights that he needs to get to that next level. Just look at the heavyweight division today and you wonder why a guy that has the record of Smith is not placed higher in the heavyweight picture. As a matter of fact I can think of two heavyweights at the present that have not been pushed as hard as a Sam Peter, Owen Beck, and now a Calvin Brock. One is Smith, and the other is Malik Scott who is promoted by Main Events. Maybe Smith and Scott should fight each other to set up a meaningful fight.
In all the turmoil that surrounds the heavyweight division, I would like to put a challenge to Tony Holden to get Smith the fights with a meaningful opponent. Smith will not let you down. Just give him more than a weeks notice where he can have a full camp to prepare and he will show everyone that he has what it takes to be a player in the division. All Smith wants is that opportunity to show everyone that has doubted him that he deserves to be placed in the top ten in these organizations. The time for the eight round undercard bouts are over, it is time to give your fighter a chance to show what he is made of and if you cannot provide those opportunities than be honest with your fighter and allow him to talk to other promoters who can get him those fights.
In boxing you can have all the skills, but without the strong promoter behind you the fighter is not going to go anywhere. If you do not believe me, look at Owen Beck. Nothing against Beck, but do you really believe that without the backing of Don King, Beck would be getting an opportunity to face Valuev. Do you think Valuev would even be considering Beck.
There are guys out there that you can make fights with to get some one like Smith more exposure. Names like Kirk Johnson, Larry Donald, or even Joe Mesi when he comes back. The question is are you willing to do what it takes to make those fights happen. It is time to push for these types of fights, before you burn Smith out and drive him out of boxing before he can get those opportunities. The time is now.
Send questions and comments to: stateofthegame@yahoo.com