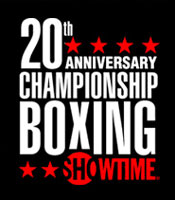 In a world where everyone compares the networks that showcase boxing, it seems one network has once again started out the new year as the network to beat. After showcasing four fights in two days, Showtime has already set the bar for 2006 and has basically showed HBO that they will have to really step up on their network, not to just surpass them, but to catch up. 
On Friday night, Showtime aired the first installment of their showcase series ShoBox for 2006. Now ShowBox quickly became the series for up and coming boxers to be showcased in recent years and has became what HBO's defunct KO Nation was suppose to be. Friday night did not prove to be any different as ShoBox opened the year with Raul Martinez. For those that do not know, Martinez was a former number one amateur that missed out on the Olympic Games. With his goal of making the Olympics and winning a medal at the games falling short, Martinez turned professional and has proven time and again over his first 11 fights that he is a future champion.  
On Friday night, in his 12 pro bout, Martinez showed that he had a heart to go along with his skills as he took out Andres Ledesma in the final round of their eight round contest. Clearly winning the fight, Martinez suffered a bad cut in round six that was ruled a punch despite Martinez's attempts to persuade the ref that it was from a head butt. Martinez pleaded his case to the doctors and the fight was allowed to continue and in round eight, Martinez took Ledesma out in spectacular fashion to remain unbeaten.  
In the main event, Joel Julio showed fans he was a legit player and threat to anyone at junior middleweight as he took out  Robert Kamya in three. Julio showed a lot of patience to go along with his boxing, unlike many knockout artist on the scene. Julio took his time, landed his shots and never showed any signs that he was a one punch knockout artist that goes out headhunting. It was not the type of performance that gave the indication that Julio was one of these exciting fighters that if placed in with a mover/boxer he would get frustrated when he could not take his opponent out. It was the type of fight that gave the impression that if you are a champion and want to keep your belt, stay away from Julio. 
Overall the ShoBox show should produce high grades from boxing fans, and was a good way from Showtime to start of the new year. 
On Saturday night, Showtime Championship Boxing returned to once again steal the thunder from the self proclaimed "Heart and Soul of Boxing," With two championship fights on tap both proved to be upsets. To be honest, one was a marginal upset and the other will be the upset of the year by most counting when 2006 is over.
In the opening bout, IBF Champion O'Neil Bell survived the early assault from WBA/WBC Champion Jean-Marc Mormeck to knockout the Frenchman in the 10th round to claim the first undisputed cruiserweight championship since Evander Holyfield. It was only fitting that the two men to lay claim to that title both make their homes in Atlanta, Georgia.  
In the early rounds it looked as if it was going to be all Mormeck, but with only having one fight in 2005 and his hand in other ventures Mormeck seemed to lose focus and was exhausted after four or five rounds when Bell began to take things over. In round seven, it was all Bell as he got to Mormeck and hurt the fight favorite. Mormeck fought back bravely, but in round 10, Bell once again showed his courage and why he is where he is at when he dropped the Frenchman for the first time in his career. It was a knockdown Mormeck did not get up from. 
A lot of fans across the internet have brought up that Bell landed the knockout blow behind the head of Mormeck, but to be honest it is about time that a fighter took advantage of another boxer that dips so low that the only place to hit him is in that area. In the Gatti-Ward rematch a few years ago, Gatti was allowed to dip down so low at times that his head was almost on the canvas, leaving only generally illegal areas to hit. The difference was that Ward did not pull a Bell and take what was given to him.  
Even though the Bell victory was considered an upset, it was not the biggest upset of the night as Undisputed Welterweight Champion Zab Judah entered as a heavy favorite to Carlos Baldomir. With not only his top placement in the division on the line, but career paydays with the likes of Floyd Mayweather hanging in the air. Judah began to control the action in the first couple of rounds, but Judah's punches seemed to have little affect on the Argentinean as Baldomir ushered Judah to come one and kept coming himself. Even though it looked like Baldomir may have won round four out of the first six rounds, it was round seven that he took over the fight.  
It came off a big right hand that sent Judah reeling all over the ring and from that point on the fight became Baldomir's. In that fateful round seven all three judges gave Baldomir a 10-8 round. From that point on Judah was only able to win one round the rest of the fight. When the scores were read it was Baldomir that did what many said was impossible for him to accomplish, he defeat Judah to gain the WBC title and he did in Judah's hometown.  
It was an excellent night for Showtime Boxing. One that set the bar for the year and it looks like they will continue to bring in quality fights for the next few months. In February, Showtime delivers with the third installment of Corrales-Castillo and in March it is the long anticipated fight between Jeff Lacy and Joe Calzaghe. Not to mention the ShowBox fights in between. It must be noted that all these fights are available to Showtime subscribers. 
To compare with what is on tap for HBO in the near future, Up through May there are only two set HBO fights. The first is at the end of this month when Arturo Gatti attempts to bounce back from the most embarrassing performance of his career. Gatti will take on undefeated Thomas Damgaard in a welterweight bought.  
From there it will be possibly March 18 for the next HBO date when James Toney takes on Hasim Rahman for the WBC heavyweight title. Now a few months ago, the hierarchy at HBO stated they are concentrating on providing more fights and more quality fights on their air in 2006 and not concentrating on the big lead up fight to the PPV event, however if you look at the first part of the year, (note: things could change as fights are announced) HBO is sponsoring 2 telecasts on regular HBO for the network subscribers and from January to May it looks like they have attached their names to at least five PPV events, including two in the month of February.  
What it looks like to me is that HBO is telling the world they are the place to go to spend 50 to 100 bucks every month see quality fights on their PPV telecasts and not on World Championship Boxing. But most fans maybe saying at this point, well they have dropped to number two on the list, to the contrary it seems that for the first part of the year HBO may have slipped to as far as fourth on the list and lets not mention that by not offering Oscar Delahoya's Boxeo De Oro on HBO Latino has taken away yet another boxing program that was starting show quality fights under the HBO banner. 
That is right it is possible that HBO is now fourth on the list of boxing networks. Clearly at this junction, Showtime has separated itself from the pack, but with the upcoming schedule it seems that coming in at second will be ESPN for the return ESPN2's Friday Night Fights. 
On ESPN, they kick off the year January 20 and keeps coming with eight fight cards already on their schedule with some quality fights. In these fights there are names like Teddy Reid, Dale Brown vs Felix Cora Jr., Scott Pemberton vs Peter Manfredo Jr., Kendall Holt vs Oscar Diaz, and many more. It looks like ESPN is taking a step to bring fights to the fans. 
Coming in at third is a network that not everyone can get, but they put on quality fights and showcase some very talent Hispanic fighters. That network is Telefutura. With their schedule of activity, right now it seems like they may have passed HBO as well.  
The only network that shows fights on a constant basis that may be under HBO is Fox Sports and they are close to HBO at this point and time.  
It seems that if HBO is really dedicated to giving fight fans the fights they are wanting and if HBO is wanting to get back to that number one spot, they have a long road to travel and they need to get on the ball to accomplish this goal because right now they are falling way behind out of the gate. 
New Year for the SOG 
Last year was a slow year for the State of the Game due to several reasons that I will not discuss. During this time Boxingtalk has grown even more and just to let everyone out that there reads the SOG, I am back. I have a new found love of the sport and I am determined to take my place back at the top of Boxingtalk where I was for many years. For those that do not remember, at one time there was two major contributors to this site, myself and Greg Leon. We are the ones that kept Boxingtalk going in the dark days and since then, Greg has continued to build the site to where it is now as I have grown bored with the sport and at times considered even leaving or to stop writing altogether. It is with great pleasure that I say I am back to my old attitude and I cannot wait to contribute a lot more to Boxingtalk in 2006. Now if I can just get my own Boxingtalk T-shirt. 
Editors Note: Boxingtalk is working dilligently to get Jeff Young as many shirts as his heart desires.
Send questions and comments to: stateofthegame@yahoo.com