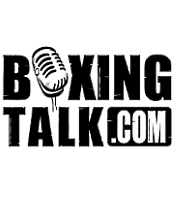 Terry Smith's second venture onto national television may not have been the most exciting heavyweight bout of the century, but Smith is satisfied with the win on ESPN Friday Night Fights and looks ahead to bigger things in the future. The Arkansas heavyweight took a step forward in his career, fighting the best opponent thus far in his career doing what he had to do to take the victory over Fernely Feliz in the 10 round main event. Smith has heard the criticism on his performance, but does not let that bother him and also knows that as he progresses he has to deal with the good and the bad.
Going into the fight, Smith wanted to show that he belongs in the heavyweight mix. In a way he accomplished that goal by taking the decision and showing that he is a durable fighter. He also knows that there are areas that he has to improve on to take those next steps.
"This was my second fight on television and I know that it was a better showing than my first outing," states Smith. "I also know that I have to take the criticism to improve and make myself better but the people have only had one fight to judge me on as the Brock fight I took on two weeks notice. All I can ask for is a chance."
That chance could be coming later this year as Smith says his promoter Tony Holden is looking into possible fights for his upcoming bouts.
As far the criticism goes, Smith did the most important thing and that was he got the win against a guy that showed a difficult style to deal with in the ring.
"He was difficult because every time I got close, he grabbed and he ran the majority of the fight," said Smith. "The fight against John Ruiz that I saw, he came right at John. This was a different look than the fight I saw of him."
Late in the fight, it was evident that Smith was getting to Feliz with shots to the body and there was one thing that the ESPN announcers never mentioned on the telecast that was important to point out. In around the seventh round, Smith took a couple of steps back and was blinking his right eye quite a bit as if something was in it. It turned out that it was Feliz's thumb.
"He thumbed me in the eye. I after I hit him with those body shots and I was setting him up for the uppercut, but when I went in he thumbed me in the eye and then I was stepping away from him and he threw a shot that caught me in the back of the head. I was trying to take me time to shake those things off and get my sight back from the thumb. I closed that eye for a portion of the fight because I could not see out of it."
A few rounds later, more trouble came for Smith as he was head butted in the same eye.
As far as the criticism of Smith from famed trainer Teddy Atlas, it was more of constructive criticism that Smith can take back to the gym and improve on. Atlas pointed out several things that Smith could have done more of to make the fight easier for himself. Atlas even made the comment that Feliz was the type of opponent that you could fall asleep against. This means that he has a style where he does nothing and then catches you after you become to relaxed in the ring. This was the case in the ninth round as Feliz came out strong after being fairly passive through eight rounds.
"He came out hard in that round and it caught me by surprise because he had not dome that in any other round."
As far as training goes, Smith has a realistic few of how things work in the gym. Especially when it comes to trainers.
"You know, I do not have the top notch trainers, I have something those guys do not. We have a personal relationship. It is a feeling that somebody is going to be there with me at all times. You see when you have a big name trainer that makes money off of all these fighters, you have to worry about one his other fighters out bidding you and leaving during your camp to work another camp and you have to rely on the second trainer. With one main guy, you get that personal feeling."
Smith also knows that at this time everything is a learning experience and that being criticized by fans and others comes with the territory.
"If you do not get criticized or you do not do anything wrong, that means you are not moving forward. In this sport, you have to improve each time out and if it was easy, I would already be the world champion. There is always something to learn in boxing. I am working towards the world title, and I need things like this to make me remember that you have to work hard each time out."
With that said, Smith gave his thoughts on other issues on his mind.
On not being interviewed by ESPN after the fight
"They did not interview me or anything after the fight. I wanted to, because I wanted to tell them who I wanted to fight, or who I was looking forward to stepping up to in the next couple of fights. I felt that al lot of the statements that Riddick Bowe made about me, and ESPN taking the time to let him talk about me, could have been given to me so I could have my say. That time could have been spent on me. He said I needed to tighten up and I needed to work a little bit harder if I want to make it to the next level and that is true, but in his last fight his punches were a lot wider and more wilder than what I was throwing in my fight. We both need practice if that is the case.
On a possible fight with Riddick Bowe
"I was hoping that they would make a comment to Bowe asking if he would like to face me or something like that, but they never did. Since he is on the comeback trail maybe he would like to stop here in Arkansas, or anywhere. I would go and fight him in Missouri, anywhere it does not matter."
On having Tony Holden as a promoter
"He is saying that we will get another off-tv fight soon and then another possible television date so everything is looking promising. If he comes back with another ESPN date where people see me and if I perform well it will get better. Things looked kind of gloomy at first, because I did not know where I really fitted in, but I am very comfortable with Tony Holden and things are looking up for me. Everything is working and looking good."
On stepping up to face Feliz
"He had fought the stiffer opponents. He fought John Ruiz. He fought Obed Sullivan and Atilla Levine and he sparred with the Klitschko brothers. He was not a walk in the park, but I did what I had to do. I out boxed  him, it was not a cake walk, but I won. He never really stunned me or anything and I was never hurt."
On his career to this point
"Even though I got 25 fights, I am still in the beginning stages of my career and I can only get better. I am in the gym. I work hard and I get quality work in the gym. Right now I am relaxing and then I will get back to work and wait for that call for my next fight. I want to show everyone I deserve to be on television."
On nervousness before the fight
"I got good advice from Shannon Briggs and Kevin McBride. They gave me advice on relaxing in the ring, but it was my brother that gave the best advice. He said that if I get to feeling nervous, to get away from everyone and to get a towel. He said to roll up the towel and to put it in my mouth and just start screaming and you know I did that and it really relaxed me. I have never been that relaxed in the ring before. It really helped."
So, looking to the future of boxing, how does Smith see things going is some of the upcoming fights.
On McCline v. Calvin Brock
"The thing about this fight is that Jameel cannot be too confident about the fight because when he is too confident he will not train hard and it will be Calvin's fight. If he takes it serious and trains hard, I do not see Calvin beating him. No matter what, Calvin is going to come in there and give it his all because he knows that this is his opportunity. He is going to take his chance."
On a possible Hopkins v. Taylor fight
"Everyone is saying two more fights, but I say take it now. I know that Sturm and Eastman and Trinidad out there that Jermain could fight, but if he takes those fights then he fights Bernard it does not look good because if he does that Hopkins will either retire, moved on, or have lost to somebody. Fight him now, apply pressure and make him work. Make him fight your fight. If Jermain applies pressure early maybe Hopkins will use up his bag of tricks and Jermain can get him out of there. Decision wise it is a toss up. I believe that with Jermain being the younger, stronger fighter, if he applies the pressure early when Bernard wants to relax he stands a very good chance. If he does that he can make Bernard turn into an old man. He needs to go ahead and fight him, if he wins a belt that Hopkins gives up people will say you did not beat the real champion. Do not leave the public questioning you. Go ahead beat Hopkins and you are the legit champion then you can make the Eastman, Trinidad, and Sturm fights and people will want to see those and no matter what you have already made your place in history."
Last words from "The Troublemaker"
"I would like to say to Dominick (Guinn), hey we are all in this together. we are all one family. To Jermain, they say that the mid-west fighters are not the ones to be looked at but it is us three that will and are making them think twice. We are on the rise."
GAME NOTES
Talking with Terry about the possibility of a Hopkins v. Taylor fight, I knew that Golden Boy Promotions was actually in New York discussing that very same fight. However upon this writing, I have learned that Team Taylor has declined the fight. I do not know any reasons why, or the financial issues that were presented. Word is that it is possible now that Hopkins may face Felix Sturm in June if a deal can be worked out with Peter Kohl. As for Jermain, if it is true, that after saying Hopkins' name after his last two fights and now has turned the opportunity then fans that have already been critical of Taylor will become even more so. The other possibility is that Hopkins vacates the IBF title and Taylor and Sam Soliman could face off for the title. Still that will hurt Taylor's popularity in my opinion as Terry and I discussed, because it will look like Taylor ducked Hopkins and the general public will not consider him the top guy in the division and the opportunity to knock off the top guy is slowly disappearing
Send questions and comments to: stateofthegame@yahoo.com