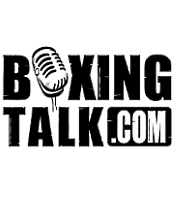 Heavyweight slugfest expected at Hilton!
PRESS RELEASE:
On Wednesday, October 26, Joe DeGuardia's Star Boxing returns with a seven-fight black-tie dinner-show benefit at the Hilton Hotel in New York City in support of, and in conjunction with, the Fighters' Initiative for Support and Training (F.I.S.T.) organization.  Headlining the show will be a heavyweight duel between two hard-nosed veterans. Providence, Rhode Island's battle-hardened Robert Wiggins, 20-5-1 (12 KOs) will take on always tough Philadelphian Robert Hawkins, 20-4 (7 KOs) in a 10-round showdown. Both Wiggins and Hawkins have similar straight-ahead, banging styles, so their bout should be all action.  
The undercard will be headlined by one of Star Boxing's newly signed prospects. In his New York debut, undefeated 6' 4", 230-pound Irish Chicago heavyweight Malachy Farrell, 11-0 (9 KOs), will face Brooklyn's Barry Lineberger.  
The rest of the supporting bouts pit New Yorker vs. New Yorker in six and four round fights. Cruiserweight veteran John Douglas will face Jamal McKay in a rematch of their exciting split decision last November (6 rounds); while Joe Rosa will make his first professional appearance against Angel Acevedo; Zhang Mau-Mao, 1-1, battles first-timer Melissa Hernandez in a women's featherweight scrap; heavyweight Rodney Ray, 2-2 (2 KOs), faces debuting Jerry Harvey; and super lightweight Jose Cardona, 1-0, is pitted against debuting Wesley Hobbs.  
F.I.S.T. is a non-profit organization, formed in 1998 by former heavyweight contender Gerry Cooney, which brings together a group of "business, financial, medical and sports enthusiasts" whose aim is to help boxers transition from the ring to new careers by providing training, medical, financial and psychological assistance, as well as education and internship opportunities, free of charge to retired fighters.  
"We've got a great show for a great cause at the fabulous Hilton Hotel and we're looking forward to a terrific night of boxing," said promoter Joe DeGuardia. "F.I.S.T. provides an invaluable service to the 'forgotten heroes' of our sport and I am happy to be a part of their cause."  
For dinner patrons (black tie mandatory), cocktails and hors d'oeuves will be served at 6:30 p.m. Dinner and entertainment start at 7:30. Doors open for boxing at 8:45 p.m. and the action commences at 9:00. $50 General Admission seats will also be available (no dinner). Please call 1 888 765-3478 to purchase tickets. The Hilton Hotel is located at 1335 Avenue of the Americas.