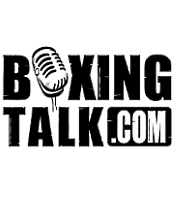 Press release:
Pulling no punches, Showtime will come out with both fists blazing on Feb. 5 when its first telecast of 2005 features a grudge rematch between world welterweight champion Cory Spinks and former two-time world champion Zab Judah.  In the co-feature, Monte Barrett faces undefeated Owen Beck in a 12-round heavyweight elimination bout. Showtime will televise the doubleheader at 9 p.m. ET/PT (delayed on West Coast). Don King Productions will present the event from the Savvis Center in St. Louis.  
CORY "THE NEXT GENERATION" SPINKS (34-2, 11 KOs)
"I really want to thank Don King and Showtime for bringing this fight to St. Louis and, of course, for the great support I am getting from the fans here. This is a dream come true for me. I know my mother and grandmother are looking down at me now, and that they are proud.
"This is not an easy fight, but I do not get paid exhibitions like a lot of guys. All my fights are tough. I thank Zab for taking this fight. I know what it is like to fight in the type of environment he will be in on Saturday. I fought in Italy where nobody was rooting for me. So I have been through it.
"I like Zab but this is business. I am glad Brooklyn is in the house. I know all about being New York-tough. But a ghetto is a ghetto no matter where it is, and I have been through a lot."
ZAB "SUPER" JUDAH (32-2, 23 KOs)
"I am in the Show Me State and I am here to show you who is pound-for-pound the best. I have had a tremendous training camp. Everyone knows I cannot be beaten when I am focused and on my A game, and there is nothing that is going to stop me on Saturday.
"Cory Spinks is a great champion and has had a great realm as champion, but it is time for a change. I know what is at stake here and what it means in terms of my career. I will do whatever it takes to win."
MONTE "TWO GUNZ' BARRETT (30-3, 16 KOs)
"I never really want to hurt anybody, but I want to hurt this guy. I am going to put Beck to sleep. I have been there and I know what it takes. He has never met anybody like me. He is going to see what it is to be in a real fight against a real fighter."
OWEN "WHAT THE HECK" BECK (24-0, 18 KOs)
"Everything is cool and I feel no pressure. I am very confident. I have waited a long time to fight somebody like this. I want people to see my skill level. I want the name recognition. Beating Barrett will help my stock go up. I have trained so hard for this. I will leave the ring undefeated like always."