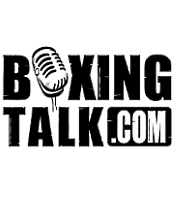 Fighting in front of his hometown fans on Thanksgiving Eve, Providence, Rhode Island's Joey "The KO Kid" Spina escaped defeat Wednesday night at the Rhode Island Convention Center. He managed to keep his unbeaten streak alive when his 10-round super middleweight main event with Jose Spearman was announced as a majority draw. Some in press row felt Spina had something to be thankful for.
Two of the judges' scorecards were 95-95 while the third one was 96-94 in favor of Spearman. Although Spina, 17-0-1 (12), had his moments, his two-dozen or so buddies that joined him on his walk to the ring kept yelling to him throughout the bout to do more. Spina, who has a reputation as a crowd-pleasing brawler, left his hometown crowd somewhat disappointed.
There were exchanges here and there that got the fans excited but overall, Spina did not execute like his fans wanted him to. A friend yelled, "Joey, let's go," in the sixth round. Spearman, 24-9-4 (10), gave a great effort but also employed a little roughhousing. He jumped on Spina in the opening seconds of the seventh stanza and mauled the "The KO Kid." Spina fell out of the ring as result of Spearman's tactics.            
After switching from wrestling to boxing, Spearman finished the last four rounds of the bout in impressive fashion. He landed some right hand bombs in the seventh against Spina, who was looking tired by this point. In round 8, Spearman landed a solid left hook. However, Spina came right back with a great left hook of his own.            
In the 9th, Spearman found considerable success with chopping right hands. Spina, trying to give the crowd the knockout it was hoping for, came out in the 10th and final round swinging for the fences. He never landed a punch that separated Spearman from his senses and thus had to sweat out the result of the 10-round bout.            
Another Classic Entertainment & Sports promoted fighter, also hailing from Providence, RI, failed to register an exciting victory. Heavyweight Jason "Big Six" Estrada cruised his way to a dull four-round points win over Najee Shaheed, of Brockton, MA. All three judges scored the bout 60-54. Estrada, a 2000 Olympian, has quick hands and moves for a 250-pound guy but most of the time he elected to play it smart and stay behind a jab, never trying to give in to the crowd's demand for more exciting action. It's no secret that sometimes trying to please the crowd (and taking more risks) can result in the crowd favorite lying flat on his back.            
The fight of the night, which earned a standing ovation from the crowd, was Missy "The Fury" Fiorentino's battle against Esther "The Blonde Dutch Girl" Schouten for the vacant IWBF featherweight title. Fiorentino strapped the world title belt around her waist after she was announced the winner by scores of 99-91, 97-94 and 96-93. Fiorentino earned her belt. She put pressure on her taller opponent every round and never stopped throwing punches. She was the Energizer Bunny in a boxing ring. Her batteries never ran out. Schouten had trouble finding breathing room from Missy's attack. Fiorentino raised her record to 13-1 (7) while Schouten dropped to 18-3-1 (9).            
Heavyweight Matt "Too Smooth" Godfrey, of Providence, RI, turned back the challenge of Houston, Texas- based Billy "The Kid" Willis, now 6-6 (5). Godfrey used his superior technical skill to keep Willis from having a chance of ruining his perfect record. Godfrey is 10-0 (5) since turning professional in May 2004.            
 Much to the crowd's dismay, a bout featuring perhaps CES' most popular fighter, Jaime Clampitt, who won the WIBF lightweight title in August, did not go on as planned. However, Clampitt was in the building and made herself available to her fans.             
"Steamin' " Josh Beeman, 3-2-2 (1), was hoping to make a successful comeback in front of his hometown fans after nine months out of the ring. However, he was stopped by Newark, New Jersey's Carlos Vinan, 3-1 (1), after taking a big straight right. The way Beeman fell, it looked like he wouldn't even be able to stand up before the count was over. To his credit, he tried to beat the count, and rose, but was in no condition to continue.            
In the opening bout of the night, Eddie Soto raised his record to 3-0 (2) with a first-round TKO of Albert Montague, of Philadelphia, PA. Montague falls to 0-2.            
Although every fight wasn't exciting, promoter Jimmy Burchfield always finds some way to keep his paying customers entertained. Former two-time world champion Vinny Paz (formerly Pazienza) was in attendance, as was Peter Manfredo, star of NBC's "The Contender." Manfredo, local to the area, kept his hand and smile busy signing autographs and posing for photos and in a special ceremony between bouts, Paz was presented with a world championship belt by a representative of the WBC.            
"I got my butt kicked when I fought for the WBC belt both times (at junior welterweight against Roger Mayweather and at super middleweight against Eric Lucas) in the ring so they had to give it to me out of the ring," said Paz. The Pazmanian Devil, who hung up his gloves last year, now owns all three major belts. He won the IBF lightweight title in 1987 by beating Greg Haugen and in 1991 he defeated Gilbert Dele for the WBA junior middleweight title. Paz arrived at Wednesday's fight wearing a green shirt under his dress jacket that would match the green WBC belt that got draped around his waist.            
Burchfield also presented a plaque to Manfredo, whom Burchfield promoted prior to Manfredo joining NBC's "The Contender." The crowd was also entertained with a performance by a local Hip-Hop group and ladies from a local gentleman's club that served as round card girls. In addition, young ladies who help Burchfield sell fight gear and photos during the fights made their way ringside to throw boxing glove keychains and shirts bearing the name of Burchfield's promotional company, Classic Entertainment & Sports, into the crowd. Even when the fighters disappoint somewhat, Burchfield makes sure those who came out to the fights had a good time.
Send questions and comments to: kikrlang@yahoo.com