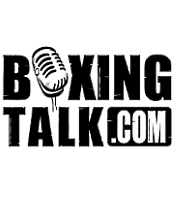 Press Release: Bad blood is brewing between super middleweight Joey "KO Kid" Spina (17-0-1, 12 KOs) and Jessie Brinkley (26-3, 17 KOs), a semifinalist in The Contender television reality series, as they both train in Las Vegas at the same gym  for their twelve-round co-main event in "Put Up or Shut Up," on ESPN2 Wednesday Night Fights, May 10 at Foxwoods Resort Casino. While Brinkley remains calm, Spina is getting upset. The co-main event pits cruiserweights Matt "Too Smooth" Godfrey (11-0, 6 KOs) and Shaun George (11-0-2, 5 KOs) in a twelve-round bout.
Providence-native Spina resents the route Nevada-born Brinkley has taken as one of the stars of The Contender. "I'm looking forward to beating all of The Contenders, go right through them one at a time, starting May 10 with Brinkley," Spina said. "He's a wealthy kid and I'm coming from nothing. He's got a big, new truck and houses. I'm not taking anything away from The Contenders, but the ones who made it are getting guaranteed purses that other guys like me don't make until they're fighting for world championships. He's a nice kid who trains in the same gym as me, at different times, and we spar the same type guys.
"(Anthony) Bonsante beat him up and somehow Brinkley won. It's all going to come down to who wants it more. He's going to have to knock me out to beat me. Once he starts to fight me, we're going to start swinging, and I'm bigger, stronger and quicker than him. I'm going to use my jab and land my big punch. I wasn't focused my last fight (Nov. 23 draw vs. Jose Spearman) and I was thrown off by his style. I'm in tremendous shape for Brinkley, bigger and stronger than ever."
Spina's most notable victories have been against former WBA light middleweight title-holder Carl Daniels (DEC10), multiple world kickboxing champion Manu Ntoh (DEC8) and veteran Anwar Oshana (TKO3). Brinkley learned how to fight, ironically, from watching Rocky movies and practicing on a heavy bag his stepfather hung in the garage. He stopped Cleveland Corder (27-1) in the first round of their 2003 fight. Then he stopped Corder in the ninth round of their rematch and was selected to part of the original television reality boxing series, The Contender. Brinkley defeated Jonathan Reid (33-1) and Bonsante (26-4-3) by fifth-round decision and fifth-round TKO, respectively, before losing a seven-round decision to the eventual champion, Sergio Mora, in the semifinals of The Contender. His last outing was a contorversial victory against Bonsante (DEC5) on October 15.
"I know absolutely nothing about Joey. I've never seen him fight, but I'll just bite down on my mouthpiece and give it my all," Brinkley said. "I have to do my job to beat him. I know he's an East Coast guy and I know I'm going to his hometown area. I'm going up a whole weight class. Trying to make 160 was too hard on my body. It's kind of a guinea pig fight for me. I'm excited to see the difference. I like everybody and never disrespect any fighter. I don't have anything bad to say about Joey. He seems like a good guy. If he fights like he talks, he should knock me out, but prove it to me. I worked my ass off for ten years before I ever got to The Contender. I was fortunate to get on the show and gave it my best. But I'm still fighting."
Scheduled to fight on the undercard against opponents to be determined are unbeaten Connecticut (Manchester) featherweight Matt "Sharp Shooter" Remillard (8-0, 6 KOs), former Everlast two-time Under-19 National amateur champion; undefeated Las Vegas via Cleveland cruiserweight Aaron Williams (7-0-1, 5 KOs), 2004 U.S. Olympic Trials bonze medallist; Connecticut (Hartford) heavyweight Tony Grano (3-0, 3 KOs), former U.S. Championships amateur heavyweight champion. All bouts and fighters are subject to change.
Tickets are on sale and available by calling CES (401.724.2254/2253), Foxwoods'box office (800.200.2882) or online at
www.foxwoods.com
. For more information visit
www.cesboxing.com
. Fans purchasing tickets for "Put Up or Shut Up" and the May 18th "Let It Ride" show in Providence will receive a 10-percent discount. Buses will be available to take fans from Providence to Foxwoods on May 10.