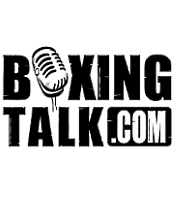 Roger "Speedy" Gonzalez proved worthy of keeping his nickname last night when he made it quite clear from the opening bell at the Irvine Marriott that he was not only much quicker than his opponent, but he was also the busier one.  By continuously tossing out more leather than Martinez did during their eight round main event scrap of Golden Boy Promotions' Battle in the Ballroom, Speedy showed that his sole loss last April against Jhonny Gonzalez was just a small hiccup in what has been a very impressive career for the 26-year old bantamweight.
Speedy took it to Martinez from the sound of the first bell, landing his punches first and then getting out of the way before Martinez could counter.  The best shot Martinez could get away with was a smacking right hook to Speedy's ribs, but Gonzalez found there was time in the round to get some revenge as he landed his quick combinations of jabs upstairs before the bell sounded.
Gonzalez continued to find his groove as round two got underway.  Speedy spent his time landing his quick jab combinations upstairs, stepping back to reload, and then unleash a powerful right hook downstairs and a monstrous right hook to Martinez' head.
More punishment came Martinez way in round three when Speedy landed numerous flurries upstairs and then stepped back before Martinez was able to get one glove headed in Gonzalez' direction.  This continued into the fourth frame as Speedy used his quick-fiber leather to put Martinez against the ropes to unleash more power hooks and jabs all over his face and torso.  It became apparent by the end of round four that Martinez simply could not land against Speedy.  Why?  Well, because he was Speedy.
Gonzalez used his legs more in round five, dancing around the ring baiting Martinez to come in for a face-to-face battle.  When Martinez would bite,  Speedy landed uppercuts and duel-hooks upstairs that put his opponent against the ropes while looking to grab onto Speedy for some refuge.  Gonzalez would not have none of it, and used his speed (or course) to get out of his opponent's clinches.
In the opening seconds of round six, Speedy performed his rendition of the rope-a-dope in the center of the ring, which excited Martinez' corner since it was the first time they had seen their fighter take the initiative towards an attack.  However, Speedy came out of hiding within ten seconds of his act, and began firing away with even more ferocity than he had in the previous rounds.  Martinez fired back and landed some clean shot upstairs which, if the judges were looking to give Martinez a round, this would have been it.
Knowing that Martinez would probably go the distance, Speedy preserved some of his energy in the seventh round by keeping his opponent at bay by tossing out stiff jabs to Martinez' head whenever the soon to be beaten fighter would enter Gonzalez' personal space.  Speedy's rope-a-dope routine came back for an encore performance half way through the round, and was like before, as soon as Gonzalez came out from under his gloves, Martinez was in trouble with Speedy's speed and power.
Both fighters danced around each other and the ring for most of the eighth and final round.  Once again Speedy got the upperhand whenever he cornered Martinez, and just like the previous seven rounds, Gonzalez landed uppercuts, jabs, and crosses to Martinez' head and body and then got out of the way before Martinez was able to throw one single punch.  When the final bell sounded all three judges saw it the same 80-72 giving Speedy Gonzalez the unanimous decision.  His record improves to 24-1 (17), while Martinez drops to 19-18 (12).  After the fight Speedy told BoxingTalk that he felt really good about his performance.  That even though he would rate his power a "C+" in this fight, with two more 10-round fights he will be ready for anybody, especially the man who gave Speedy his only professional loss, Jhonny Gonzalez.
Hector Leyva Takes Away Lionel Madrigal "O" in Split Decision Victory
The first minute of their fight was a feeling out period - a dance, if you will, in which Leyva and Madrigal moved around each other while tossing out both light and power combination of jabs.  However, after the first minute, Leyva had warmed up enough, and while in the center of the ring, unleashed a crushing left hook that landed square on Madrigal's jaw sending him crashing to the canvas on his seat and sliding on his seat until he came to a stop three feet later.  He quickly rose and, after the standing eight count, was able to land some nice hooks of his own, but not enough to steal the round from his opponent. 
Not too phased by Leyva's power, Madrigal came out ready to brawl with his opponent in the beginning moments of round two.  The two warriors took turns landing jabs and hooks mostly upstairs, but the crowd was on their feet when Leyva landed several straight rights and lefts that he was telegraphing from the other side of the ring.  This put Leyva on the chase to once again down his opponent, but the clock would not let it happen.
In the third frame, Leyva and Madrigal started attacking each other's ribs, but if anything landed with too much ill-intent, they would quickly grab onto each other's waist line in order to preserve their energy for the fourth and final round.
The fourth frame quickly became a round in which Madrigal was unwisely moving away from his opponent, coming in only to land two or three punches upstairs, but getting caught with jabs from Leyva on his way out.  Madrigal needed a knockout to keep his undefeated record intact, but was surely not fighting that way.  Leyva calmly found his opponent during Madrigal's retreats and would unleash lead jabs and power hook upstairs to further take the fight away from him.  Their fight went to the scorecards which surprisingly read 38-37 for Madrigal, only to be overruled with scores of 39-36 and 38-37giving Leyva the win by split decision.  Both fighters go to .500 giving Leyva a record of 2-2, while Madrigal drops his first with a record of 1-1.
Julie Rubalcava  Dominates Gina Abel in Under Two Minutes
Clearly overmatched, the winless Gina Abel had little chance against the more highly skilled and fan-favorite Julie Rubalcava.  The undefeated fighter landed  power jabs upstairs at will and had her opponent's corner threatening to throw in the towel after the sixty seconds of action.  After punishing Abel across the four corners of the ring, Rubalcava went on a rampage of hooks and crosses upstairs.  With seconds left in the first frame (women fights have two minute rounds), Abel stayed true to their word and threw in the towel to save Abel from any more damage and embarrassment.  Rubalcava impressively improves to 3-0 (2), while Abel plummets to 0-6.
Jesus Macias Drops Ramon Caballero Twice in an Entertaining Barn-Burner.
For three solid rounds, both Macias and Cabellero threw and landed smacking and punishing hooks to each other's head.  The only reason any of them ventured downstairs was to hopefully land a punch that would force the other to defend their rib cage so that an upstairs-attack could be waged.  In the final minute of the third round during a wild exchange, Macias landed a quick combination of hooks upstairs that put Cabellero down, but could be justified that the momentum from the power shots he was throwing actually put him on the mat.  Regardless Referee Pat Russell gave Cabaellero the standing eight-count, and with seconds left in the round, the two fighters started right back where they had left off.  The fourth and final round was a lot more gentler, but with about a minute left in the inning, with both fighters tossing out jabs in the center of the ring, Macias threw a soft right hook that landed flush on his opponent's jaw.  In combination with the punch and Cabellero turning to avoid the punch, Cabellero slipped on the Miller Light emblem.  It could have been ruled a slip, but since he went down from a punch, Russell ruled a knockdown and gave the fallen fighter another standing eight count.  The two fighters squared off in the center again, but could not land with the ferociousness that they had in the previous frames.  When it went to the scorecards, the three judges saw it 40-36, 40-34, and 39-35.  Macias improves to 2-0, while Caballero drops to 0-2.
Showing Heart, Rookie Juan Hernandez Gets Majority Decision Win Against Ruben Rodriguez
For the first two rounds, the shorter Hernandez scored impressively with his over-the-top right hook that landed with pinpoint accuracy each time he threw it upstairs at Rodriguez.  The taller fighter answered not with a punch of his own, but with resting his head on his opponent's shoulder.  In round three, Rodriguez came out doing his rendition of the old stick-and-move, but Hernandez kept prodding away, forcing Rodriguez back with the use of his shoulder and crushing left hook upstairs.  The final moments of the third frame became a body attack clinic which saw both fighters landing their punishment accordingly.  Hernandez came out of the fourth and final round trying to land his left and right uppercuts, but failed to hit the desired target.  He wisely went back to his left hook upstairs that was reminiscent of Joe Frazier's - the kind that starts at his knees and ends up crashing on the jaw of his opponent.  Twice Hernandez landed with these "Smokin'" hooks, but Rodriguez had enough heart to come back and land a combination of hooks himself to Hernandez head leaving the crowd wishing their fight would last a few more rounds.  However, four rounds was all their fight was scheduled for and the three judges saw it 39-37 (twice), and 38-38 giving Hernandez a majority decision victory in his first fight as a pro.  Rodriguez drops to 1-2.
Aaron Martinez Gets Cut and Win Against Marcos Rocha
In a welterweight fight that was marred by numerous head butts, the continuous knocking of Rocha's and Martinez' craniums proved to be the death of their scheduled four round battle.  For over three rounds, Rocha and Martinez had great back-and-forth exchanges to their heads and rib cages.  However, half way through the fourth round, Rocha crashed into the top left side of Martinez head instantaneously draining blood from Martinez' skull.  Referee Pat Russell took a quick look at Martinez' wound and at 2:40 in Round four, the fight was stopped.  Since half the rounds had been completed, the fight went to the scorecards which read 39-37 (twice) 38-38 giving Martinez his first win in his professional debut.