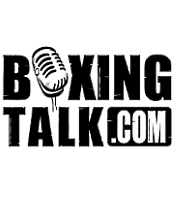 Doljanin: "Malignaggi has more fluff than substance"
After reading the press release from Duva Boxing issued yesterday, it didn't take long before Pat Doljanin, manager of tough up and coming Jr. Welterweight prospect Al "Speedy" Gonzales' 15-1-1(7), contacted Boxingtalk.com to let us know he agrees with hall of fame trainer Lou Duva who feels "If you're going to be a big talker and run your mouth, you have to step up when somebody wants to shut it for you" referring to flashy Brooklyn Jr. Welterweight prospect Paul "The Magic Man" Malignaggi 18-0(5) as he tried to get him to make good on a promise to fight his young charge, San Antonio Texas native Oscar "El Torito" Diaz 18-1(11). "Malignaggi has more fluff than substance" stated Doljanin who also added "It (The press release) seemed to echo a lot of the things we have said about Malignaggi and his reluctance to step up and face tough guys. Now I thought it made sense, and I have talked about Oscar Diaz in the past as being a great fight for Al (Gonzales) and it would make more sense now since we all know Paul in not going to fight either one of these guys. So maybe Oscar and Al can fight one another. I think that would make for a hell of a fight!"
RC: What's going on Pat?
PD: I was just contacting you to let you know that I read the comments the Duva's (Dino & Lou) and Oscar Diaz made about Malignaggi, and you are all to familiar with the running feud and war of words we have had with those guys. It seemed to echo a lot of the things we have said about Malignaggi and his reluctance to step up and face tough guys. Now I thought it made sense, and I have talked about Oscar Diaz in the past as being a great fight for Al (Gonzales) and it would make more sense now since we all know Paul in not going to fight either one of these guys. So maybe Oscar and Al can fight one another. I think that would make for a hell of a fight, a far more interesting fight than Oscar and Paul or Paul and Al. And we will talk to the Duva's and see if that is something that we can make happen.
RC: How will you approach the Duva's about a potential match up with Al?
PD: I would say that they have got a tough Mexican fighter that is not afraid of anybody, and we have a tough Mexican fighter who is not afraid of anybody and let's see if we can get together and produce a fight that is going to entertain boxing fans, and show who is the best of the two young guns. I mean they are both tough guys, and I think with their styles they will make for a very exciting fight and I would love to see something like that happen, They are two guys that aren't going to shy away from anybody that's for sure, which makes for a good fight.
RC: The press release mentioned January 21st as the committed ShoBox date, but it wasn't exactly clear who the date belonged to, did it belong to Duva or DiBella, because if it's Duva's then the a Gonzales fight shouldn't be difficult to make.
PD: From what I read Dino (Duva) has the ShoBox date, but I also know that Lou (DiBella) has one if not more ShoBox dates in his pocket. From the way I read it, they (Duva Boxing) has the ShoBox date and they wanted to do the dance with Paul (Malignaggi) and their comments indicated some reluctance on Paul's part, now I don't know if it is coming from Paul, Johnny Bos (Paulie's Advisor), or from Lou (DiBella). But their seems to be some second thoughts on their part, and if that is the case we have a guy that is more than willing and able to step in and provide a stiffer and a more exciting test. I also think that for boxing fans it is a far better fight to have two guys with styles that are the same. They are both pressure fighters, and it would produce a much more entertaining fight than either one of the guys versus Paul. If we can come to terms and I think we can, I would love to do that.  Our promoter Dominic Pesoli has spoken with the Duva's before about our interest in fighting Oscar, so hopefully we can make this happen.
RC: What's changed that makes you feel that they will accept the fight now when they didn't want to take it then?
PD: I know that their has been talks about dates and talks about whether or not we can make fights. I don't know if it has ever gotten past that part of a conversation. I think it has just been something that I have said publicly with Boxingtalk, that Oscar is a tough guy that I would like to see in the ring with Al to see if Al has what he is made of. I am sure they would like to see too, because we stepped up with another one of their fighters in Demetrius (Hopkins). Al certainly has not showed any apprehension in stepping up in competition; he fought Jessie Feliciano 12-2-2(7) and Demetrius 16-0(6) in a four month period. I would like to see any of the up and coming young guns step up like that. None of them have, except for this (Mike) Arnaoutis kid who seems to be among the braver guys in the division, and who is looked upon as being one of the young up and comers. Because having him and Jessie fight is going to be one hell of a fight October 22nd.  I have also spoken to our promoter that if Jessie wins that fight I would love to have a rematch between Jessie and Al. I am sure everybody who seen them fight the first time would love to see that fight again.
We are just trying to keep our options open; we certainly don't shy away from anybody who is at our level.
RC: Do you feel that Dino will take a fight with Gonzalez over Malignaggi?
PD: I think they realize, like we are aware that Paul is more fluff than he is more substance. He talks a hell of a good game, he does have some talent but as Lou Duva said, if you are going to have a big mouth and talk about other fighters, when somebody ask you to step up, you should step up to the plate and we haven't seen that yet from Paul Malignaggi. As far as I am concerned if Al and Oscar who I think both guys are ahead of Paulie as far as talent and ability were to fight each other it just puts Malignaggi more in the rear view mirror. 
Whether or not they want to step up, I mean they got a good indication of what Al is capable of from his fight with Demetrius. Whether or not they think Oscar and Al is a good fight and it is a smart decision on their part it is up to them, but I think from our end a fight with Oscar Diaz is a logical step up in competition, and he is certainly a far more formidable opponent than Paul Malignaggi and if we can make it, that would be great. Regardless of what I think, boxing fans in general are going to be more entertained by Oscar Diaz versus Al Gonzales, than they are with Al or Oscar versus Paul, plan and simple.
You are kind of torn between whether or not you wanna see somebody loose. I mean hey I will give Paul all the credit in the world and his team all the credit in the world, they created a guy who is going to sell tickets to people who want to see him win as much as they want to see him get his butt whooped. But take the personal aspect out of it, to see the tough guys go at it, that is as good as boxing gets. Especially for young guys, because the young guys, a lot of the young guys don't want to……they are all worried about getting a loss, and I tell Al and try to explain to him, you look at a guy like Mickey Ward who had ten or twelve losses before he got his first million dollar payday. There are a lot of fighters who are out there, like Emmanuel Augustus, surprisingly they mostly in the 140lb. division, but these are guys that have more than one loss on their record, yet they are formidable contenders, and they are world class fighters. With T.V. being what it is and people being conditioned to what a guy's record is, whether he is undefeated or he has three, five, or ten losses, to me that don't mean anything. It is who you lost to and how you lost. You look back in the 40's with guys that had more than ten losses and they were still rated in the top ten and still considered the best in their weight class. I would like to see more fighters, manger, handlers, promoters take on that look of what a fighter is, and not necessarily measured by their one little loss, but rather what kind of fighter they are and how they perform. It is all about entertainment baby, which is what it comes down to.  
The way I look at it Ray, I look at boxing as much as a fan as I do a manager, I wanna see good fights. Not only for my fighter, well let me rephrase that, not only when I turn on the T.V. and …….I wanna see Zab Judah fight somebody better than Wayne Martell. I want to see something a little more competitive than that, I want to see something like I saw with (Wladimir) Klitschko and (DaVarryl) Williamson. I want to see competitive fights; I want to see some give and takes. I don't want to see guys going in against dudes that I know they are going to blow out, There is no pay off in that. I want to see fighters that I manage, I want to see them in fights that are entertaining and that they are going to walk away collectively knowing that we are either where we should be, ahead of where we should be, or we are not where we should be, I mean it is a reality check.
In the process we discovered that we have arrived at some kind of conclusion on where we are at. As a boxing fan, I think one ingredient, one element should be is it has got to be entertaining. That is why guys get jazzed up about Mayorga and Trinidad because you know that there is some drama there! Hopkins and De La Hoya, there is some drama there! Martell versus Judah (Starts to laugh) I mean come on, we know what is going to happen; you know...what is the point? I also know too, for Zab he is looking at bigger and better things, that is certainly not a shot at him, I have all of the respect in the world for him, I have talked to people who paid money to see those fights and they are like man for what we paid we should have got Mayorga-Trinidad times two or times three and all I got was a good main event.
I think that we have to realize that it is all about entertainment, this is the movies, it is T.V. it is music, whatever form of entertainment you want to name this is entertainment, and the sooner we get hip to that and realize we are putting something that has got to be good. There is nothing more dramatic than boxing.
RC: What can be more exciting than one punch being able to win a fight?
PD: Right, it doesn't get any better than that and the more we play to that...that is the beauty of the game and the more we play to that the more people are going to get turned onto it the sport and hopefully make it what it once was.
With that said I would love to see Oscar (Diaz) and Al (Gonzales) fight, I have talked to you before and there are a lot of other guys who are out there, who based on where Al is in his career would be good fights. I am not saying Al is the next Miguel Cotto or anything like that, but I tell you one thing is the kid has got the heart of a lion and he will fight anybody and in the process win loose or draw he is going to give you one exciting fight. And I don't think you can ask anymore of a fighter than him just hanging his balls over the fence and saying "Here it is baby" and just letting it all fall out.  That is another big part of the game.
CLICK HERE FOR MORE OF THIS EXCLUSIVE
Send questions and comments to: rayocampbelljr@hotmail.com