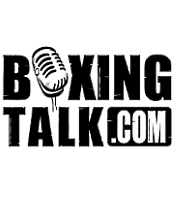 Main event from Orleans in Vegas was heating up to be a killer... Stinkin' cut!
As usual, the evening of fights inside the Orleans Hotel and Casino was superb, with pretty much every fight eliciting a chorus of rowdiness from the near-capacity crowd. With two fight cards happening at almost the same time, I was lucky enough to catch almost all of the Orleans event. The only sour note of the evening, however, was the way the main event ended; nobody likes a No Contest.
Humberto Soto, who has become somewhat of a staple at the Orleans as of late, was edging out the ultra tough Jorge Solis for the first three rounds of the battle. Solis suffered a moderately sizeable laceration midway through the first round after the two warriors clashed heads, but Solis trudged forth in hopes of scoring a win. The cut seemed to awaken Solis earlier than expected, thus resulting in a series of toe-to-toe stand-offs. The action was riveting from start to finish, but the glorious action was only short-lived.
Soto appeared in his way to a possible knockout as he dropped his foe late int he third round and when Solis was able to continue fighting, he looked as if he was in way over his head. In between rounds, though, Solis' undefeated record was rescued from being tarnished as the ringside physician deemed the cut on his right eyebrow/eyelid too severe to continue. Since there wasn't four completed rounds and the cut was from a headbutt, the fight was declared a lousy 'No Contest.'
With that said, Soto, who hails from Los Mochis, Mexico, stands at 35-5-2 with 20 KOs while Solis, Guadalara, Mexico, pushes at 25-0-2 with 19 KOs. Hopefully the two featherweights can get it on in the near future as the fight was heating up to be memorable.
-
Mike Sloan
In the lone middleweight attraction of the evening, both Jomar Nolan and Ishwar Amador put everything on the line as they stood toe-to-toe for almost the full six rounds. Nolan scored a vicious cobination early in the contest that buckled Amador's knees and sliced open his left eyelid, but the native of La Paz, Mexico was resilient and never succumbed to the onslaught. The cut was in a terrible spot for Amador and it was examined on four occasions throughout the contest, but the fight was surprsingly never stopped.
The two sluggers traded with each other at every turn, with both having their moments. Nolan was staggered in rounds three and five, but he was too proud to be dropped and returned the attrition whenever he could. In what was an extremely close seesaw affair of carpet bombings, most expected the result to be a draw. However, the three ringside judges favored the undefeated Nolan by the lopsided margins of 60-54, 58-56 and 59-55. Nolan, a native of Detroit, rises to 12-0 with 8 KOs while Amador falls to 1-6 with 6 KOs.
-
Mike Sloan
In the opening bout of the card Ramon Montano upped his mark to 2-2 with 1 KO with a clear decision over the tough Larry Duran, who tumbled to 1-3with 1 KO. Montano, Las Vegas via Mexico, came out fast working the body. Duran was dropped by a textbook 1-2 combo and referee Robert Byrd picked up the count. Duran was up quickly and fought back the rest of the round, but Montano continued to have the better of it. The second and third rounds were more calm, though, with Duran doing his best scoring and cutting Montano on the bridge of the nose. Still Montano was the aggressor throughout, and he closed with a strong fourth round to get votes of 39-36 from Bill Graham, and 40-35 (twice) from judges Chuck Giampa and Dick Houck.
-
Alex Caveda
Queens, New York based Eric Nemo battled his way to a clear decision over the rough 5-3 (3) David McBride of Youngstown, Ohio as Toby Gibson refereed. Judges Adelaide Byrd and Dick Houck both tabbed 39-37(twice) for Nemo while Dalby Shirley somehow had McBride ahead by 39-37. The split decision should've been unanimous, as from where I was sitting Nemo won every round. It seemed like McBride had trouble finding Nemo. Both landed in the first round but Nemo's punches were crisper and McBride's face was red by the round's end. The second round was similar, and the third was closer but Nemo was still more accurate. In the fourth round Nemo belted McBride from pillar to post splitting his lip, and landing clean punches. McBride's bravery is to be commended, and he never backed down, winning respect from the crowd. In the end Nemo was the clear winner in a good battle.
-
Alex Caveda
After a relatively close first two rounds, Jesus Rios, a resident of Los Mochis, scored a terrific three punch combo to send Larry Olvera to the canvas in the third. It was a perfect right-left-right that dropped his opponent, and when Olvera staggered back up to his feet, Rios swarmed him to end it. Olvera tried fighting back, but he was tagged by another vicious left hand and once he stumbled inot the corner, referee Robert Byrd immediately jumped in to stop the mugging. The official time of the stoppage came at 1:13 of the third round. Rios improved to 3-1 after scoring his second career knockout whle Downey, CA's Olvera falls to 4-3-1 with 3 KOs.
-
Mike Sloan
El Paso's Nelson "Buffalo" Estupinan jumped to 9-0 by scoring the eighth KO of his career after he halted the gritty 7-4 (3) Juan Carlos Garcia in the 6th and final round. Although both fighters were at super welterweight, this bout was incorrectly billed as "welterweights." Known for heavy punching power, Estupinan came out blasting and dropped Garcia seconds into the contest. Estrupinan's attack remained ferocious through the fourth round, although Garcia fought back and blocked many of the more dangerous punches. In the fourth round, Garcia lost a point for rabbit punching and was dropped again moments later by a scorching hook.
By the fifth, Garcia had a broken nose, but he had his best round as Estupinan seemed to tire. In the sixth round Garcia seemed somewhat emboldened and began to slug. Suddenly Estupinan clocked him with a clean hook near the ropes. Estupinan seem to paused for a moment to wait for Garcia to fall but instead Garcia stumbled into the ropes. Realizing his foe was out on his feet, Estupinan scored with two quick punches that sent Garcia crumbling to the floor. Although Garcia got up, referee Toby Gibson wisely waved it over at 1:28 of the round, and Estupinan had another knockout.
-
Alex Caveda
Mike Sloan is also the editor-in-chief of Ko.Sherdog.com