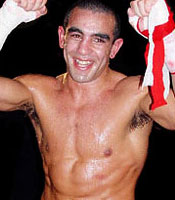 Acting on the advice of his medical team, an injured Vernon Forrest has pulled out of his scheduled junior welterweight bout at this Friday's (March 3rd) Goossen Tutor Promotions boxing event at Pechanga Resort & Casino in Temecula, CA. In making the announcement, promoter Dan Goossen revealed that top middleweight contender, Sam "King" Soliman (31-8, 12 KOs), will replace Forrest in the ring against Raul "El Toro" Munoz (17-7, 14 KOs) in the scheduled 10-round middleweight main event to be seen on FSN's "Best Damn Sports Show Period" telecast.  
Forrest, who severely strained his ligament in his right elbow during final preparations for Friday's bout, will not have surgery, but will also miss out on his scheduled April 15 HBO bout against Ike Quartey.  
"This is Sam standing behind his claim that he will fight anyone, anywhere at anytime," Goossen declared of the affable Aussie who gave Ronald "Winky" Wright all he could handle in a December battle on HBO and, in the process, earned newfound respect of boxing fans and experts alike worldwide.   
"Sam Soliman is exactly what boxing should be about.  He is the true "King" of the sport.  What other top world contender would agree to take this bout on five days notice, than jump on a plane today, flying halfway around the world to do it?  Believe me, there is absolutely no one, zilch!  We are all quite lucky to have such a colorful and fearless fighter that does things so unconventionally, in and out of the ring.  He keeps himself in fighting condition 365 days a year and didn't hesitate when we asked him if he was willing to fly the friendly skies at the chance to replace Vernon."   
A Soliman victory Friday night keeps his crack at the winner of the upcoming Wright-Jermain Taylor WBC/WBO middleweight title bout possible.  
The undercard is highlighted by a 10-round heavyweight between former 2-time world title challenger Kirk Johnson (36-2-1, 26 KOs) and hot Mexican prospect Javier Mora (19-2-1, 17 KOs).  The only losses for the Canadian-born Johnson, now living in Dallas, TX, were by disqualification to WBA champion John Ruiz and a stoppage by the recently retired Russian giant WBC champion Vitali Klitschko.  Mora, who lives in nearby Anaheim, CA, is a knockout artist who is being guided by James "Lights Out" Toney.  
Also scheduled on the card will be middleweight Enrique Ornelas (22-2, 14 KOs), of La Habra, CA, against recent upset artist, Darnell Boone in an 8-round bout and undefeated heavyweight Chris Areola (13-0, 11 KO), of Riverside, CA taking on veteran David Johnson (4-17-4).  
Rounding out the seven-bout evening of boxing will be Nigerian heavyweight sensation Teke Oruh (9-0-1, 5 KOs) in a 4-rounder versus Nebraskan Andrew Carleton (6-9-3, 3 KOs); Mississippi's unbeaten John Johnson (10-0, 9 KOs) against Mexican veteran Juan Carlos Sanchez (23-16-3, 16 KOs) in an 8-round light heavyweight bout; and undefeated Lorenzo Reynolds (12-0, 6 KOs) in an 8-round junior middleweight bout.  
Doors to the arena at Pechanga Resort & Casino, located at 45000 Pechanga Parkway, Temecula, CA, open at 6:00 pm with the first bout starting at 6:30 pm.  The "Best Damn Sports Show Telecast" begins at 7:30 pm (Pacific Time).  For ticket information, call     877-711-2WIN or go on the web to
www.pechanga.com
.