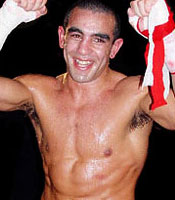 Although there has been discussion about a May middleweight fight on HBO between Sam Soliman and former junior middleweight titlist Kassim Ouma, it doesn't look like it is going to happen if you listen to Soliman promoter Dan Goossen.
"Sam wants the fight, but it's purely financial for us," Goossen said. "We're in a great position to fight the winner of Jermain Taylor-Winky Wright. Sam wants the fight with Ouma, but it's got to be the right money or it doesn't make the right business sense."
Soliman surprised many with his excellent performance against Wright in losing a close decision in December. He followed the loss by taking a fight on a few days' notice, flying from Australia to the United States and scoring a sixth-round TKO of Raul Munoz on March 3.
On paper, a Soliman-Ouma fight looks like a crowd pleaser given their penchant for nonstop punching. But Goossen said after the Wright fight and the impressive short-notice victory, Soliman deserves to be paid substantially more than the couple of hundred thousand or so on the table for the fight with Ouma.
"That fight [with Ouma] doesn't help us at all because we have made our mark," Goossen said. "People know who Sam is. He gave Winky everything he could handle in a fight that could have gone either way. They also know Sam jumped on a plane four days before the fight and flew halfway around the world to do it. He's game for anything. He's shown where he stands, so fighting Ouma goes backwards for us. To fight Ouma doesn't make any sense unless there is money for it."