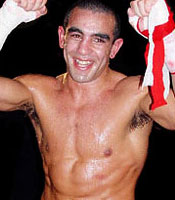 The changing face of boxing huh – now the Managers do the Trash Talking. Lets get this right, you open your statement with "I need to speak on the business of boxing" and then gallop into some half baked garbage about why Kassim Ouma should be fighting Sam "King" Soliman.
Let me make my response perfectly clear:  Last December, Sam Soliman gave Winky Wright everything and more than he could handle.  We believe Sam beat Winky that night.  Sam did to Winky Wright exactly what Hasim Rahman got credit to doing to James Toney hit him everywhere…arms, shoulders and sides.  Rahman got the draw based on his aggressiveness; the same reason we contended Sam beat Winky.  Sam proved his talent and worth this night and it is the reason our promoter was able to not once, but twice, agree to terms with Jermain Taylor's promoter for Sam and Jermain to fight for the WBC Middleweight Championship next.
As we all know now, Wright relented to Taylor's demands and subsequently Sam's fight for the title was placed on hold.  Did Sam whine or kick little kids when informed of this?  No, he kept training and when we received a call from our promoter telling us that Vernon Forrest was injured and had to pull out of his upcoming bout on the Best Damn Sports Show Period, Sam immediately took up the challenge to become the Best Damn Replacement Period, on four days notice!  Inconceivable to some, but not to us.  He flew half way around the world, took a day for his medicals, and two days later filled in admirably, knocking his opponent out in the 5th round. 
"I'll fight anyone, anywhere, anytime," stated Soliman after the fight.  We've heard those words many times throughout boxing, but very seldom do we see it come to fruition.  Sam showed his courage, his guts and his willingness to fight anyone, anytime, anywhere! 
We believe Sam's next bout will be against the winner of Taylor-Wright.  He's also one of two, top rated contenders in the WBC (Kelly Pavlik being the other). We will be fighting for the WBC title, one way or the other, very soon. 
Sam will fight anyone, including Ouma, which we all believe he beats soundly.  But what would be gained for Sam to fight a man who is not even in the top 5 in the WBC?  Prestige?  No.  A better rating for Sam?  No.  A mandatory position?  No. Money?  No.  The facts show Ouma has nothing we need.  
Now ask yourself why you are such a good bloke you'll cop the same amount as Soliman for Ouma, which he wouldn't deserve?  Prestige?  Yes.  A better rating for Ouma? Yes. A mandatory position?  Yes. Money?  Yes.  Now does Dan Goossen's reference to going backwards make a bit of sense to you? 
As Dan stated – changing our course will be considered at the only thing that we could gain from fighting someone below us, money!  There is absolutely no other reason. 
With the fighters Sam has faced, we don't need to defend him.  He wants to fight everyone as his record proves.  He's earned his rightful position amongst the best at 160lb. He fought Suzuki who was WBA # 10 – Nader Hamden WBC # 3 – Ray Joval IBF # 2 – Zuniga who was IBF # 13. Early in his career facing the likes of Glen Kelly – Howard Eastman – Neville Brown – Anthony Mundine & wins over unbeaten opponents including Cameroon Olympic Champ Sakio Bika  & Eric Teymour in Scotland who have both continued on undefeated. He gave an excellent account of himself against Winky Wright in a fight where Wright's home crowd booed the decision.
You then continue your bagging of Sam by ridiculing Raul Munoz's record? We didn't pick the opponent, we were asked by our Promoter Dan Goossen if we could step in as a late replacement and took the fight on four days notice. We were happy to oblige Dan and help him out. These things happen occasionally in boxing, but as Dan was pointing out, you wouldn't get many (if any) who would travel the world on such short notice in the position we were in.
Sam doesn't need to fight Kassim Ouma to prove his worthiness or position. We've already done that.  The standing ovation and reaction from Winky's home crowd said it all:  Sam is a winning warrior. 
Suffice to say, unless something moves us otherwise, we'll continue on our course to fight the big one that has all the ingredients of prestige, championship, and money for Sam…the Taylor-Wright winner.
Stuart Duncan