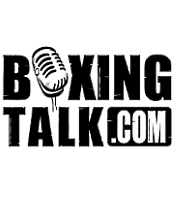 Undefeated British middleweight prospect Paul Smith continues on in his hunt for the English title as he meets the hard as nails southpaw journeyman Rob Burton this Friday on Sports Network's big weekend card from Manchester, England. Headlining the action at the MEN Arena is WBU Super Feather titlist Michael "The Predator" Gomez who faces off against Javier Alvarez, with Michael Jennings, Steve Foster Jr, and Stephen Bell also scheduled to appear. Sky Sports carries the action live in the UK on channel SS1, starting at 10PM GMT. Boxingtalk.com caught up with Paul and his conditioning coach Bobby Rimmer as the two were putting the finishing touches on the former 2002 Commonwealth Games Silver Medallist's preparations to meet the tough challenge presented by Burton. You won't want to miss this exclusive look at one of Europe's most promising middleweights as Boxingtalk.com continues to deliver the fistic goods as no other media outlet can. 
Paul "Real Gone Kid" Smith, 12-0 (6), came to prominence in 2002 as an amateur in the Commonwealth Games held in Manchester, England. Not well known outside hardcore boxing circles, the Liverpool native was suddenly the darling of the British Press. Soon the whole country was behind the young man and boxing received a much needed shot in the arm.  
Turning pro in April of last year, Smith outboxed difficult journeyman Howard Clarke in his debut and hasn't looked back since. The twenty two year old has reeled off twelve straight wins including most recently an explosive first round knockout of Clarke, improving upon two previous attempts that went the full four round distance.  
Fighting out of Billy Graham's Phoenix Camp gym in Manchester, Smith has the opportunity to work alongside such luminaries as Ricky and Matthew Hatton, Michael Gomez, Steven Bell, Matthew Macklin and Patrick J. Maxwell. Although Smith has sparred with his gym mates in the past, the Scouser has taken a different tack in preparation for this bout against Burton. " I've been working with two local Liverpool light heavyweights who are fighting each other, so I'm sparring each of them on different days," said Smith. "I've been putting them down with body shots. It's all started coming together now with the punching power and the mechanics. It's proved that when I take my time, the knockouts come. When I've gone out looking for them, that's when they don't come." 
Bobby Rimmer has the unenviable task of wearing the body belt, literally a specialized punching bag worn over the torso, providing Phoenix Camp's stable of fighters a realistic experience in preparation for the real thing. "He's really got his head down now, Paul, and he's won three of his last four fights by first round knockout," said the trainer. "He's believing in himself and he's really growing. He's living above my pub now, next to another one of our fighters, Matthew Macklin. They train together and Paul's taking on more of Matthew's way of thinking. Paul is really training hard now and he's getting down to the job. Wearing the body belt, I did his last eight rounds with him on Friday and he was fine. Really strong, really fit and plenty of stamina left in the tank so he's really coming on." 
Smith has his work cut out for him on Friday night, as his opponent will certainly be coming to fight. Rob Burton's record at 10-8-2 (6) isn't overly impressive but the Barnsley southpaw is a former British Central Area Welterweight and Light Middleweight titlist. Burton has faced some of the best domestic fighters in those classes including Matthew Hatton, David Walker, Scott Dixon, John Humphrey, Donovan Smillie and Lee Murtagh. Relishing the challenge, Smith looks forward to a hard fought scrap. "Burton comes right at you so he should provide me with some openings and if there isn't any I'll have to make them myself,"
he said. 
Paul Smith knows that he must pave the road that leads to his goals one brick at a time. Having worked up to fighting six rounders, the middleweight has his eyes set on bigger and better things later this summer, provided he can get past the tough challenge sure to be provided by Burton. "I'd like to fight again soon but it all depends how this one goes, really," said the prospect. "If it goes early, ideally I'd like to fight March the 4th on Matthew Hatton's bill. Then I'd have 12 weeks off for training before possibly fighting for the English title in June on the Ricky Hatton - Kostya Tszyu card. If I can win that and if Ricky beats Tszyu then maybe the Phoenix Camp boxers will finally get to fight in America." 
Boxingtalk.com would like to thank Paul Smith, Bobby Rimmer and Billy Graham for making this article possible.
Send questions and comments to: thomaspointrd@aol.com