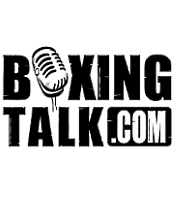 Last night, Boxingtalk.com managed to get a hold of undefeated Jr. Middleweight Contender "Marvelous" Tarvis Simms 21-0-1 (11). Simms fought to what has been described by many as a very controversial draw against former world title challenger Robert "Push Up" Frazier at the Turning Stone Resort in Verona, NY this past Saturday night. "I beat this guy from pillar to post." stated a very agitated Simms, who added, "David Reid, Felix Sturm, and all of those cats that he had faced, Winky Wright none of them whooped his ass like I did." Readers, it didn't stop there, read on to see what else Simms had to say about his performance as well as his future plans to get right back into the mix of things.
RC: Tarvis, why don't you give us your thoughts on your recent fight which resulted in a draw against Robert Frazier?
TS: Yo let me tell you straight, that decision was bullshit man. The impression that I got from them judges up there man was like "The only way you are going to beat our guy is if you knock him out, if you don't knock him out, and if you don't knock him out then you are not getting the decision" It was like that Ray, I mean I beat this guy from pillar to post. I applied the pressure, I put punches in combinations man, I mean as far as power punches, clean shots, and I was just drilling him.
Trust me man, David Reid, Felix Sturm, and of those cats that he had faced, Winky Wright none of them whooped his ass like I did. Ray I am telling you it was that bad. The dude (Robert Frazier) openly admitted to me that I beat him. He told me he never had anyone get at him like that; he complemented me on my power and my experience in the ring. I don't know how they hell they had it a draw.
RC: You obviously seem very disappointed with the decision facing the most experienced opponent you had faced to date, where do you go from here do you guys try to go for the rematch, I mean what takes place now?
TS: I would love a rematch, but I don't think he would be interested in a rematch. I mean this kid got a beaten man.
RC: Would you say it was one of your better performances?
TS: I would say by far this was my best performance of my professional career. And believe me when I tell I spanked this kid, I even won over his fans man. From the time I left that ring, until the time I left that reservation, people were just telling me how sorry they were about that decision, telling me I got a raw deal, I got robbed and this that and the other man. There was no two ways about it, anyone who knew anything, you don't even have to know anything about boxing to know who was getting there ass whipped. I had him hurt so bad he was walking to my corner.
RC: Would you go as far to say that the performance was flawless?
TS: I wouldn't say it was flawless, but I did what I had to do, and I am telling you man as far as boxing skills and ring generalship, I showed it all man. I made him look like the inexperienced fighter. He couldn't do nothing with me man.
I am a beast down at 154lbs, believe me when I tell you man. This kid had no wind at all, I had him tired, he couldn't get off, and he wasn't throwing combinations like he normally does. I mean he tried running but man my body attack was unbelievable.  It was something to see, and I can't wait until you see the tape (NOTE: Boxingtalk in is the process of trying to get permission to air the fight exclusively)
RC: How disappointed are you that as I mentioned before, this fight was your biggest test to date, and you weren't able to get the clear cut decision?
TS: Very, strictly because I fought him in his hometown in his backyard. I went in his backyard, bust him up and still didn't win. I think the only way I would have gotten it was if I knocked him out or kill the man. Had the fight gone twelve, he wouldn't have been able to stand on his feet.
The guy was clearly out on his feet man, the Ref, the judges, it was like they were all in cahoots. They gave him every benefit of the doubt. It was like the ref was for him; I don't know how many times he warned him for holding and throwing a punch or hitting me low, or just holding me in general. I was banging on him and he'd grabbed me up, then I would get him up off of me, and then he (The Referee) warns me for getting him up off of me, it was just sick man, it was just crazy. I have never experienced anything like this, it is just sad man. When somebody gets there ass whopped like that and for them to make it a draw is absurd.
RC: So what's next, are you going to rest a little bit, take a little time off, get back at it or….
TS: (Cutting in) Nah man I am going to get right back at it. Right back at it, I start my road work again on Monday man. I will probably take four or five days off from the gym, but I will be right back at it man. We had a clash of head butts with ten seconds left in the bout, and I got a little knick, a little cut on my right eye but it should be alright.
But Ray, let me tell you man, they called me and Bojorquez fight a split decision. I whooped his ass worse than I beat Bojorquez, and they called this fight a draw. It's crazy!
RC: Well, we are going to try to get your fight aired on Boxigntalk.com and let the people judge for themselves.
TS: Alright, that would be great.
RC: Is the cut that you received in the last round of the bout serious to the point it might keep you out for a while?
TS: Nah, not at all. He got a nasty cut, he is going to be out for a while, but believe me when I tell you man. Tarvis Simms is going to be right back at it man, aint nothing stopping me.
RC: Have you spoke to you promoter as to when you might be fighting again?
TS: They are talking about brining me right back on the under card of Tarver-Johnson on June 18th, and from what I understand it is going to be at Foxwoods casino.
RC: Any idea as to when we might be able to see you on a live televised fight?
TS: Some things are in the works but we don't know yet. But I am ready for whatever man; I am constantly improving and getting better with each and every fight. I am ready; I am ready for whatever they got at 154lbs.
RC: I couldn't help but notice that in your pre-fight interview with Boxingtalk.com's own Matt Goldstein, you shouted out Connecticut which is where you are from, as well as Brooklyn, NY, what's your association with Brooklyn?
TS: Man I have a strong hold in Brooklyn. My brother and I did out Golden Gloves training out of Brooklyn, and we stayed in Brooklyn for sometime as amateurs in Brownsville, (Also where former world champions Mike Tyson & Riddick Bowe grew up, as well as current undisputed Welterweight champion Zab "Super" Judah, not to mention undefeated hard hitting Chin Checker Curtis Stephens),  so everybody out there knows of us and knows us. My brother til this day still trains in Brooklyn at Starrett City (Boxing Gym).
RC: Is there anything else you would like to say to your fans in closing?
TS:  Thanks for your support, we got a bad decision but keep your head up. We are going to be right back at them man.
Send questions and comments to: rayocampbelljr@hotmail.com