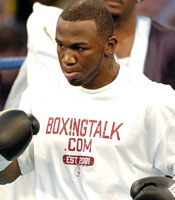 SHOWTIME On Demand is replaying two exciting SHOWTIME CHAMPIONSHIP BOXING telecasts featuring unbeaten IBF super middleweight champion Jeff Lacy (21-0, 17 KOs) and his WBO counterpart, undefeated Joe Calzaghe (40-0, 31 KOs). In perhaps the most highly anticipated unification showdown in years, the talented, outstanding 168-pound world champions will collide for the undisputed super middleweight crown on Saturday, March 4, LIVE on SHOWTIME at 9 p.m. ET/PT (delayed on the west coast).
SHOWTIME subscribers can access both the Lacy-Scott Pemberton and Calzaghe-Byron Mitchell fights in their entirety as well as interview footage from both fighters at SHOWTIME On Demand now through March 4.  Don't miss your chance to see these knockout, power-punchers in action before they enter the ring on March 4, 2006.
On Nov. 5, 2005, Lacy demolished Pemberton, successfully defending his title by second-round knockout in yet another devastating performance. Showing once again why he is regarded as one of the most exciting boxer-punchers in any weight division, Lacy decked the game but outclassed Pemberton with a right hand to the head early in the second. The challenger made it to his feet and attempted to fight back but went down again, this time from a vicious overhand right in the closing seconds of the round. The referee stopped the contest without a count at 2:59.
On June 28, 2003, Calzaghe impressively and emphatically retained his title with a thrilling, come-from-behind second-round TKO over Mitchell, a former two-time World Boxing Association (WBA) champion titleholder. Calzaghe got dropped for the first time in his career when Mitchell connected with a right hand approximately 30 seconds into the second round. The defending champion, however, roared back to floor Mitchell with a wicked left hook. Britain's longest reigning titleholder continued to punish the tough, courageous challenger along the ropes until the referee stepped in and waved off the proceedings at 2:36 of the round.
ABOUT SHOWTIME CHAMPIONSHIP BOXING
SHOWTIME CHAMPIONSHIP BOXING celebrates 20 years of hard-hitting, explosive programming in 2006.  On March 10, 1986, SHOWTIME CHAMPIONSHIP BOXING was born when "Marvelous" Marvin Hagler defeated John "The Beast" Mugabi in a spectacular and unforgettable 11th-round knockout in Las Vegas.  Since that time, the network has aired some of the most historic and significant events in the sport including both Holyfield-Tyson bouts. Always at the forefront of boxing, SHOWTIME has set itself apart by telecasting "great fights, no rights" on the first Saturday of every month.  SHOWTIME is the first network to regularly deliver live boxing in High Definition.  In addition, SHOWTIME continues to be a pioneer in sports television with a number of interactive features across multiple platforms making SHOWTIME CHAMPIONSHIP BOXING telecasts the most enjoyable, immersive viewing experience for the boxing audience.