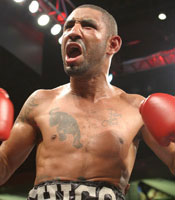 PRESS RELEASE:
Showtime Networks Inc. and DIRECTV have teamed up to deliver the first-ever Interactive TV (ITV) Boxing portal.  Showtime, America's No. 1 Boxing Network, will launch this feature exclusively on DIRECTV in advance of the highly anticipated rematch between Diego Corrales and Jose Luis Castillo on October 8, Live on Pay-Per-View.  
Fight fans with DIRECTV interactive receivers can access the Showtime Interactive Boxing experience with a simple click of the ACTIVE button on the remote.  Viewers will have a variety of options including video highlights from the first bout - a WBC/WBO lightweight title unification match which aired Live on Showtime Championship Boxing, May 7, 2005 and has been recognized as one of the greatest fights of all time.  All DIRECTV customers will be able to watch the first fight between Corrales and Castillo in its entirety for FREE, throughout the day October 7 and 8, leading up to the rematch on pay per view, October 8 at 9 p.m. ET on DIRECTV channel 122.   
In addition, viewers can explore "Stats" for stats and career highlights of both fighters, "Quiz", to participate in a boxing trivia game, "First Fight" for an interactive slideshow of key moments in the first bout and "The Rematch" for analysis and a look ahead at the October 8 Pay-Per-View event. 
Showtime Sports & Event Programming General Manager Ken Hershman said, "We are constantly developing and implementing new ways to enhance the viewing experience for our subscribers. Showtime has been the technological leader in boxing for many years, having pioneered many of the innovations we now take for granted. This portal on DIRECTV only scratches the surface of what we will deliver to fight fans in the coming years."  
In nearly 20 years of broadcasting boxing, Showtime Networks has been the innovator in premier network sports programming. Beginning in 2004, Showtime was the first to regularly deliver boxing in High-Definition. In 2002, Showtime was the first to launch an Enhanced TV Boxing application in the U.S., an Emmy Award Finalist.  
In 1998, the network featured the first live webcast when Evander Holyfield defeated Vaughn Bean on Sept. 19 in Atlanta. While innovative at the time, the user experience for that bout was restricted by the limits of technology. The following year, Showtime broke new ground when it produced the first broadband pay-per-view of a live sporting event (Mike Tyson vs. Orlin Norris, Oct. 1999). For that bout, Showtime provided online users access to five cameras and four audio feeds, essentially allowing fans to produce their own webcast. 
In 1996, Showtime was the initial boxing network to feature online scoring on its website.   
In advance of the Corrales, Castillo rematch, this ITV feature will be available to users from September 26 – October 2 on DIRECTV.   
DIRECTV 
DIRECTV is the nation's leading digital multichannel television service provider with more than 14.6 million customers. DIRECTV and the Cyclone Design logo are registered trademarks of DIRECTV, Inc. (NYSE: DTV). DIRECTV is a world-leading provider of digital multichannel television entertainment. DIRECTV is approximately 34 percent owned by News Corporation. For more information visit
www.directv.com
.