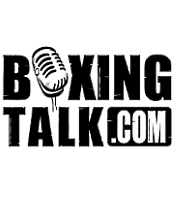 By Scott Shaffer
The forces in boxing are gearing up to bring former heavyweight champion Riddick Bowe back in a big way.  He is in such demand that already two promoters, Goossen Tutor and Lion Heart Boxing are fighting over his rights and a lawsuit has been filed.  Fox Sports will televise his bout on Thursday.  With just one win under his belt since doing a stretch in jail, Bowe himself is already talking about regaining the heavyweight championship he lost back in 1993.  Even this website has gone along for the ride, posting videos and interviews of the Big Daddy.  Does anybody care that Bowe has been diagnosed with a brain injury?  What does it say about the sport and people in it who will enable a brain injured man to take punches to the head for the sake of selling a few thousand tickets and providing programming content?  Will Fox Sports be around to help Bowe if the effects of his injury worsen later in his life? And, let's look in the mirror here, what does it say about us, the writers and fans, who will report and watch Bowe's every bout? To paraphrase Howard Cosell the day he walked away from the sport in disgust, does boxing really need to construct an advertisement for its own abolition?
Before discussing the diagnosed brain injury, it must be pointed out that Bowe has passed the licensing requirements of the California Athletic Commission, which included an MRI and Impact (Immediate Post Concussion Assessment and Cognitive Test) and therefore is fully eligible to compete against Billy Zumbrun in a bout to be promoted by Goossen Tutor and televised by Fox Sports.  But there is more to the story.
Although Bowe only has one loss on his record, a 1993 majority decision loss to Evander Holyfield in the unforgettable "Fan Man" fight, the talk of Bowe taking too much punishment in the ring has been around for a while.  After two bouts against Andrew Golota in which Bowe took a severe beating but was awarded two wins when Golota inexplicably was disqualified for repeated low blows both times, Bowe was left with noticeably slurred speech.  Inactive from 1996 through 2004, Bowe spent eighteen of those months in prison for kidnapping.  After his release, he was preparing for his first comeback bout, when his current manager, Jimmy Adams, complained to this website about those who questioned whether Bowe should be medically licensed to fight.  "Have you seen any of Bowe's medical records to fairly make the statement about Riddick?" said Adams to Greg Leon in August.  "Would you please show proof to …Bowe's fans even in court documents that Bowe said that he suffered brain damage?"
The proof comes not from Bowe's mouth, but in the form of diagnoses from medical specialists who evaluated him after he pled guilty to kidnapping his first wife Terri in 1998.  After a plea bargain with federal prosecutors was reached, Bowe's attorneys, which included the late Johnny Cochran, tried to get Bowe an even lighter sentence than he bargained for.  They submitted evidence to the court that Bowe suffers from a brain injury known as frontal lobe syndrome. Bowe's supporters say that even doctors can be hired guns, and if you shop around enough, you can find one to tell you what you want to hear.  But contrary to how Bowe and Adams portray the evidence, it was not simply a few lawyers and doctors for hire simply telling a judge they thought Bowe should get a lighter sentence due to brain injuries. 
To the contrary, there were pages of reports from specialists in the field who diagnosed Bowe with frontal lobe syndrome. Court records show that Bowe was given a Wisconsin Card Sorting Test, which is highly sensitive to frontal lobe dysfunction and he scored in the brain-impaired range. A Booklet Categories Test revealed severe impairment, a Color Word Test was consistent with someone with brain dysfunction and a Symbol Digit Modalities Test suggested brain dysfunction, as did the Hooper Visual Organization Test.  The tests themselves were not part of the Court's records, but Bowe's test results were reviewed and reported in depth by Dr.Neil Blumberg, MD 
Dr. Blumberg also spent six hours with Bowe personally in late 1998 and early 1999. He worked with Dr. David Shapiro and Dr. Richard Restak. Bowe's attorneys submitted Dr. Blumberg's detailed report to the court.  Although the report was initially filed under seal, a court employee directed a Boxingtalk reporter it as part of the public record.
Excerpts from Dr. Blumberg's report stated as follows: "As a result of my forensic psychiatric evaluation, it is my opinion, to a reasonable degree of medical certainty, that at the time of the [kidnapping] offense and at the present time [1999], Riddick Bowe was and is suffering from Personality Change Due to Frontal Lobe Brain Syndrome. The essential feature of this disorder is that there is a persistent personality disturbance that is judged to be due to the direct physiological effects of Frontal Lobe Brain Syndrome. The personality disturbance represents a change from the individual's previous characteristic personality pattern. Common manifestations of personality change include affective instability, poor impulse control outbursts of aggression or rage grossly out of proportion to any precipitating psychosocial stressor, marked apathy, suspiciousness or paranoid ideation. As an example, injury to the frontal lobes may yield such symptoms as lack of judgment or foresight, facetiousness, disinhibition and euphoria."
"Mr. Bowe's behavior at the time of the [kidnapping] offense and history of impulsivity, mood lability, disinhibited behavior, aggressiveness and apathy are all consistent with individuals who have sustained damage to the frontal lobes of their brain. The positive findings of my neuropsychiatric mental status examination, formal neuropsychological testing, the neurological evaluation and the MRI of the brain fully support this diagnosis. Unfortunately, Mr. Bowe's therapist and treating clinicians at Howard University failed to recognize the presence of this condition. This type of impairment is not uncommon, especially in individuals who spent the majority of their lives in the boxing profession. Despite the defendant's success as an amateur and professional boxer, he, nevertheless, sustained enough significant blows to the head to create this brain damage which has led to a gradual but progressive worsening in his impulsivity, judgment and behavioral controls."
The report continued, "It is my further opinion, to a reasonable degree of medical certainty, that Mr. Bowe's personality change due to Frontal Lobe Brain Syndrome substantially impaired his ability to appreciate the wrongfulness of his conduct and substantially impaired his ability to conform his conduct to the requirements of the law at the time of the [kidnapping].  Although Mr. Bowe's Personality Change Due to Frontal Lobe Brain Syndrome is not curable, it is treatable. Doctor Restak has recommended outpatient cognitive remediation which should be continued on a long-term basis. Treatment with antidepressant, anticonvulsant and/or mood stabilizing agents may also be useful and effective in dealing with the specific behavioral and emotional difficulties that can occur with this disorder."
"Based upon my psychiatric evaluation and the results of the neuropsychological testing, I referred Mr. Bowe for a neurological evaluation by Dr. Restak. Dr. Restak noted the defendant's thick speech which at times tended to be slurred. Dr. Restak reviewed the MRI of the brain performed at Howard University Hospital which was read by the hospital at that time as within normal limits. Dr. Restak noted however. that the MRI revealed 'changes consistent with a subdural hygroma most likely resulting from a previously absorbed subdural hematoma over the right frontal-temporal areas'. Dr. Restak noted that the defendant's history of impulsivity, his perseverative obsession with reentering the Marine Corps and his behavior at the time of the [kidnapping] were all consistent with frontal lobe disinhibition and are consistent with the neuropsychological test findings of Dr. Shapiro. Dr. Restak noted that Mr. Bowe's frontal lobe brain damage will require cognitive rehabilitation as well as careful monitoring for depression."
Although transcripts of the Court's hearing to evaluate this evidence are not available online, a story appearing by writer John Glennon in The Tennessean last February reported that the Judge agreed with and adopted the findings of Dr. Blumberg.  "The Court finds that this man has a brain dysfunction specifically of the frontal lobe variety, and that is an express finding of fact of the court," said Judge Graham Mullen in February 2000 as reported by Glennon. "The Court's persuaded by that by the reason that all of these (physicians) indicate that it's behavior that you have to look at. That you can't look at simply MRIs and physical things; that you have to look at behavior."
According to court records, this is how Bowe got himself in trouble for kidnapping in the first place: He borrowed a Lincoln Navigator and placed a bag in the vehicle that contained a flashlight, duct tape, pepper spray, and handcuffs. He was also armed with a buck knife. He then drove to Cornelius, North Carolina with his brother, Aaron Wright.  Bowe arrived on the street of his first wife, Judy, from whom he was separated, on February 25, 1998. After the Bowes' three oldest children left the home, he ordered the children to get into the Lincoln Navigator.   When children complied, he drove the vehicle onto Mrs. Bowe's driveway. While his brother remained in the vehicle with the children, Bowe ran to the front door and forced it open. He pushed Lynette Shaw, Mrs. Bowe's cousin, back inside the house and motioned her to be quiet. He asked Ms. Shaw to tell him where Mrs. Bowe was located. With hand gestures, he indicated that he would hit Ms. Shaw if she did not disclose Mrs. Bowe's whereabouts. Ms. Shaw led Bowe to Mrs. Bowe's bedroom. He shoved the door open, removed the bed covers, and ordered Mrs. Bowe to get up. He gestured that he would hit her if she did not comply. He demanded that she prepare herself and the two youngest children to leave immediately for Maryland.
En route, Bowe displayed the flashlight, duct tape, pepper spray, and handcuffs to Mrs. Bowe and told her 'I came prepared.' He also informed her that if he had found her with another man, he would have killed both of them. At one point, he stabbed Mrs. Bowe on her left breast through a heavy jacket that she was wearing. Although Mrs. Bowe said she was not seriously injured, she did bleed from the resultant wound. He also slapped her.
In addition, Bowe ordered his wife to call her attorney and instruct him to suspend their divorce proceedings and that she did not wish to continue to press criminal charges in Maryland that she had initiated against him because of an earlier assault.  Mrs. Bowe dialed her attorney and her brother on a cellular phone. Her attorney's secretary informed her that her attorney was not available. Her call to her brother was unanswered. When Mr. Wright stopped the vehicle at a restaurant in Virginia, Mrs. Bowe went to the ladies restroom. Bowe stood guard outside the door. He poked his head inside the door periodically and asked her to hurry up. While in the restroom, Mrs. Bowe called Ms. Shaw in North Carolina to notify her of the location of the restaurant. Mrs. Bowe also asked two elderly women who were in the restroom to contact the police to inform them that she was being kidnapped. Shortly after they left the restaurant, local police officers stopped the Lincoln Navigator and arrested Bowe.
CONCLUSION
Reflecting on what Bowe did to his first wife back in 1998, it is obvious he is now trying to have things both ways.  On the one hand, he sought lenient punishment for his acts of violence by saying he was impaired. While it is true that his attorneys and doctors said he had a brain injury and not Bowe himself, Bowe participated in the examinations and didn't disavow the findings when they benefited him.  No one can blame a man for doing everything in his power to escape jail time and furthermore, Bowe has paid his debt to society by serving his time.  But now that the consequences of his actions threaten to keep him out of the boxing ring, he wants his diagnosis to be ignored.  While it is true that expert witnesses are often willing to shade their testimony in their client's favor, Dr. Blumberg's report and the examinations it was based on cannot simply be dismissed as a fraud. There is no evidence that he and theother two doctors are anything but well-qualified and truthful. 
Regardless of whether one believes the medical testimony, it is hard to feel sorry for Bowe. Though, he still appears to be as friendly and easy going as he was during his title reign, if he really does have a brain injury, he should not be participating in a sport that requires him to absorb jarring blows to the head.  The danger may not come against Billy Zumbrun tonight, but eventually Bowe will take some real punishment.  It is inevitable.  And if Bowe does not have a brain injury, then he participated in what amounts to a fraud on the legal system, and he really has no excuse for kidnapping his wife and children. 
While it is true he has served his time, kidnapping and cutting your wife doesn't make him a sympathetic figure.  Still, as long as Bowe keeps winning and has a license, there will be no shortage of people willing to make a buck off him.  When Bowe has to deal with the consequences of his condition later in life, these people, with the hopeful exception of his current wife, will be long gone from his life.  When it comes to referees, there is an almost universally accepted saying that it is better to stop a fight one punch too soon rather than one punch too late.  Take a look at the current condition of Muhammad Ali and the untimely deaths of former heavyweights Jerry Quarry and Jimmy Young and then ask yourself, is it better to take away Riddick Bowe's license one bout too early or one bout too late?
CLICK HERE FOR THE FULL BOXINGTALK EXCLUSIVE REPORT
Send questions and comments to: boxingratings@yahoo.com