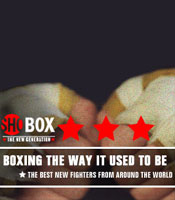 It wasn't the spectacular message Anthony "The Messenger" Thompson was hoping to send to his opponent, Darnell Boone, but the super welterweight prospect from Phialdelphia kept his positive momentum rolling with his sixth straight victory, a unanimous, ten-round decision over Boone Friday on "ShoBox: The New Generation." In the short-but-sweet co-feature, "Vicious" Victor Ortiz lived up to his nickname in notching a first-round knockout of previously unbeaten Freddie Barrera in a junior welterweight clash. The doubleheader, staged at Maywood Activity Center in Maywood, Calif., was promoted by Bob Arum's Top  Rank, Inc.
Making his 2006 debut, Thompson, 24 from Philadelphia, PA, improved to 21-1 (15 KOs) and was firmly in control throughout. The judges scored the fight in favor of Thompson by counts of 99-90, 98-90 and 98-90.
"My last fight, I looked like a million dollars. This fight, I looked like a quarter-million dollars," Thompson said. "But I'm proud of my victory. I've been a little inactive. He (Boone) was in tip-top shape. He is a real skilled fighter. There was a lot of wrestling and you have to be in shape to do that. He's actually one of the guys who is better than his record. I was trying to knock him out. I tried to make a statement. But I just turned 24 and I think I'm on the right track. I got to continue to get the experience."
Thompson, who won five consecutive national titles and was a silver medalist at the 2001 World Championships and Goodwill Games during an amateur career in which he tallied a 175-15 record, only showed real vulnerability after absorbing a left hook to the head from Boone in Round four. Both fighters came out of the opening bell aggressive, thrusting towards one another and willing to throw punches, but fatigue and blood began to show on Boone by Round five.
Using his quickness and wearing down Boone by working the body in the middle rounds, Thompson was, by far, the fresher fighter in the latter half of the bout. "ShoBox" analyst Steve Farhood believed Thompson won virtually every round by being the classier fighter.  "Thompson threw more punches, judged distance better and got hit cleanly with only one punch," Farhood said. "It was a choppy fight. (Thompson) didn't dominate but part of why Thompson didn't dominate was that Boone did a lot of clutching."
The 26-year-old Boone (10-5-1, 4 KOs), born in Youngstown, Ohio but residing in Atlanta, GA, was slated to serve as Thompson's best challenge since Grady Brewer handed Thompson his only loss -- a third-round TKO -- on Feb. 28, 2004. Boone's record is deceptive because of the numerous quality fighters he has gone up against. Boone has a win, by decision, over Rasheem Brown on Feb. 18 and knocked down 2004 Olympic gold medalist Andre Ward before losing a tough decision Nov. 19.
Ortiz, 19, who turned pro while he was a 17-year-old student at Pacifica High School in Oxnard, CA, looked to be the best prospect coming out of Friday's fight card after stopping Barrera after two minutes and 42 seconds had elapsed. A foster child after his parents abandoned him at a young age, Ortiz was forced to grow up quickly. He also displays a maturity beyond his years in the ring.
The National Junior Olympic and National PAL amateur champion in 2003, Ortiz (13-1, 9 KOs) had the physical advantage over Barrera and recorded his fourth consecutive knockout. Yet, he exhibited patience in stemming the tide of Barrera's early attempts to initiate the action. Barrera's lack of reach forced him to come in close to Ortiz in trying to hurt him, and that's when Ortiz pounced like a true boxing predator.
Ortiz first floored Barrera with a straight left hand. While the punch only glanced off Barrera's face, Barrera's feet were tangled up at the time and he could not keep his balance. Barrera jumped up immediately, came right back at Ortiz while throwing several with hooks, but Ortiz had him figured out I time to catch Barrera with a devastating right hand on the counter that landed flush and kept Barrera down for a couple minutes after the fight was stopped.
 "I'd seen the opening. I'd seen it coming. I caught it just right. I slammed it," Ortiz said of his knockout punch. "I had seen the look on his face and in his eyes and he was done. It was a very good impression that we made tonight but I think the fight could have been a little harder. He's good. He landed a couple punches. I wasn't expecting it to go one round." Ortiz has three first-round knockouts to his name. His only setback came in a first-round disqualification to Corey Alarcon June 3, 2005.
 "He's a good-looking young fighter whose poise belies his age," Farhood said of Ortiz. "Ortiz is so poised and technically skilled that he was able to turn the other guy's aggressiveness against him. He waited patiently, placed his punches beautifully and allowed Barrera to walk into his punches. Ortiz hit him (to the canvas) with a left hand and a right hand, and Barrera's probably never been hit like that before."
Barrera, 22 and from of Colton, CA, who came within one fight from making the 2004 Olympic boxoffs, came into Friday's matchup sporting an unblemished record in 10 professional fights, and came off his first knockout in his previous fight, Feb. 17 against Daniel Gonzalez. He said Thursday that his game plan was to use his defense, his self-described best asset, but wound up attacking from the opening bell.
Barrera admits he is a grinder who is not a one-punch knockout artist. He could only wish to say the same of his opponent on Friday.  "He caught me. There was nothing I could do," Barrera said. "It happens. I'll be back."
In addition to the rebroadcast on Saturday, Apr. 1, at midnight, Friday's bouts also will be replayed on SHOWTIME EXTREME Monday at 8 p.m. and Wednesday at 11:30 p.m., prior to a final airing on SHOWTIME TOO Thursday at 11 p.m.