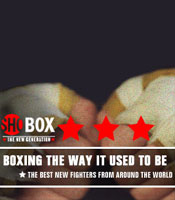 Press Release: 
Sechew "Iron Horse" Powell celebrated a family gathering on the fight card and continued his rise to prominence in the junior middleweight division with a convincing, ten-round unanimous decision over veteran Robert "Push Up" Frazier Friday on "ShoBox: The New Generation." In the action-packed co-feature, Andre Berto kept his perfect record and his torrid knockout rate intact by stopping previously unbeaten Jonathan Tubbs with a third-round TKO in a welterweight clash. The doubleheader, staged at the Pend Oreille Pavillion at Northern Quest Casino in Airway Heights, Wash. before a sellout crowd of 806, was promoted by DiBella Entertainment. Though there were no knockdowns in the main event, Powell was in command early by establishing his left hand. He drew blood from Frazier's nose in the second round, cocked Frazier's head back with a hard, straight left to the forehead in the third round, opened up a cut from Frazier's cheek in the fourth and left Frazier swelling above his right eye after the bout.
 All three judges, from  Washington, scored the fight 99-91 in favor of Powell. The Iron Horse is 5-0 on "ShoBox" and fought for the first time since earning a ten-round unanimous decision Nov. 4 on "ShoBox" over Archak Ter-Meliksetian. "ShoBox" analyst Steve Farhood hailed it "a masterful boxing performance," saying Powell "is ready for greater challenges. I think this is a significant step because it unofficially ends his days as a prospect and signals his days as a rising contender. I'd say the second half of '06 would be the time for him to move up and face a name, top-10 fighter."
Powell, 26 from Brooklyn, NY, improved to 19-0 (11 KOs), didn't think it was his best performance but admitted it was a landmark night of boxing. That's because he cheerfully watched his older brother, Jamelle Hamilton, make his professional debut on the undercard with a fourth-round TKO of Frank Bybee. "It's just a dream come true for me and my brother to be fighting together as
pros," Powell said. "I'm more happy for him and his victory. It would have been nice to be the first one of the elite fighters to stop him (Frazier). It didn't worry me at all. I knew he was absorbing a lot of punches. I'm satisfied with the win. My trainers took this fight knowing it would be a perfect test to get
to the next level."
 The 32-year-old Frazier (31-7-4, 15 KOs), born and bred in Rochester, NY, has fought six former or current world champions and has previously gone the distance with the likes of Felix Sturm and "Winky" Wright. He lived up to his reputation as a durable fighter who can take a punch, but he did not have the punching power to put a dent on Powell's chin when he turned the aggressor. Frazier tried to work Powell's body in the hope he could wear Powell down and take the offensive initiative in the final three rounds.
"But you know Powell was effective because any time Frazier had an energy spurt, Powell landed his best punches," Farhood said. "Powell fought on his
terms the whole ten rounds."
Berto, the 2004 Haitian Olympian from Winter Haven, Fla., may have been the most impressive in the ring in handing Tubbs his first defeat. The referee stopped the fight after Berto floored Tubbs for the fourth time, with a left hook 2:44 into the third. Berto dropped Tubbs twice in the second round, with a left hook and later a right hand. An overhand right early in the third round sent Tubbs onto the ropes and down for a third time. In 14 months as a pro, the 22-year-old Berto is 10-0 with eight KOs in 25 rounds. He has knocked out his last six victims, has fought beyond four rounds only once (a six-round TKO vs. Anthony Little June 9, 2005). Oddly enough, the chiseled Berto has not traditionally lifted weights.
 The victory could be considered a little slice of sweet revenge for Tubbs' win over him in the amateur Silver Gloves competition when both were 13. Tubbs was ranked as high as #3 nationally as an amateur and claims such amateur titles as the Junior Silver Gloves, Junior Olympics, Ohio State Fair, Empire State Games, Regional Silver Gloves and the Niagara USA Men's Championship Tournament.
"Berto was the far stronger fighter and the much harder puncher," Farhood said. "He didn't waste his punches, he was accurate with his punches and he took his time. The only criticism, I'd like to see more shots to the body. He just needs experience. He's on the fast track. A year from now, he'll be where Powell is now."
Berto used the first half of the opening round to feel Tubbs out and look for openings when Tubbs (7-1-1, 3  KOs) tried to attack. Berto found that defensive weakness the last 30 seconds of the round and set the tone for the fight with a flurry of combinations and uppercuts that had Tubbs leaning against the ropes. Although Tubbs, 23 from Rochester, is a natural right-hander, his footwork and style is such that he fights like he's a lefty.
"I've fought a lot of southpaws and that's what a lot of those guys throw – a straight left. So I've learned how to counter that," said Berto, who made his "ShoBox" debut and owns a bronze medal at the 2003 World Amateur Boxing Championships, two National Golden Gloves and two National PAL titles and was a three-time U.S. amateur championship medalist.
 "I felt a little nervous because I've been out of action. I last fought Dec. 3. The first right hand, I didn't think I hit him that hard but I could tell I
caught him pretty good. I got a little excited after that and I had to calm myself down. I'm definitely happy."
Friday's bouts will be replayed on Showtime Extreme Monday at 8 p.m. and Wednesday at 11:30 p.m., prior to a final airing on Showtime Too Thursday at 11 p.m.