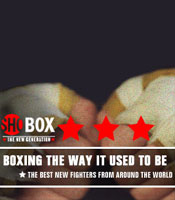 In a fabulous doubleheader on "ShoBox: The New Generation" Friday on SHOWTIME (11 p.m. ET/PT, delayed on the west coast), up-and-coming Sechew "Iron Horse" Powell faces fellow New Yorker Robert "Push Up" Frazier in a 10-round junior middleweight clash, and Andre Berto will go head-to-head with Jonathan Tubbs in an eight-round welterweight battle of unbeatens.
SECHEW "IRON HORSE" POWELL (18-0, 11 KOs)
"I'm definitely going to try and make a statement. Ultimately, we want to win in an impressive manner. But the most important thing is to win. I don't feel any pressure. I'm just going to go out and do what I do, look for my openings, look for my shots and try to be as assertive, as dominant, as possible. I think Frazier is a guy who has a good, amateur style. I feel he has nothing to lose. His track record says that he can take a punch. I'll have my hands full with his style. We got in three-and-a-half weeks (of training for this fight). I feel good. I feel fit and ready to fight. You have to take everybody seriously. There's only room for one at the top. I want to be the best in this division."
ROBERT "PUSH UP" FRAZIER (31-6-4, 15 KOs)
"I've been there, I've done that. I've fought the best. My heart is bigger than (Evander) Holyfield's. I'm 32 but I got the body of a young 20-year-old. I'm in good shape. This fight, I'm in double than what I was in my last fight. I'm just going to come out and show the world what "Push Up" is made of, what I'm all about. I want to test him, feel him out. He (Powell) is a good fighter, up-and-coming versus a seasoned pro. It's going to be explosive."
ANDRE BERTO (9-0, 7 KOs)
"The memory I had (of Tubbs beating me in the Silver Gloves when we were amateurs at 13), it was the first southpaw I ever fought. I just remember it being a tough fight and he came out of it with a win. A lot of things have happened since then. Every fight, I believe, is a challenge. I just love to fight. I'm just going to try and touch him (Tubbs) a little bit. I'm going to test his heart." 
JONATHAN TUBBS (7-0-1, 3 KOs)
"My last couple fights, especially with that draw, I realized I had to commit 150 percent to this. To fight him (Berto) is going to get me where I need to be. I'm probably in the best shape of my life. I was already peaking before I got into training camp for this fight. I'm definitely going to make sure I stay out of his way. He definitely has a lot of power. Other than that, I don't think much in terms of his skill level."