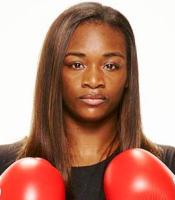 World middleweight champion Claressa "G.W.O.A.T." Shields and her opponent, Maricela Cornejo, went face-to-face for the first time on Wednesday at the final press conference before they meet in the ring this Saturday, June 3rd at Little Caesars Arena in Detroit and streamed live on DAZN in the U.S. and Canada. Tickets for the live event are on sale now and can be purchased through 313Presents.com, Ticketmaster.com and the XFinity Box Office at Little Caesars Arena. The press conference also included unbeaten Flint-native Ardreal Holmes and his opponent Wendy Toussaint, who meet in the junior middleweight chief supporting bout.
Flint's Shields will headline the first-ever boxing event at Little Caesars Arena, the home of the Detroit Pistons and Detroit Red Wings. Shields has relished in the adoration of The Motor City, including a visit to throw out the first pitch at last night's Detroit Tigers game. Fans wanting more information can catch up on fight week with the "Shileds vs. Cornejo Fight Week Daily" five-part digital video series debuting each night through fight night. Here is what the press conference participants had to say Wednesday from Little Caesars Arena:
CLARESSA SHIELDS
"I'm facing a younger, taller and more savvy opponent in Maricela Cornejo than I was in Hanna Gabriels. I want to thank Maricela for accepting this challenge and coming here. I know that she's always in shape. It's gonna be a real throwdown in Motown.
"I know she said she wants to go out there and dance, but you're gonna be dancing by yourself. Because I came to fight. She can salsa all she wants, but I came to throw down and show my skills.
"It's fight week and there's not much more to say. Boxing is changing. To be having this fight here in front of thousands of fans in Detroit, with the G.W.O.A.T. in the main event, we don't get too many of these opportunities.
"I'm just happy and excited about this fight. I'm looking forward to putting on a show and showing that I'm the greatest once again.
"People in Detroit are ready to celebrate. The city is already celebrating because it's a big moment for Detroit. But I'm still focused on winning the fight. It's big for all of us, but I'm keeping my head down.
"When I got the call about fighting at Little Caesars Arena, it felt like there was a slim chance we'd get to fight here. They offered a lot of money to fight again in the U.K., but I wanted to bring my titles here."
MARICELA CORNEJO
"When I got the call I was getting ready for another fight, so we were coming to the end of camp anyway. This isn't a last minute thing for me, because I'm always ready. I'm always staying in the gym. I live, eat and breathe boxing.
"I'm ready for this opportunity and there's no excuses come Saturday night. Claressa has done so much for the sport of boxing and everyone in this sport is trying to do our part. Our responsibility is just to make a difference in the sport and that's what we're trying to do. She needs a good dance partner to do that. When they called, I said I'm ready to dance.
"Being an underdog doesn't affect me at all. I'm gonna go put some money on myself. I knew I'd be the underdog. She's got the titles, so I know what I have to do.
"I have absolutely no doubt in my mind that this is the perfect time for me to take this fight. Some might think that it's short notice, but I'm in tip-top shape.
"She's coming after me, so I'm fighting fire with fire. There's no backing down at all. It's gonna take heart, endurance, everything and the kitchen sink. That's the kind of fighter that Claressa is and I'm so ready for it."
ARDREAL HOLMES
"I'm really happy that everyone came out and that Flint and Detroit are gonna get to watch us on Saturday. This is a Michigan thing. It's a Michigan card. We all want to show out.
"I know that I have to look impressive and open the door for me to eventually fight for a world title. I'm taking it one fight at a time, but I'm coming for the top of the division.
"There's not much more talking, I'll just see everyone on June 3."
WENDY TOUSSAINT
"I'm very happy to be here for this fight. I know my opponent is very tough, but this is nothing new to me. I'll see you in the ring on Saturday.
"I've had a great training camp and I feel prepared for this fight. I respect Holmes, but he's not going to be bringing anything that I haven't seen before."
DMITRIY SALITA, President of Salita Promotions
"Big-time boxing is back in Michigan on June 3 right here at Little Caesars Arena, and we're going to see Claressa Shields defend her undisputed title against the top rated contender Maricela Cornejo. This is a big event for Detroit, Michigan and boxing as a whole. They say 'a tree grows in Brooklyn', but boxing grows in Detroit.
"This is going to be a historic night of boxing. Claressa Shields has opened the door for Michigan and Detroit talent to be seen on a worldwide scale. This card will feature some of the best talent in the world of boxing from right here in the state.
"The city of Flint has provided some of the best fighters in the sport of boxing and many believe that Ardreal Holmes is next in line. He is undefeated and stepping in for the most challenging fight of his career."
HOWARD HANDLER, President of 313 Presents
"Welcome to fight week. As Detroit's premier live entertainment company, 313 Presents is excited to present the first ever boxing event here at Little Caesars Arena. We're making history with this fight.
"I want to thank Claressa and her whole team for all their hard work and preparation, as we're just a few days away from the big event. I also want to thank Maricela for stepping in and taking on this challenge.
"In addition to the main event, Dmitriy has put together a terrific fight card featuring some of Michigan's best prospects. On top of Flint, Michigan being represented we've got Dearborn and Grand Rapids, and each of these fighters are going to make this first ever boxing event here historic and memorable.
"Claressa, you definitely inspire and give hope to many people out there. Claressa has really gone above and beyond to give back to people who are often overlooked. We're looking forward to a great crowd and the city being abuzz for boxing."