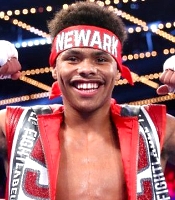 Young Gun Set To Put On A Show In Homecoming Bout
Greg Leon: What's the latest and greatest? How is everything going in preparation for your July 13th bout [against Alberto Guevara who has just replaced Franklin Manzanilla who replaced Hairon Socarras]? Shakur Stevenson: "Everything is going how it's supposed to go. I'm getting my last few rounds in and cutting my weight, so everything is going as planned and I'm going to be ready to go on the 13th." GL: This is the third guy you've been scheduled to fight on July 13th and he's not really a featherweight. Are you disappointed with this opponent? On paper this doesn't look like the kind of fight that will have the Newark crowd there for more than three rounds. SS: "I'm definitely not disappointed and I"m not sleeping on this dude at all. I'm sure he's going to be coming at his best and he's coming to win, but I'm not disappointed because I just fought Christopher Diaz and I try to fight everybody that I could, I'm looking to get my world title shot to be honest with you." (Interview done before Manzanilla dropped out on Friday afternoon)
GL: How do you feel about headlining in Newark?
SS: "I feel great, this is my homecoming and this is the fight that's going to put me on the map. I feel great because on July 13th I'm going to show people what I'm capable of."
GL: Was it important for you to make sure that you headlined your homecoming?
SS: "It wasn't that important to me because if they would have had Crawford there with me on the undercard, I wouldn't have minded that, but that didn't happen and I'm happy to be headlining on July 13th now."
GL: Do you plan to set yourself up as a big ticket seller in Newark?
SS: "Definitely. It's my hometown and I feel like they're going to come out to support me. I feel like this is going to be the beginning of many home fights. I'm definitely going to put on a show for my fans."
GL: I know you're not sleeping on the guy, but will Guevara go the distance?
SS: "I'm not going to predict the outcome for this one, I know the last time we talked before the Diaz fight I predicted a knockout and I didn't get it. What did I predict with you again?
GL: You said that the jab was going to be money, and the jab was money.
SS: (laughs) "This is a homecoming fight and I'm not going to put that much pressure on myself, I'm just going to go out there and have fun."
GL: What do you want a victory on the 13th to lead to?
SS: "My next fight should be a title shot. I'm number one in the WBA and the WBO and I'm number three in the IBF, so I feel like the next one should be the title shot."
GL: You feel it should be, but will it be? Is it more realistic to expect you to become champion in 2020?
SS: "No. I'm planning to become world champion before the end of the year for real."
GL: Closing thoughts.
SS: "Just tune in on July 13th, I'm about to put on a show."
Send questions and comments to: boxingtalkg@yahoo.com