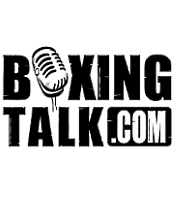 Solo Boxeo report
A MESSAGE FROM RAJ SHARMA:
Recently, a story was published on Boxingtalk.com about flyweight prospect Giovani Segura that was attributed to me. While I had interviewed Mr. Segura recently for a local print publication named Punch News, I had nothing to do with the modified version of the story that was published on Boxingtalk. The new version contained passages I never wrote, and also contained quotes attributed to Mr. Segura that he never said to me during our phone conversation. I am now stating for the record that the story entitled "Hard Hitting Segur a Paving His Own Way to a World Title" is not a Raj Sharma article. As such, I have requested that the story be taken down from the site. I do not know who modified the story and how it was able to be published on the site, but I am sure that my editor Scott Shaffer and Boxingtalk publisher Greg Leon had no knowledge of any deceptions. I have  been covering the sport for less than a year, and perhaps I have been too trusting of some of the people I interact with.
Thank you,
Raj Sharma
TELEFUTURA REPORT:
It was a night of knockouts, as Ray Alcorta and Top Rank brought boxing back to the Maywood Activity Center in Maywood, California on Friday evening. Five of the six bouts on the "Champions of Tomorrow" card ended in stoppage, with local slugger Giovani Segura adding another knockout win to his resume, this time over Valentin Leon. Also, Oxnard's Brandon Rios put on another crowd pleasing performance in the co-feature with a sixth-round stoppage of Juan Alfonso Figueroa. The card was televised nationally on Telefutura.
Segura faced off with veteran Valentin Leon in the main event, a flyweight attraction scheduled for ten rounds. Segura, billed as the "Aztec Warrior", was coming off consecutive first round knockouts of an overmatched Juan Carlos Perez and the then 19-2-1 Francisco Arce. In Leon, he was facing a more experienced foe that had been in with the likes of world champions Ivan Calderon and Brian Viloria and former champion Isaac Bustos. Leon's greater experience would not play a factor, as Segura's vaunted punching power came to the forefront early.
A crushing right ended matters in the third round, after Segura had outscored the counterpunching minded Leon in the first two stanzas. Segura landed a thunderous right on Leon as the veteran backed up, knocking him to the canvas. A courageous Leon beat the count, but staggered back into a corner post, forcing a stoppage by the referee. The official time was forty seconds. Segura improves to 14-0-1 with 11 KOs with the victory, while Leon's ledger now stands at 17-13-2 with 8 KOs.
"Things went well. Thank God it went this way. I'm just gonna keep working hard" said Segura after the fight. Segura said he wanted the fight to last longer in order to get more rounds in, and that he would return to the gym on Saturday.
Rios wore down the tough Juan Alfonso Figueroa, stopping him with less than a minute left in the sixth and final round of their lightweight encounter. The 5'9 Rios was able to counter his shorter opponent well when he stayed outside, but chose to bang on the inside with Figueroa for stretches. As the rounds went by, the superior artillery of Rios began to take a toll on Figueroa, whose face began to look the worse for wear. A left-right combination buckled Figueroa's legs in the fourth, and the coup de grace was a four punch combo in the sixth that had Figueroa on unsteady legs after he got up from the bout's only knockdown. Rios, who showed a champ's heart in battling back from two knockdowns to stop Joel Ortega in Maywood in January, improves to 11-0 with 9 KOs. Figueroa, who showed a solid body attack and staggered Rios with a right in the second, slips to 5-4-1 with 3 KOs.
The next generation of Velardez was victorious, as 18 year old southpaw Johnathan "Boneyard Baby" Velardez ran his record to 2-0 with 2 KOs with a third round stoppage of Dionicio Alvarez in a flyweight four rounder. Velardez, younger brother of Bobby Boy, Armando, and Alex, swarmed his opponent early but backed off to box more in the second and third rounds. Alvarez was floored by a right hook during an exchange in the second round, and hurt by a left hand in the third when the referee called a halt to the action. Official time of the stoppage was 2:31. Alvarez's record is now 1-2 with 1 KOs.
Knockout of the night belonged to lightweight John Molina, whose right hand to the head of opponent Ignacio Flores left his opponent dazed on the canvas with his leg shaking. Molina improves to 2-0 with 2 KOs with the win, while Flores slips to 0-2. Official time of the stoppage was 38 seconds of round one.
In other action, Chris Rizo defeated Marco Torres by first round TKO in a scheduled for four junior welterweight bout. Bobby Dominguez outpointed Richard Alduenda over four rounds in a lightweight battle, the only time a bout went to the judges all evening.
The ring announcer for the evening was Lupe Contreras. Among those in attendance were WBA junior bantamweight champion Martin Castillo, WBO super bantamweight titlist Daniel Ponce De Leon, and the legendary "Pacoima Kid" Bobby Chacon.
No official attendance estimate was given, but the crowd was large for the Cinco De Mayo fight card. The date for the next card at the Maywood Activity Center is July 14th.
CLICK HERE FOR THE FULL STORY AND A SPECIAL MESSAGE FROM THE AUTHOR
Send questions and comments to: desiquietman@yahoo.com