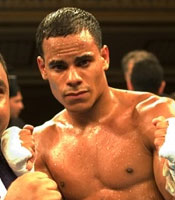 Boxingtalk.com recently had a chance to sit down and speak with Jr. Welterweight prospect Edgar Santana, who is all set to do battle against Rodney Freeman Thursday night as one of the main supporting bouts on Lou DiBella's latest installment of Broadway boxing headlined by undefeated Jr. Middleweight prospect Sechew "The Iron Horse" Powell. Although Santana, originally from  Manati, Puerto Rico, and now resides in Spanish Harlem is a relatively unknown to main stream boxing fans, many media types ringside at his last few fights feels that it's only a matter of time before he's mentioned amongst some of the more talked about prospects in the division. Read on to see what one of the divisions
RC: What's going Edgar?
ES: Everything is going good; preparation was very good for this fight.
RC: Before we get into your upcoming match this Thursday tell us a little bit about your last performance against John Temple?
ES: In my last fight with John Temple, I knew more or less what he was going to bring to the table since I saw him fight Joey Rios. So basically I already knew what kind of fighter he was. In the first round, I was feeling him out, then going into the second (Hector) Rocco was like "start catching him with the uppercuts, he is going to eat the uppercuts" and that is exactly what I started doing (Bamm Bamm), then the referee just stepped in and stopped the fight, he was taking too many punches, and he wasn't answering back.
RC: What can you tell us about your upcoming opponent Rodney Freeman 5-2(3)?
ES: I don't really know too much about him, I seen a tape of him in his last fight when he got knocked, TKO'd in the second round, but I couldn't really see too much of him. It was only two rounds, he looks to me to be a decent fighter, and I know I can't rely only on what I saw on that tape, because every fighter comes differently for every fight. I have been training and training hard so what ever he brings I am ready.
RC: Despite his last fight being very short, did you see anything that you feel you will be able to capitalize off of right away?
ES: Yeah, when he throws his punches he keeps his hands low so I am definitely going to jump on that right there, and the rest I will figure out in the fight.
RC: You are trained by a very well respected Veteran in Hector "Panama" Rocca, tell us a little bit about the relationship you have with him?
ES: Me and Rocca are like a father and son relationship. He not only trains me, he gives me good advice, he helps me out and if I ever need something he is always there. He's pretty cool, he has been helping me a lot every fight and teaching me more and more, so with every fight I am just getting better and better thanks to him..
RC: Many ringside at your last couple of fights feel that despite your two losses you seem to have what it takes to be mentioned amongst the young up and coming prospects in the division, tell us a little about your two losses and layoff from boxing after that?
ES: With the two losses they are basically fights that I shouldn't have ever lost, they were fights that I shouldn't have had any problems winning, but hey that is boxing and the judges saw it the other way and I can't fight it. It could have been a lot of things I can talk about that could have lead me to those two looses, but now I am on point, ready and I can't afford to loose anymore.
RC: From what I understand you use to train with Felix Trinidad back in Puerto Rico why don't you tell us a little bit about what that was like?
ES: That was a great experience for, just being there with Trinidad training with him in camp. Man forget it, Trinidad is one of the best dudes you can meet. I mean I learned dedication, he is a dedicated fighter. He just work hard, he works extra hard in the gym. Whatever he lacks, he definitely makes it up with his hard training and dedication
RC: What are your thoughts on his return?
ES: I thought he should have taken an easier fight for the first time coming back, Mayorga is pretty tough but I think if for the first rounds he boxes and gets Mayorga's respect after that he shouldn't have a problem.
RC
: Give us your thoughts on the top prospects in the division right now?
ES: There is a few, I mean Miguel Cotto right now just fought and he is definitely a big prospect. Paulie (Malignaggi) is another good up and coming prospect. It's tough, 140lbs is full of good prospects but that makes it even better. That is part of all the excitement.
RC: How long before you feel you will be mentioned amongst those top prospects?
ES: I would say in a year I will be right there where I want to be.
RC: By this time next year where do you actually see yourself fitting in the division?
ES: Definitely I will be making a bigger buzz by this time next year. I would say I'll be in the top 20, which will be good enough. I am not in a rush; I know little by little I am going to get what I deserve.
RC: In the New York City area you put quite a bit of people in those seats, many which come from your neighbor hood of Spanish Harlem, how does it feel to get that type of support from those in your community?
ES: There is no better feeling than that, when you come out and see so many people rooting for you knowing that they came to see you fight regardless if I am the main event or the first fight, just knowing that makes it even greater. I love being in the position to represent my community, I love being in that spot, and that is because I definitely want to represent where I am from.
RC: Who did you use primarily to help prepare you for this fight?
ES: I have been sparring with Raul Frank (Former two time world title challenger and current IBF Latino Light Middleweight champ), I have been getting good work with him and a couple of other fighters.
RC: With a guy like Frank, who has some very good experience under his belt as he fought Vernon Forrest two times for the IBF title, what did you learn from working with a guy like that?
ES: I always try to pick up something when I am sparring, he is a pretty strong fighter so I go in there and box him and at the same time try to get his respect, and I pick up little things from sessions like that here and there.
RC: What can those on hand expect, besides all of those screaming fans of yours, what can we anticipate from you Thursday night September 30th?
ES: Like always I am there to represent, I am there to put on a show and get mine little by little. I am going to be explosive and show that I am there to fight, I am not there to Showboat, and that is how I am going to get my respect that is what you can expect.
RC: You aren't currently tied into a promotional contract, but your last few fights have taken place on Lou DiBella promoted shows, can we expect to see you added to his already rich in young talent roster?
ES: After this fight, we could be sitting down and talking about it. I am not going to say I am signing with him, but hopefully after this fight it can happen.
RC: What has your experience working with him in your last couple of fights been like?
ES: I think DiBella is one of the best promoters out there, he is just straight up, and I will feel more comfortable working with DiBella over any other promoter.  I mean hey if I was to sign with him, it will be a blessing
RC: You have taken care of business rather easily in your last few fights, when can we see you step up your level of competition to prove you deserve to be mentioned amongst the rest of the top prospects?
ES: I would say this coming New Year. We are going to start picking it up, we are going to be going ten rounds and we are definitely going to have to step it up there.
CLICK HERE FOR THE REST OF THE INTERVIEW
Send questions and comments to: rayocampbelljr@hotmail.com