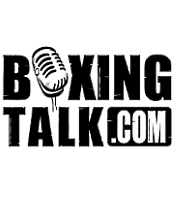 After an almost two year layoff, Southern Californian light welterweight Roberto Santa Cruz gets one of the most difficult coming out of retirement parties in recent memory as he's set to face "Mighty" Mike Arnaoutis tonight in a scheduled ten round contest Chumash Casino in Santa Ynez, California. Also on the bill, welters Shamone Alvarez and Jose Medina square off in an eight rounder. Showtime will be broadcasting the Gary Shaw Productions doubleheader on their ShowBox program starting at 11PM EST. Boxingtalk.com was lucky enough to catch up with Roberto as he was putting the finishing touches on his rough and ready training camp at the downtown LA gym. Don't miss this opportunity to get behind the scenes with this unheralded twenty two year old who aims to take down one of boxing's hottest prospects. 
Roberto Santa Cruz, 11-2 (2), trains under the watchful eye of Rudy Hernandez, a hard taskmaster who also happens to be former world champion Genaro Hernandez's brother. Hernandez works out of perhaps Los Angeles' toughest gym and coaches Robert and Armando Santa Cruz, Urbano Antillon and Nestor Rocha. Many world class fighters stop into the facility to spar with Hernandez's trainees and it's in this hard boiled, no-nonsense environment that the meddle of Santa Cruz was forged. 
Given the fact that he's coming up from lightweight and hasn't fought since May of 2003 due to a hand injury, almost no one gives the East Los Angeles man a prayer against the streaking Mike Arnaoutis. Santa Cruz's Greek opponent has been a top level fighter since the age of twelve, winning domestic and amateur tournaments before going on to post wins over the highly regarded pair of Jesse Feliciano and Joaquin Gallardo, not to mention drawing with previously unbeaten powerhouse Juan Urango. Simply put, "Mighty Mike" can fight exceptionally well for a boxer with only fourteen bouts under his belt and is being groomed as a future star by Showtime. 
Despite finding himself in a real life "Rocky" situation, Santa Cruz isn't worried and is counting on his long experience sparring with some of the best in the business as well as Hernandez's ready for anything style of preparation to carry him through against Arnaoutis. "I've been in the gym, during the layoff, working," he said. "I've been active in the gym almost every day, except for when I had to take time off to heal a fractured bone in my wrist. Everything is good, my timing, head movement, anticipation but especially my movement. I've been working on that a lot and I think it's much better than t was. I'm ready for this fight." 
Among others, Santa Cruz prepared with two top level Japanese fighters, both good jabbing tall southpaws like Arnaoutis. There is one other workmate that the twenty two year old sparred with and the pairing was most beneficial. "I went to Big Bear a couple of months ago to help Marco Antonio Barrera prepare for the most recent Erik Morales fight," remarked Santa Cruz. "It was a big learning experience. I learned how to protect more, give better movement. It was a good experience sparring with Barrera. He was much better than I thought and he has a pretty good punch, too. He hits hard, he's got a really big punch for his weight." 
While Barrera is a world class fighter and much more advanced than Arnaoutis, he's also considerably smaller than the Greek tourist. Although Santa Cruz has only had three weeks to prepare, he feels familiar with Arnaoutis' style and knows exactly what he has to do once the bell rings. "I watched Arnaoutis fight Juan Urango and he doesn't give up under pressure," he said. "To win, I'm going to have to study him and not let him get started in the first round because he's got a pretty good jab. I think that in the first round I've got to box him and let him get a little tired. Then I have to put him under pressure and tire him some more. I think that's the way I can win. He's 5'10 and I'll have to watch out for the jab. I'll have to try and get him tired and at some point in the beginning of the middle part of the fight, I'll put him under pressure. I can't give him distance because if I do, he throws straight punches really good. I have to take that away from him because I've got to be inside or far away from him because he's really good with his punches. I've either got to get in or box him alot." 
Roberto Santa Cruz has had to overachieve his entire life and isn't unfamiliar with the role of underdog. To beat Mike Arnaoutis would leapfrog him into the spotlight and bring him much closer to his dreams of gaining a world title opportunity. He knows that he'll have to have a perfect performance if that is to happen. "I'm very excited about this fight for a lot of reasons, and because I think it's going to be my first time fighting on TV," he laughed. "I'm going to give it 100% and hope I come out on top. I'm feeling very confident and I really want this. They better believe that I'm coming to win and nothing else." 
Boxingtalk.com would like to thank Roberto Santa Cruz, Rudy Hernandez and Rick Takatani for making this article possible.
Send questions and comments to: thomaspointrd@aol.com