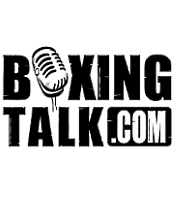 Immediately after his devastating second round knockout victory over Jeremy "Half-Man Half-Amazing" Williams 41-5-1(36), "The Nigerian Nightmare" Samuel Peter 21-0(18) took the time out to speak with Boxingtalk.com about the eye opening performance. "That was just the beginning" he stated about his performance, and promised that we haven't seen anything yet. Read on to see what else this young heavy handed heavyweight contender, who has often been compared to his now incarcerated, fellow countryman Ike Ibeabuchi.
RC: Congrats on your very impressive 2nd round K.O. over Jeremy Williams.
SP: Thank you, thank you very much.
RC: Sam, what was it? Was it his trash talking before the fight that sparked you to come out there and get him out of there early like you did?
SP: Yeah he had a lot to say during the press conference, but I told him that he was talking lies like I told everybody, and that I am the real man.
RC: Did you really think that you were going to get him out of there that quickly?
SP: I knew it, I knew, I told Ivaylo (Gotzev (Peter's manager)) and I told everybody that it was going to be round two.
RC: Would you say that was the best Samuel Peter showing, was tonight an idea for those who haven't seen much of you, what you are all…
SP: (Cutting in) Nah nah, no, no, no, no. That was just the beginning, that is not me, that is not the real me, the real me will show up the day I fight for the WBC Heavyweight champion of the world.
RC: So if that wasn't all of you in the ring, what else can we expect from you that we haven't seen yet?
SP: Not yet, you know I don't talk to much, not yet, you are going to see.
RC: Well we seen an extremely impressive left hand that put Williams out cold, give us an idea of what else we can expect if we haven't seen anything yet?
SP: When the contract is signed for my next fight, and everything is signed then I will tell everybody what is going to happen, nothing is signed yet so I can't really say nothing.
RC: Is that because you feel if you let it out, you'll have a hard time getting fighters to sign on the dotted line?
SP: (Starts to laugh a little) Yeah
RC: You have fought on Showtime before, but on ShoBox the next generation, tonight you opened their Championship boxing serious, did you feel any pressure going in to look good?
SP: I have fought on Showtime before, so I didn't really think about it, I was just thinking about going in there and getting him out of there, it doesn't really matter to me, I always know what I have to go in there and do. 
RC: You was very active in this fight early on, and it obviously paid off, but had the fight gone into the later rounds, would you have been able to maintain that pace and output?
SP: Yes, I would have been able to do better than that. I didn't even get a chance to warm up before the fight, and if I did I would have been able to start much quicker than that and throw more punches than I did. I trained for real, I trained for twelve rounds if I had to fight that long.
RC: After the match, during the post fight interview you started to tell a story about two golf balls that you found while running one day and it symbolized something, since he cut you of, why don't you finish the story for our readers?
SP: When I first signed the contract, My coach would come early to get me like 5 o'clock in the morning to go running, on my way coming back from running, we did three miles that day, I saw two golf balls in the street and I picked it up and I showed it to my coach, and asked what does it mean and he said doesn't know, and I asked him what is it and he said "Two Golf Balls" and I said that means I am going to get a two round knockout.
RC: You said you see yourself fighting for the WBC title, why don't you give us your thoughts on next weekend's upcoming match up between champion Vitali Klitschko & Tyson conqueror Danny Williams, and how do you see it playing out?
SP: Well you know I don't really watch the fights, and I am not worried about none of them. I will worry about them when I get into the ring
RC: Jeremy Williams was a good win for you, but as you step up your level of competition, do you feel as if you are going to have to watch tapes of the better Heavyweights out there to get an idea of what these bring to the table before you step through the ropes.
SP: When I watch tapes it makes me think all kinds of different things, so don't like to watch the tapes. I trust what my trainers tell me about the fighter when they watch the tape, and they help get me ready for the fight
RC: This time next year what will people be saying about Samuel Peter, and where do you feel you will fit in the Heavyweight mix this time next year?
SP: I leave those kinds of things up to the hands of God, whatever happens is what he did, and made happen
RC: Do you sometimes feel you have some big shoes to fill being compared to the now incarcerated Nigerian warrior, Ike Ibeabuchi?
SP: No because I am not anyone else, I am Samuel Peter.
RC: Is there anything you would like to say to your fans out there in closing?
SP: Yes I would like to thank all of my fans for coming to check me out.
CLICK HERE FOR MORE OF THIS EXCLUSIVE
Send questions and comments to: rayocampbelljr@hotmail.com