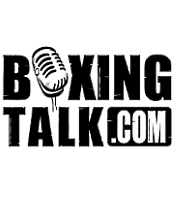 GL: Congratulations on your impressive showing the other night. How do you feel about your performance?
"It was a good fight. Sykes is a good boxer. He has a good jab and a good punch, but I was just too focused and I did what I had to do."
GL: Where do you go from here?
Sam Peter: "Well next is going to be John Ruiz. We're looking to get a world championship fight in my next fight."
GL: Do you think you're ready to fight for a world championship?
SP: "What do you think? I'll let you play matchmaker."
GL: If I was a matchmaker we wouldn't be doing an interview, but I'd pick you to beat John Ruiz.
SP: "Well there it is. That's the fight I want and I'm already back in the gym, now we need to see if John Ruiz wants to fight."
GL: What do you think of Ruiz as a fighter?
SP: "That doesn't matter, I know I'd send him packing in round three. He brings his ugly style and I'll give him an ugly loss."
GL: What do you think about his performance against James Toney?
SP: "I don't respect people who have to take drugs to fight. Be natural and use what God gave you, then when you win you'll know it's all you."
GL: Why look to fight John Ruiz when fights with Chris Byrd or Lamon Brewster would be more attractive?
SP: "You know why I want to fight John Ruiz? Because I don't think the other guys are available. And I don't really think people recognize Brewster's title. When I become heavyweight champion of the world I want it to be for a belt like the WBA, or WBC, a belt that people will recognize."
Send questions and comments to: gleon@Boxingtalk.net