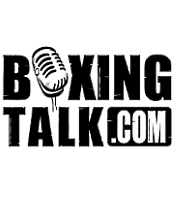 Big Media Press Release:
  Usually, up-and-coming boxers try to match themsleves against a boxer with a bigger name. In an unusual move, Dino Duva, promoter of undefeated heavyweight Samuel Peter (Boxingtalk #10) challenged lesser-known Taurus Sykes to face Peter after Sykes supposedly issued a press release that questions the courage of the Nigerian slugger.
Duva said, "I am prepared to extend a public offer to Taurus Sykes to face Samuel Peter for far more purse money than he's ever made in his life. I have a TV date for July or August and as long as he doesn't conveniently price himself out and the network accepts him, we'll make the fight. 
Among other statements, a recent press release attributed to Sykes stated "I beat Jovo Pudar and then Peter... was scared to fight me because he knew I would have jabbed him all the way back to Africa."
Duva says that all Sykes had to do was ask, "I'm not sure what's behind this new-found courage from Sykes. Last year we offered him a fight against Samuel and he ran for the hills and couldn't be found for a while, but if he really wants to subject himself to Samuel putting a major-league smack-ass on him, we'll accommodate him. Who am I to prevent it? But when Samuel hears how badly Sykes has disrespected him, I'm almost afraid of what will happen when they fight."
Sykes is coming off a solid win earlier this month by unanimous decision over Peter's countryman Friday Ahunanya. Meanwhile, Peter was last seen winning a regional title with a five-knockdown rout of Yanqui Diaz