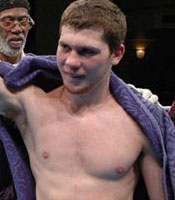 "I want to show that I am the best. I really feel that when I get challenged, I step up to the plate and I perform a lot better."
Boxingtalk.com recently caught with undefeated NABA Light Welterweight champ Dmitriy "The Star of David" Salita 24-0(14) to discuss his unanimous decision victory over "Red Hot" Robert Frankel 12-5(1) this past Thursday night on the final Broadway Boxing installment of 2005. "I did what I had to do to pull the fight out." Stated Salita on his decision victory, which many ringside felt could have gone the other way. "I think that this fight was just a speed bump in the road, but it is not a derailment by any means". In this one on one exclusive, Salita talks to us in detail about his performance, and informs us that despite his lackluster performance, he still wants to take on a top ten ranked opponent in his next bout.
RC: Dmitriy, give us your thoughts on your performance Thursday night?
DS: I did what I had to do to pull the fight out. Obviously I didn't bring my "C" game.
RC: What do you mean you didn't bring your "C" game?
DS: Well there is "A", "B" and "C"
RC: So are you saying you didn't bring your "C" game?
DS: Nah I didn't bring my "C" game
RC: So what did you bring your "D" game?
DS: I brought my "D" game, but thank God I end up pulling it out, and it was good enough to win the fight. From the beginning of that whole day…… from throwing the first few punches I knew that it wasn't there. Mentally I didn't get up for the whole event as I should have, and it is basically because I need bigger events and I need to get challenged. The last fight against (Shawn) Gallegos I looked real good, because it was a step up, a real big event and it was a title fight. It was just a step on the road to bigger things, and it is not going to do anything to my progression. We are just going to continue with the plans that we had, and just take it from here.
RC: Many had mixed reactions when the decision was announced, some felt you squeaked it out, some felt he (Robert Frankel) pulled it off and some even went as far as saying you got an early Hanukkah present. Do you think your performance the other night will warrant you moving onto an HBO or Showtime type fight right now as you previously mentioned you wanted to do after this fight?

DS: I don't think it has anything to do with me moving onto the next level. I definitely did not feel the fight was in jeopardy at all and I knew that I won the fight. Frankel's corner even thought that I won, but they too thought the fight was closer (Official scores 96-93 twice and 97-92), which is fine. But I think that this fight was just a speed bump in the road, but it is not a derailment by any means, and it was good that I got a chance to go ten rounds. The plans are still the same. Once I get challenged, I am going to definitely rise up to the next fight and put on a great performance.
The whole year was an exciting and successful year, and this was one fight that was not one of my best, but I think we are going to still go according to our plans and we are going to raise the plank, and raise the bar as far as events and competition goes. I think that this should have no affect on HBO or Showtime. It was just a workman like effort, and it was what it was. Obviously, it wasn't close to my best performance, but it happens, and I don't think that it is going to happen again for a while, because the fights and the events are going to be even bigger.
RC: On Thursday night before your fight even took place, our very own Greg Leon spoke (Via Video interview) with your promoter Lou DiBella, and he mentioned that your next fight will probably take place at the same place, but in the bigger room. But before the fight, you mentioned you were done with Broadway boxing and was looking forward to bigger and better things, I know it has only been a few days after your fight but…..
DS: (Cutting in) Listen, basically after the last fight (against Gallegos) the plan was to move on to bigger and better things. And the plan was to fight on the December 3rd pay per view…. The thing is when you don't get challenged, and when you fight the same level of competition, you don't grow as a fighter and you don't grow as a person. So it is very important to raise the bar every time, and not to go down (in competition). So for the next few fights, Broadway boxing and we discussed this before, Broadway boxing is not going to happen. We are going to try to work on getting a national televised fight, a bigger fight. And it is possible that it will happen in the future. Broadway boxing has been good to me, it has developed me well, and Lou DiBella has done a great job in developing the series. But when it comes to me I think that for the near future my Broadway boxing experience is finished.
RC: Your received a lot of flack over this performance and many feel that you probably want to try and milk the cow as long a possible and fighter lesser quality opponents, and most fighters usually come up with an excuse as to why they had a bad night. Do you think that you'll silence the critics by stepping up and taking on a top ten guy? Oppose to fighting another 12-5 type of guy?

DS: Had this been a Pay per view or something like that…something I wanted to fight…we spoke about taking up my level of competition right after my August fight, and you know it was not an excuse, it is a fact. My performance wasn't what it should have been because we didn't take a step up. Because as a fighter you don't get excited, and you don't get up for every fight and every fight should be a progression especially at this stage of my career. I think that for the last year people have seen me step up in class, step by step, and I plan to continue to do so. In the interview that we did before this, the plans are still in tact, and the plan is to fight a top ten guy in our next fight, and god willing former world champions and current world champions. I want to test myself; I want to show that I am the best. I really feel that when I get challenged, I step up to the plate and I perform a lot better.
RC: Tell us about the knockdown in the first round?
DS: I personally myself don't have a problem with…if I would have got knocked down I would have said okay I got knocked down, but this was not a knockdown. I spoke to the referee, when I got up and told him I slipped he said "Okay" and he was going to wipe my gloves off, but he picked up the count because the guy started counting at ringside. But it is better to experience it like that than a real knockdown, even though it kind of messed up my mind a little bit.
RC: Mentally what was going through your mind? I mean this was the last fight in 2005 on Lou DiBella's Broadway boxing series, and here it is you get knockdown in the opening round in front of a sold out crowd, and you said it was a slip, other than probably saying yourself, "I better get the hell up", mentally how did that affect you?
DS: Since I wasn't affected psychically by it, being that it wasn't really a knockdown, getting up really wasn't a problem. Obviously I was not pleased that it counted but I just wanted to get back and get my fight on. It caused me a little bit of aggravation and disappointment, but hey listen, I am not happy about the performance, but I see it as a learning curve and a step to bigger and better things. From here I look forward to a big year in 2006
RC: In a pre-fight interview you mentioned that a fighter with his style leaves a lot of openings, just off of your memory because I know you haven't seen the fight yet on tape, what do you feel you could have done better to make it an easier night for yourself?

DS: I could have done a hundred things better. It wasn't my sharpest and it wasn't my best and sometimes that happens. I mean obviously he came to fight; he put up a very tough fight. He fought a smart fight, he came to win and I have a lot of respect for him because of that. I could have been a lot faster, a lot sharper and a lot better with my punches, but I didn't feel 100% and I had to work with what I had. I think that just based on my experience and know how, I was able to maneuver my way around the ring and get through it.
RC: You mentioned that despite this little speed bump, you would still like to return against a top 10 opponent, how soon can we expect you back into the ring?
DS: Hopefully we are going to talk and have a meeting this week. When we spoke to Lou (DiBella) before, we were on the same page and I am sure he is going to do everything in his power to do the best thing for my career and get me on national television. So hopefully it would be late February, early March
RC: The top in the 140lbs division is loaded with very good talent, any particular names out there that might interest you?
DS: Well we will sit down this week and we will see what makes the most sense, and what's the best opportunity and we will take it from there
RC: Is there anything else you would like to add in closing?
DS: I would like to thank everybody for coming out and showing their support. Boxingtalk.com is always representing, I would like to thank Kosher Zone Chef's, Ecko, and Tracey Real Estate. And Happy Holidays to everybody, I will see you all next year.
Send questions and comments to: ray@Boxingtalk.com