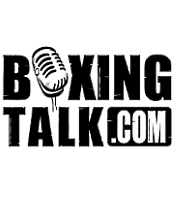 Santana, Stevens, Stark and Nwamu post wins!
Junior Welterweight Dmitriy "Star of David" Salita won a controversial and unanimous decision last night at the Manhattan Center.  Salita, now 24-0(14 KO's), fought Robert Frankel (12-5, 1 KO) of Denver, Colorado. Ringside reporters and fans found the scoring especially controversial: 97-92, 96-93, and 96-93 in a fight that could have truly gone either way leaning toward Frankel
A tough and talented Frankel surprised Salita and the crowd by throwing a lot of punches and landing them on an open Salita, especially in the earlier rounds.  Salita, a big ticket seller and crowd favorite, was knocked down in the first round.  He came back to fight nine more hard ones, eating the insistent Frankel's punch flurries but none the less fighting his heart out and landing solid combinations. 
Salita and Frankel went at in very competitive late rounds, Frankel's nose busted and Salita looking to do more damage.  Frankel kept coming at the equally aggressive Salita, Frankel landed more than Salita but his punches were lighter and not doing the sufficient damage to sway the judges his way.  Salita fought hard till the very end, obviously tired and running on heart.  He managed to somewhat bridge the gap and dig himself out of the hole he was in earlier in the bout, making the fight closer.   
Salita, who has not really experienced great competition as of yet, proved tonight he has all the heart it takes to be great but needs to tweak some other points in his arsenal.  Nonetheless the Salita crowd was pleased, with Salita as always displaying heart and honesty in front of his adoring crowd, remaining undefeated and a hero in the Orthodox Jewish community.
Super Middleweight Curtis Stevens knocked Kia Daniels of San Antonio, Texas out cold.  Daniels came to fight but never got the chance as Stevens, the heavy hitting knockout king, landed punches like virtual bombs and put Daniels down only forty-four seconds into the first round.  Stevens moves like a smaller Tyson and somewhat of a locomotive.  He throws consistent and effective combinations, ensuring that if one punch doesn't land another one will.  His opponent was probably out cold before the last shot of the combination hit him, an excruciating left hook.
Daniels is in stable condition, according to the ringside doctor, but is being taken to the hospital just in case.
Junior Welterweight Edgar "El Chamaco" Santana was also victorious and is now 16-2 (11 KO's).  Santana, conditioned and on fire, threw a consistent overhand right all night that landed on his opponent, Jeremy Stiers, until the referee stopped the contest at the end of the first round according to the three knockdown rule. 
The quick and sharp Santana overwhelmed the weaker and not-as-conditioned Stiers.  Santana never really broke a sweat as he constantly pressured Stiers and the weaker fighter crumbled.  Stiers was dropped with a body hook, then with an overhand right following a vicious flurry by Santana, and finally with a hook to the head.
Stiers drops to 9-6 (6 KO's).
"Punchin'" Pat Nwamu won the NBA junior intercontinental cruiserweight championship.  He won a ten round unanimous decision over Jamal McKay, using his unorthodox boxing style and jab to outmaneuver his opponent.
Nwamu kept his composure as McKay at times ran in like a bull, partially due to frustration with Nwamu's style. Nwamu is now 11-1 (3 KO's) and McKay falls to 4-9-2 (1 KO). 
Featherweight Gary Stark, Jr. won an eight round unanimous decision over southpaw Jose Hernandez.  The judges' scores were 79-73, 78-74, and 78-74.  Hernandez proved to be pretty decent competition but was out-boxed by the stylish and slicker Stark, who moves well in the ring.
Stark remains undefeated at 13-0 (6 KO's) and Hernandez is now 8-3 (4 KO's).
 In the first fight of the night, Lorenzo Bethea, 5-1, defeated Rasheen Daniels, 3-8 (2 KO's).  Bethea is from Atlantic City and Daniels came from Warren, Ohio.