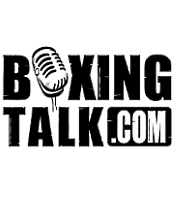 Boxingtalk.com recently spoke to undefeated Jr. Welterweight prospect Dmitriy "The Star of David" Salita 22-0(13) to discuss his upcoming bout, which takes place tonight for the vacant Light Welterweight NABA Strap against Las Vegas, New Mexico's (I didn't know there was a Las Vegas in NM either) once beaten Shawn Gallegos 15-1(5). In this one on one exclusive, Salita, 23 a former NY Golden Gloves champion talks to us about what he considered to be his "Most Intense" training camp, gives us his take on his opponent, as well as his thoughts on headlining a card filled with four of the area's top rising prospects and much much more.
RC: What's going on Dmitriy?

DS: Everything is good I am just getting here finishing up my preparation for ready for Thursday night
RC:  I know this is like your fourth training camp you have actually gone away for, and your third in the Pocono's, how did preparation for this camp go?
DS: Training went great. Every time out, you feel more comfortable and you know what you have to do to get yourself in shape. This was probably the most intense camp so far; I had a lot of good boxing, and a lot of good runs. So God willing I am looking forward to all of that training show itself on the 25th.
RC: You mentioned you had a lot of good boxing, who are some of the people you worked with in preparation for this fight?
DS: I did a lot of rounds with Edgar Santana. Jorge Teron, and another friend of mine, those are the guy I worked with mainly in camp. They all have three different styles and they are all very good fighters in there own right, and I think that really helped me get prepared well.
RC: Many including myself don't know much about your opponent on Thursday night Shawn Gallegos, what can you tell us about him, and have you got a chance to study his tapes?

DS: Yes I did get to see tapes of him. He had a pretty good amateur career and you can see by the way he fights; he kind of has a similar style to Ray Sanchez who is one of the best fighters from New Mexico area that I beat in the finals of the nationals a few years ago. He is a good boxer, sometimes he is aggressive, some times he moves around. I mean he can fight, and I have a lot of respect for him taking this fight, coming out of his hometown and taking this opportunity, but I truly really believe that it is just another level and although I think he will try hard and show up in very good shape, I just think that he is just going to experience something that he has never experienced before.
RC: You have three other young up and coming prospects (Paul Malignaggi, Sechew Powell & Edgar Santana) fighting before you Thursday night, two are in your weight class, do you feel any extra added pressure to look super spectacular, especially being that your headlining the event?
DS: No listen, obviously I want to look great. I also want Paulie to look great. Everybody can do good, and it is great that Lou DiBella put so many good fighters on one card. It is truly a big apple show, it has the guys that pretty much came up together and were outstanding amateur fighters together on one card. I think it is great and I think it is going to be a tremendous show, and that is what it is all about. It is all about competition, and hopefully we will all push each other to get to that next level and perform well.
RC: From what I understand you'll come out to the ring by Hasidic Jewish Reggae star Matisyahu is that correct?
DS: Yes that's correct.
RC: Now this is your fifth show in your hometown so you are probably use to the pressure by now, but how are you avoiding being caught up in the hype of coming out with Matisyahu, and possibly loosing focus?
DS:  I think Matisyahu is a tremendously talented guy. We were listening to him up in training camp. Sechew (Powell) and a lot of the other fighters really enjoy his music. So I think is great I mean that is why I went away for a few weeks to get myself ready, and now I am back and I'm in shape, I have dealt with High pressure situations before, and I am hoping that the pressure will raise to the next level.
RC: This fight will be for the NABA title, you are currently ranked at #9 in the WBA, if all goes well, you will probably make the top seven to five or so, and does that mean you will be looking to take on a top 10-15 ranked type level of competition if successful in your fight Thursday night?
DS: I mean it is one fight at a time, but absolutely I am really looking forward to taking of business and stepping up to the next level. I want to do a lot of big things this year, as you have seen all of my fights that I fought in NYC have all been progressing step ups. So I absolutely want to step up, my training has been very good. I feel that I am improving with each camp and each session, so you know I am looking forward to taking care of business on the 25th and then we can talk about the future.
RC: You mentioned that you feel as if all f your opponents have been consistent step ups, does that mean you feel Gallegos is the best fighter you have faced to date?

DS: Well…In some ways he is better than other guys. He probably has better boxing ability than say for example Louis Brown, but I don't think he is physically as strong or can take as good a shot Louis Brown. You see every opponent is like a different puzzle that you have to figure out, that you have to adjust and you have to get better for that specific style and that is what makes you a complete fighter.
RC: What can we expect to see from Dmitriy Salita come Thursday night?

DS: You are going to see some changes in my style, and some changes in the way I approached this fight. I have added a few new things to my arsenal that I look forward to showing off, and I think it is going to be a very exciting night and I look forward to being very explosive. With each fight I want to keep looking better, and proving myself and step up to the next level and show them where it is at Baby.
RC: Is there anything else you'd like to add in closing before I let you go?

DS: Yes, I would like to thank my sponsors Ecko Unlimited who makes my boxing suits and sponsors me. They have been great and we all know they make awesome clothing. I'd also like to thank Kosher Zone Chef's for providing, good nutritious meals especially with this fight being that I have to make 140lbs. Boxing doesn't often get a lot of these National type of sponsors so I really appreciate these two companies supporting me and believing in me.
Send questions and comments to: rayocampbelljr@hotmail.com