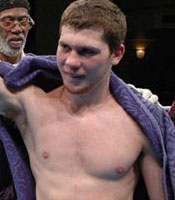 Salita on Delgado's Comments: "People talk up to get beat down!"
After hearing what Paul "The Truth" Delgado 12-4-1(2) had to say about their upcoming match up, which takes places tonight in the Grand Ballroom at the Manhattan center, undefeated Jr. Welterweight prospect Dmitriy "The Star of David" Salita 19-0(11) spoke with Boxingtalk.com to give us his take "It sounds like he is going to bring it; I am hoping that he brings it so he has no excuses afterwards" stated the very anxious  headliner of tonight's card filled with some of the best talented up and comers NY has to offer. Salita 22, a former New York Golden gloves champion has been fighting since he was thirteen years old and says trash talking is just part of the game, and didn't have much to say in response, but offered "People talk up to get beat down!" Read on to see what he had top say about is preparation and training or this fight as well as his thoughts on Delgado as a fighter.
Note: This Interview actually took place early last week
RC: Dmitriy what's going on?
DS: I am out here in Texas training with Acelino Freitas; I am having a good training camp, boxing with the local prospects here and just getting ready man. I take every fight seriously and I am looking forward to Thursday night.
RC: Dmitriy, the last time we spoke you mentioned that it was your first fight you went away to camp for and I see you have done the same for this fight, except the last time you trained in the Poconos, but this time you are in Texas any particular reason why?
DS: The reason why I am in Texas is because Oscar Suarez is here training with Acelino (Freitas), and Acelino is fighting in Brazil and the Texas weather suits him better, so that is why I am in Texas, this is my third camp with Acelino. We work well together and I enjoy the sparring and the experience that I get from him, and I am sure it is going to show in the fight. I started camp in New York, with Orlando and Jimmy O, and I came out here with Orlando to finish up with Oscar.
RC: You always seem to get work in, in between your fights, but who else did you work with?
DS: In New York, I always box with Louie (Collazo), the kid Jose "El Gallo" Reyes who just won the NABC Continental Junior Lightweight Title at the Blue Horizon. Just some good fighters at Gleason's, I don't know the names of the guys, but they are all good with good records, all tough guys, heavier guys so I am really getting good work and getting ready for November 18th.
RC: What do you know about Paul Delgado?
DS: I have seen a few of his fights, some fights he comes forward, and some fights he moves around. I know that he is coming off two good wins, he is a good boxer, he boxes well and I am looking forward to a great performance. It sounds like he is going to bring it, I am hoping that he brings it so he has no excuses afterwards.
RC: Your good friend Paul Malignaggi fought and beat him twice, have you spoke to Paulie about him as far getting tips on what you might need to do to be successful?
DS: Actually Paulie gave me a few tips, and I am going to use that and use some of the things that we saw on the tapes, I am sure he is going to try and change his game plan somehow. The thing is I am in good shape; I have been boxing a lot of different styles and a lot of different fighters to be able to adjust to what ever someone brings, and in this case being Paul Delgado. So whatever he brings I have trained to adjust and take care of business. Brooklyn in the House.
RC: Many feel that by taking a fight like this is sort of a step back after fighting guys like Rocky Martine and Rubin Galvan, what made you pick Delgado?
DS: A few of the opponents that we wanted, some tougher guys with better names, they didn't want to take the fight for whatever reason. He was a name that came up, and took the fight, and he has been busy and he was in shape and I think that he has decent skills. I just hope that he brings it and make in interesting for the New York crowd, for the few rounds that it is going to last.
RC: How do you feel about some of the things he said in his interview here on Boxingtalk.com?
DS: People talk up to get beat down. (Starts to laugh) That is good he should be confident, I mean he took the fight, it is his profession, so it is his professional responsibly to come ready and to come to fight, so that is what I am expecting. I am not expecting him to be affected by the crowd, or to freeze up or anything like that, I am expecting a fight from him. The more he brings the better. We are going to do this man.
With all the questions about me, and the speculation he has about me he will see the TRUTH on the 18th.
RC: With him (Delgado) having already lost twice to Paulie via decision, and talking a little smack going into this fight, do you feel as if you have to go out there and try to make a statement against him because of all the talks of a showdown between you and Malignaggi in the distant future?
DS: The fact that he speaks and talks all of that stuff, I have been boxing since I was a little boy, I am use to this. It's just another day at the office so to say. So that is nothing new, it just hypes thing sup and make things little more interesting. The fact that Paulie beat him twice, and the fact that Paulie fought him, I don't feel the pressure of having to do so(Knock Out), the fact that Paulie fought him is not on my mind,. I am just concentrating on going in there and doing what I have to do.
RC: So you mean to tell me there is no extra added pressure to stop him with the entire scenario presented?
DS: I mean if I did, it would be because of all the stuff that he said, not because he fought Paulie.
RC: The last time you fought in Brooklyn, you turned the crowd out and put on quite a show, on this card there will be more up and coming prospect from the area that draw quite a crowd like The Chin Checkers, Curtis Stevens and Jaidon Codrington. Jeffrey Resto, and Irish Sensation John Duddy all which draw huge crowds, I just want to know who's house is it going to be at the Manhattan center on the 18th?
DS: Who's house is it going to be?
RC: Yes, that's what I asked…
DS: You were at my last fight man, and you ask me that question?
RC: (I start to laugh at the thought of who is going to rock the house tonight,  after momentarily thinking back of when I attended Salita's last fight, which took place at the  Atlantic Oceania in Brighton Beach Brooklyn,  where the seats were filled and everyone else stood shoulder to shoulder to watch their screamed for Salita)
DS: (Starts to laugh) Jaidon (Cardington), and Curtis (Stevens) we are all from the same gym in Starret City, so it is great to be on the card with those guys, also I train with (John) Duddy before, he is also a very good prospect and a good fighter, he is a good guy. It is going to be exciting because there is going to be a little flavor of everything and that is going to make in interesting, and we are going to do this.
RC: BK Style?
DS: Brooklyn Style, always Brooklyn Style.
RC: As we just discussed, a lot of good up and coming prospects like the chin checkers (Curtis Stevens & Jaidon Cardington) who put on great shows and John Duddy who always has everyone feeling Irish for a round or two, on this card, honestly do you feel any extra added pressure as the headliner, and as the last bout to go out there to bring your "A" game and represent thoroughly?
DS: Ooh for sure, that is why I am in camp, and that is why I am taking this fight very seriously, and I think that it is a great responsibility to perform well. You know I love pressure, and I love crowds, the more the merrier.
RC: Is there anything else you would like to say in closing?
DS: I am looking forward to November 18th, it is going to be an exciting night and I hope that Paul Delgado comes prepared, and comes ready to fight man. It is going to be exciting, I am coming ready, and I am coming to take care of business and do my thing.
RC: Dmitriy, before I let you go, do you have a prediction for this fight?
DS: It depends, it depends on…
RC: (Cutting in) If Paul Delgado fights the way he says he is going to fight, which is make you fight what is your prediction for this fight?
DS: If he is going to slug, I don't see it going that many rounds. We will see how the fight turns out, but there is a possibility of it ending in the middle rounds, we will see how the fight turns out.
RC: As a professional have you had a guy talk the way he has to try and get in your head?
DS: I have had guys talk to me; I have had it all through my boxing career. It is part of the game; it is part of the process.
For more information on Dmitriy Salita be sure to check out his official website at
www.DSalita.com
In the NYC area? Then you don't want to miss this exciting talent filled card Headlined by Dmitriy Salita, featuring undefeated prospects, Curtis Stevens 2-0(2) & Jaidon Cardington 4-0(4)  aka the Chin Checkers, heavy handed Nigerian Cruiserweight prospect Ehinomen Ehikhamenor 8-0(5), the always exciting to watch John Duddy5-0(5) and Duva boxing's most recently signed talent, Raymond Biggs 1-0(1).
Tickets are available at Ticketmaster.com, at all ticketmaster outlets including Tower Records, HMV record stores and coconut stores. To charge Tickets by phone call (212) 307 7171. Or call DiBella entertainment at (212) 947 2577. Doors open at 6:00pm and First bout starts at 7:00pm. Tickets are $75, $50, and $35 standing room & $100 VIP tickets available. The Grand Ballroom at the Manhattan Center located at 311 W.34th Street (Between 8th and 9th ave)
CLICK HERE FOR MORE OF THIS EXCLUSIVE
Send questions and comments to: rayocampbelljr@hotmail.com