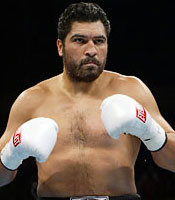 PRESS RELEASE:
Two-time world heavyweight champion John "The Quietman" Ruiz (41-6-1, 28 KOs) has petitioned the World Boxing Association for an immediate rematch against Nicolay Valuev for the WBA heavyweight title. Last month, Ruiz lost a controversial decision to Valuev in Berlin. Ruiz' petition is based on the WBA's rule 7.3 (see below) that allows for a  rematch based on a controversial decision in a championship match. Valuev won by 12-round decision by scores of 114-114, 116-114, 116-113. 
"I'm focusing on our WBA petition," Ruiz said. "I enjoyed everything about our trip to Germany other than the decision. The German people were great to me. I deserve a rematch and would fight him again in Germany if I had to. I remember thinking mid-way through the fight that it was the easiest fight I'd had in a long time. I couldn't believe it when the decision was announced. The fans in Germany booed the decision. I felt I won the fight. You're supposed to take the title from the champion; they gave it to him. I'll continue fighting until I feel it's time for me to retire. I'll retire on my terms. Right now I'm looking forward to my next fight and want it to be for the title against Valuev." 
Compubox's PunchStat Report, which HBO uses for its broadcasts, after a review of Ruiz-Valuev revealed that Ruiz clearly was the aggressor, holding advantages against Valuev in terms of total punches landed, 195-157; power shots landed 128 of 194 versus 43 of 184. Ruiz out-punched Valuev in eight of 12 rounds. Valuev received seven warnings from referee Stanley Christodoulou, although no penalties were deducted, and Valuev clinched 76 times compared to Ruiz' 29. Most observers felt Ruiz dominated the 12th round, as the punch-stats indicate: Ruiz landed 18 of 41 punches thrown (44% connect rate) and 11 power shots, versus Valuev's 7 punches out of 44 thrown, and only 4 power shots (16%). However, Valuev received a 10-9 advantage on two of the judges' scorecards while the third scored 10-10.  
In the last four rounds the judges were completely uneven in their scoring:  Milhelm (2 Even, 1 Ruiz, 1 Valuev), Hernandez (1 Even, 1 Ruiz, 2 Valuev),  Martinez (3 Ruiz, 1 Valuev).