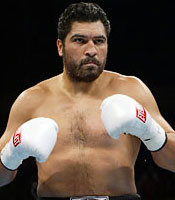 Press Release:
Former WBA heavyweight titleholder John Ruiz feels that James Toney's listless performance last Saturday night against Hasim Rahman strengthen former two-time world heavyweight champion John "The Quietman" Ruiz' lawsuit against Toney. The Rahman-Toney fight was scored a draw, although most observers thought Rahman deserved to win. "Toney looked sluggish against Rahman," Ruiz said. "He didn't have the same  energy he did against me, but that's what steroids do. Toney had a lot of energy right through the last round in our fight. If I fought that Toney (last Saturday versus Rahman), I guarantee it would have been a completely different fight. He had to cheat to beat me."
Last November, Ruiz' attorneys filed a lawsuit based on Toney's use of illegal performance-enhancing steroids in advance of the Ruiz-Toney April 30, 2005 title fight.  In the lawsuit, Ruiz claimed that Toney's use of
Nandrolone, one of the most powerful performance-enhancing substances available, dramatically enhanced Toney's ability to fight by artificially augmenting his strength, speed and power. Ruiz believes he lost that fight
as a direct result of Toney's doping. The judges' decision in favor of Toney on April 30 was overturned by the WBA and ruled a "no contest" after Toney's drug test subsequently came back positive for illegal steroids.
Several days after the April 30 fight, Toney's mandatory drug test came back with a positive result, reflecting the presence of Nandrolone in Toney's bloodstream.  Use of Nandrolone is illegal under federal law, and Nandrolone is classified as a Schedule II drug under federal laws.  On May 16, 2005, the WBA sanctioned Toney for his illegal use of steroids, precluding him from fighting for a WBA title for two years.  The New York State Athletic Commission also levied their maximum applicable sanction against Toney, which included a $10,000 fine.
"A videotape of Toney's fight against Rahman will be presented as Exhibit B," Ruiz' legal advisor Anthony Cardinale explained. "Exhibit A is a tape of Ruiz-Toney. Toney had less than six weeks to prepare for his fight against Johnny, yet, he showed a lot more energy, especially late in the fight, than he did at any point against Rahman. I wouldn't be surprised if Toney was drug tested during training camp for last Saturday's fight. He was calm at the weigh-in and press conferences, unlike his outrageous steroid rage outbursts leading up to his fight against Johnny."
Since his fight against Toney, Ruiz has called for boxing organizations to improve their standards, testing protocols and penalties to prevent and deter the use of anabolic steroids and other banned performance enhancing