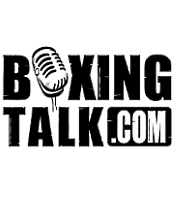 PRESS RELEASE:
Heriberto Ruiz of Los Mochis, Mexico, the International Boxing Federation's No. 5-ranked bantamweight, faces slick boxing Eduardo Garcia of Mexico City in the 10-round super bantamweight main event on the nationally and internationally televised "Guilty Fight Night" card promoted by Guilty Boxing Friday, June 10, at the Gold Coast Hotel & Casino in Las Vegas, Nev. Ruiz has a record of 32-3-2 with 15 knockouts while Garcia has a mark of 15-3 with five knockouts.
The 27-year-old Ruiz fought for the IBF bantamweight championship July 31 of last year, losing to Rafael Marquez.
In his most recent outing Dec. 17 Ruiz stopped Joaquin Vargas in the sixth round.
The 25-year-old Garcia also is coming off a sixth-round knockout win, over Oswaldo Juarez on a Guilty Boxing card April 29 in Tijuana, Mexico.
Six-round fights on the Guilty Boxing card include: super welterweight Gerardo Prieto (2-2, 0 KOs) of Las Vegas against Fabian Luque (6-5-2, 4 KOs) of Tijuana, Mexico; lightweight Monty Clay (15-0, 10 KOs) of Rankin, Pa., against Terrence Thomas (3-3-1, 0 KOs) of Newburgh, N.Y.; lightweight Cristian Lopez (6-0, 3 KOs) of Tijuana against an opponent to be determined; super featherweight Filiberto Young (3-0, 3 KOs) of Los Mochis against an opponent to be determined; featherweight Verquan Kimbrough (11-0-1, 5 KOs) of Aliquippa, Pa., against John Temple (6-9-1, 1 KO) of West Monroe, La.; featherweight Juan Garcia (4-0, 1 KO) of Phoenix against Ricardo Valencia (2-5, 0 KOs) of Los Mochis; and super bantamweight Edel Ruiz (25-13-4, 14 KOs) of Los Mochis, twin brother of Heriberto, against an opponent to be determined.
A four-round fights include: super lightweight Gueorgui Bjania (1-0, 0 KOs) of Los Angeles against Jean Elissa
(2-2-1, 1 KO) of Fresno, Calif.; and flyweight Antonio Villarreal (1-1, 1 KO) of Riverside, Calif., against an opponent to be determined.
Guilty Boxing's "Guilty Fight Night" telecasts are seen domestically on America One, Comcast Sports Chicago, DirecTV, Dish Network and The Urban Network; in Europe, Africa and middle eastern countries on Fox Sports International; in Europe and Africa on BEN Television; in the Caribbean on WCVI Super Station; and in Japan.
Guilty Boxing's weekly cards are seen in 202 million households worldwide, making Guilty Productions one of the
fastest-growing providers of boxing television programming in the world.      
This is another in the ongoing series of "Guilty Fight Night" cards.  The innovative Guilty Boxing series was launched last May and has presented cards in Arizona, California, Connecticut and Mexico as well as Las Vegas.
The card starts at 7 p.m. (Pacific).       
Commentators for Guilty Boxing's "Guilty Fight Night" telecasts are "The Colonel" Bob Sheridan and Benny Ricardo.  Sheridan, a Boxing Hall of Fame inductee, has worked almost 800 world championship bouts on six continents during a career that has spanned more than three decades.  Ricardo, for 11 years a place kicker on four NFL teams, also is a veteran announcer and has covered the biggest events in the sports world, ranging from Super Bowls to World Cups.