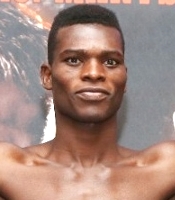 Greg Leon: How is everything going in preparation for Richard Commey's first defense as IBF lightweight champion against Ray Beltran on June 28th? Andre Rozier [Commey's trainer]: "This has been a fantastic camp as they always are when it comes to Richard. He's a joy and a pleasure to train and to direct. His work ethic is bar none and it's just going to spell a lot of trouble for Ray Beltran. He's a tough hombre and he comes to fight and that's going to be one of his biggest problems because he's going to run into something that he's never run into before, a tall African king dropping dynamite on his forehead." (laughs)
GL: How confident do you feel about Richard's hand holding up once he starts letting them things go with the small gloves on?
Andre Rozier: "That's one of the joys of having a Richard Commey because you know he's going to let those hands go and God gave him the gift of punching power, which I've been fortunate to run across many times in my training application. This is like verbatim and we're going to do what we usually do, bring the fire, bring the noise and Richard is going to do what he needs to do, which is win and win explosively."
GL: Has it been easy to keep Richard foused knowing Teofimo Lopez is right behind this?
AR: "He's a professional and he's a man of God. He's not like the rest of my nephews who mix the world of boxing and pleasure at times, he's always focused on the task at hand and you'll see that come fight night."
GL: In your opinion is Beltran more of a challenge to Commey than Isa Chaniev was?
AR: "Definitely, without a doubt. Chaniev he had momentary glimpses of good things, but I knew Richard was going to put the hammer of him, I just didn't think it was going to be so soon. You know how I feel about that though nephew, there's no need overtime pay and I don't want my guys in there any longer than they have to be."
GL: How important was it for you guys to get this kind of fight in before moving on to the A+ level fights?
AR: "This fight had to happen and I thought we were going to get a fight in before the talked about Lomachenko fight, but then after Richard won the fight they were all trying to press the issue. The injury was a blessing to Richard because it lead to things happening the way they should have to begin with."
GL: What happened with Danny Jacobs vs. Canelo? Did he leave that fight on the table?
AR: "Danny...you know what? I expected so much more out of him. I don't know, he didn't give his all as he should have. As close as the fight was, it would have only taken a bit more for him to rise to the occasion. I expected him to win the fight and I think he could have done a lot better if he would have listened to the instructions I was giving him during the fight."
Send questions and comments to: boxingtalkg@yahoo.com