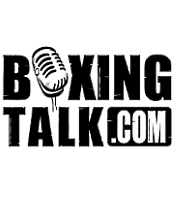 Jose Luis Castillo TKO10 Julio Diaz...
Jose Luis Castillo was too strong for Julio Diaz, flooring him twice in the tenth round to defend the WBC lightweight championship.  Castillo led from the first round, and by the time referee Richard Steele stopped the contest, Diaz was bleeding around both eyes, with his left optic swollen shut.  Castillo will inch ahead of Diego Corrales into the #1 spot in the Boxingtalk ratings, but the good news is that Castillo emerged uninjured, and said he will take 15 days off but will then begin training for a May Showtime bout against Corrales that will determine the best 135-pound boxer in the world. 
source: Showtime
Jeff Lacy TKO7 Rubin Williams...
Jeff Lacy retained his IBF super middleweight championship in an entertaining battle with Rubin Williams.  Lacy got hit with some hard shots, proving he has a pretty good chin, but more importantly, he gave much better than he got.  Lacy improved to 19-0, 1 NC, and said as soon as he gets his mandatory defense out of the way, he wants to face Joe Calzaghe, Boxingtalk's #1 super middle.  Williams, 26-2, stepped way up in class, and made a good enough accounting of himself to remain in the mix at 168. 
source: Showtime Felix Sturm KO2 Bert Schenk...
Felix Sturm showed why Boxingtalk rates him behind only Bernard Hopkins and Felix Trinidad at middleweight by destroying Bert Schenk in two rounds in Leverkusen, Germany on Saturday.  Sturm also showed why Schenk hasn't been in a real fight for nearly five years: he needs to be protected. Two rights from Sturm and Schenk was done in the second round. Schenk, an ex-WBO titlist, is currently rated #16 by Boxingtalk, which obviously was too generous. 
source: Universum website
Fernando Zuniga KO7 Troy Rowland...
Middleweight Troy Rowland was just beginning to shed his image as a carefully built up boxer thanks to a victory over Epifanio Mendoza. On Saturday night, in his hometwon of Grand Rapids, Michigan,  Rowland's career suffered a pretty substantial set back as Fernando Zuniga busted him up and knocked him out in seven rounds.  Local reports say Rowland suffered a serious cut on his tongue courtesy of a Zuniga uppercut, and also finished the bout with a cauliflowered ear.  Zuniga (an Ecuadorian who should not be confused with Fulgencio Zuniga, a Colombian middleweight), hadn't fought in almost two years, but knocked Rowland down in the first and After getting knocked down in the seventh, Rowland turned his back and said he'd had enough. Zuniga's record is now 23-7, while Rowland drops to  21-2. 
source: Grand Rapids Press
Naoufel Ben Rabah  TKO7 Dario Esalas
... West Australian-based Naoufel Ben Rabah successfully stepped up in class on Saturday, stopping game Colombian Dairo Jose Esalas in the seventh round of an enthralling bout to retain a regional light welterweight title.
Clinton Woods TKO5 Rico Hoye...
The fourth time was a charm for Clinton Woods, who captured the IBF light heavyweight title after going 0-2-1 in championship bouts.  Woods stopped Rico Hoye in the fifth round at the Magna Centre in Rotherham, England. The time of stoppage was 2:59.  Woods, who moves up from #19 to #8 in the Boxingtalk ratings, will now proceed to offer himself up to WBO 168-pound champ Joe Calzaghe. 
Source:
BBCRocky Juarez KO1 Ranchero Ramirez...
Rocky Juarez looked absolutely phenomenal, knocking down the usually durable Juan Carlos "Ranchero" Ramirez three times in the first round.  The first two knockdowns were caused by compact right hands thrown by Juarez. The final one, which came just before the bell which would have ended round one, was a result of the accumulated damage that sapped Ramirez's legs of their strength.  The win sets up a tremendous featherweight war for the WBC title between Juarez (Boxingtalk #4) and In Jin Chi (Boxingtalk #3)... unless Main Events decides to pull the plug on that one too. 
source: ESPN Friday Night Fights
Cruz Carbajal TKO6 Jorge Lacierva...
Cruz Carbajal started slowly but showed he is one of the toughest bantamweights in the world by stopping Jorge Lacierva after six rounds. Lacierva was cut early on what was ruled an accidental headbutt. Carbajal dominated the sixth round and Lacierva's corner stopped the bout. Carbajal is now poised for a shot at IBF champion Rafael Marquez. 
source: ESPN Friday Night Fights
Kid Diamond TKO6 Koba Gogoladze...
In an Eastern European war fought in Choctaw, Mississippi, Almazbek "Kid Diamond" Raiymkulov knocked Koba Gogoladze down in the fourth, fifth and sixth rounds. After his third trip to the canvas, Gogoladze told the referee he had enough.  Apparently, his hand was injured.  By winning this battle of unbeatens, Raiymkulov punched his ticket to a Boxingtalk top ten rating at lightweight.
source: ShoBox on ShowtimeJose Cotto TKO7 Genaro Trazancos...
In the main event at Hato Rey, Puerto Rico, undefeated Jose Cotto won a regional title at 130 pounds by stopping Genaro Trazancos.  Cotto floored Trazancos with a powerful left to open the seventh. Trazancos got up, but was badly hurt and trying to hold on for dear life when his corner threw in the towel.  It was a fine performance for Cotto. 
source: Solo Boxeo on TelefuturaDavid Haye KO2 Glenn Kelly...
Cruiserweight David Haye continued his march to world title contention with his third straight early knockout victory in the Rotterham, England co-feature on Friday. Haye knocked Glenn Kelly down near the end of the first round and according to the BBC, Kelly was saved by the bell. A Haye right hand put Kelly down for the ten count in the next round.  Haye improves to 13-1, with the lone loss coming three fights ago to veteran contender Carl Thompson.  Kelly is best known for getting spectacularly knocked out by Roy Jones.
Source: BBCKelly Pavlik TKO2 Dorian Beaupierre... 
Middleweight Kelly Pavlik floored Dorian Beaupierre with right hands in both the first and second rounds. After the second knockdown, Pavlik landed a huge uppercut and two hard rights that caused the stoppage.  The 6'3" Pavlik improves to 24-0, and this win over the 12-3-2 Beaupierre was a good step up for him...
ShoBox on ShowtimeWilfredo Negron W8 Marteze Logan...
Although he lost the junior welterweight bout by three identical scores of 78-74, tough Marteze Logan accomplished the near impossible: his performance inspired the boxing fans of Hato Rey, Puerto Rico to boo a fellow Puerto Rican.  Logan fell behind early against Wilfredo Negron, 24-8, but rallied late and was particularly strong in the final round. When the decision was announced, the fans chanted "sucio [dirty]" to signify that Logan, now 18-12-2, had been robbed.
source: Solo Boxeo on Telefutura