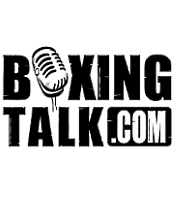 PRESS RELEASE:
Undefeated Heavyweight Prospect Derric Rossy of Medford, New York, steps up the competition when he takes on fellow New Yorker and long-time Heavyweight Contender Gary "Bring Da Pain" Bell for the vacant New York State Heavyweight title. The fight will be featured as the co-main event of the December 2005 edition of New York boxing fight series "Thursday Nights Fights in the Big Apple." The fight will take place on Thursday, December 29, 2005 at Amazura Night Club, located at 91-12 144TH Place, Jamaica, Queens, New York, with former undefeated Heavyweight Contender and NABF Heavyweight Champion Baby Joe Mesi (29-0) as the Master of ceremonies.
Derric Rossy (9-0 -5 KO's), a former Boston College defensive lineman will face his toughest opponent and biggest test to date in Bell.
Rossy, a rising superstar in the sport of Boxing, though a young and relatively untested fighter, is being touted the best heavyweight prospects to come out of New York in years. Rossy quickly amassed an impressive professional record and is generally considered a top prospect, recently outpointing David Polk (9-3). Of Rossy, New England Ringside Promotions president Rick Brutti said, "Rossy is a big, athletic Italian kid who is unlike so many former football players who've turned to boxing. Derric has very quick hands and feet to go along with his obvious power." The fact that he would take on such an esteemed veteran fighter like Bell shows the confidence his management team has in his abilities. Rossy is a 2003 graduate of Boston College where he lettered in football as a lineman and took up boxing shortly thereafter.
Former New York Golden Gloves champion Gary "Bring the Pain" Bell of Brooklyn, NY, in contrast, is a graduate of the school of hard knocks and came for the tough streets of Bedford Stuyvesant, Brooklyn, New York. He has a professional record of (23-2 -18 KO's) and started his pro Boxing career in 1995 after winning several amateur titles, including the New York Golden Gloves, Metro Games, NYS Silver Gloves and Platinum Gloves. Bell won his first Pro fight by 1st Round knockout against Art Mann. In his professional career, Bell had several impressive 1st round Knockouts highlighted by a 59-second knockout of Jameel McCline in 1995. Bell experienced his most notable loss when he lost a controversial fight to hard hitting David Tua. Bell is credited for preparing Evander Holifield for his two fights with Mike Tyson, both wins, serving as a longtime Holifield sparring partner.
The fight has all the ingredients of great drama and is the classic tale of opposites (young versus old, white versus black, college educated versus street educated). At the end of it, one of them will stand up and be crowned the King of New York.
In the other Main Event, New York Lightweight star Francisco Figueroa (12-1) will have a ten round fight against Adrian Navarette (13-1) of Mexico, also for a state title, the New York State Light Welterweight title. The undercard is star studded with rising New York boxing stars Cruiserweight Ehinomen Ehikhamenor (11-2), undefeated Light Middleweight Prospect Pawal Wolek (8-0), featherweight and former Olympian Roberto Benitez (3-0), Cruiserweight Carlos Sanchez (2-0), Welterweight Eddie Mansey (2-0) and Light Welterweight and Japanese sensation Chika Nakamura (2-0).
Tickets for the December 29, 2005 event are reasonably priced at $30 for General Admission; $50.00 for Reserved Seating; $75 for Ringside; and $100 for premium seats (Tables, Stage and Ringside VIPs), went on sale on Thursday, December 08, 2005, and may be purchased at the venue, Amazura Night Club, or on the Internet by visiting
www.LionHeartBoxingProductions.com
,
About Lion Heart Boxing Productions
Lion Heart Boxing Productions, based in Brooklyn, New York, through its operations and affiliates, is a global and integrated Boxing Promotions and Sports Entertainment Company, started in 2001 by a New Orleans based Tax Attorney and Boxing enthusiast Edward Mendy. The Company has quickly developed a reputation as a producer of high quality fights and is well respected for its fair treatment of fighters and commitment to fighters' rights.
Lion Heart Boxing Productions is recognized in the boxing world for its innovation and enterprise. The company has promoted shows in North America, Oceania (New Zealand and Australia) and Africa. Lion Heart Boxing Productions events are held at casino sites and large venues, arenas like the Delta Center in Salt Lake City, the ESL Center in Rochester, New York, the ETA Stadium in Auckland, New Zealand, and the Miami Arena in Miami. The company has upcoming shows planned for Asia (Korea, Japan and China), Australia (Sydney) and Africa (South Africa, Mali and Nigeria).
Lion Heart Boxing Productions manages the promotion of professional boxing events and professional boxers. Lion Heart Boxing Productions also provides event management that includes, among other things, securing venues/sites and coordinating promotions. It further manages boxing operations, including talent acquisition and development, matchmaking, and coordination with sports governing bodies. Lion Heart Boxing Productions typically acquires promotions rights to both domestic (U.S. based) and international (non-US) boxing athletes and packages those rights to television networks, venues, sponsors, subsidiary promoter Thursday Night Fights, Inc. as well as other promoters.